Arsenal granted work permit for Arshavin
Arsenal have reportedly applied for, and subsequently secured, a work permit for Zenit St. Petersburg playmaker Andrei Arshavin. The Russian international has taken part in the required percentage of games for his country in recent years in order to successfully obtain a work permit to play in the Premier League.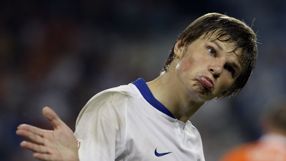 However, as Arsene Wenger confirmed following the Gunners's 1-1 draw at Everton on Wednesday, a deal for the midfielder is still some way from being completed, with both the transfer fee for the player - reported to be around £15 million - and the wage demands for Arshavin himself, still being negotiated.
And Wenger is thought to have grown so frustrated with the ongoing transfer saga, that he may pull the plug on the deal completely if it has not been concluded by Saturday at 3pm, when Arsenal kick off against West Ham United at the Emirates Stadium.
Speaking to Arsenal TV Online, the French manager said: "If it can be done it has to be done as quickly as possible. It [the deal] was 90% not done, 10% done. At that level, percentages are not a big meaning because the 10% can quickly become the 90%.
"Let's see. You won't have long to wait."
ARSENAL FANS! Check FourFourTwo.com's ever-expanding interviews archive for more stuff to read:
Web Exclusives Patrick Vieira, Cesc Fabregas
Q&A Theo Walcott, Cesc Fabregas
One on One Arsene Wenger, Thierry Henry, Ian Wright
Boy's A Bit Special Theo Walcott, Armand Traore
Perfect XI Ian Wright
What Happened Next? Gus Caesar, Peter Marinello
And Another Thing Being a Big Four fan

Plus! Rate Arsenal players (and others) on Talentspotter
Thank you for reading 5 articles this month* Join now for unlimited access
Enjoy your first month for just £1 / $1 / €1
*Read 5 free articles per month without a subscription
Join now for unlimited access
Try first month for just £1 / $1 / €1