EuroKlopp: The 10 weirdest and most wonderful odes to football icons
It's Eurovision 2017 weekend. So how better to celebrate than with Jurgen's dancehall anthem, sweet Louis van Gaal, reggae Zlatan and the Mario Gomez song? Johnny Dee's got 'em all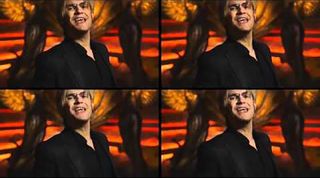 In mainland Europe, you haven't made it as a footballing superstar unless you have a Europop song written about you by a 'gifted' fan. Here's our favourite tributes of questionable quality...
Jurgen Klopp
The gleaming white teeth, the hair transplant, the glasses and the rock 'n' roll attitude – Klopp is surely the hippest man in football. 
In the faraway days before Pep Guardiola became the Don, Matze Knop summed up the thoughts of a nation when he sung of his wish to be as cool as the then-Borussia Dortmund boss who, if our interpretation of the song is correct, is not just a touchline god but also the best person in the world at combining smart jackets with faded jeans.
Zinedine Zidane
There are many incredible things about this song – the glorious over-the-top chorus, the soft-rock section with the soaring Jon Bon Jovi-esque cry that ZZ burns "through the dark like a fire", and an accompanying video which riffs on the Dead President mask-wearing bank raids in Point Break – vaya con Dios, Brah, as they say in Marseille.
But perhaps the most mind blowing thing of all is that the list of the game's greatest superstars incanted throughout includes – alongside legends such as Eusebio, Johan Cruyff, Diego Maradona and Pele – Chelsea's trusty centre-back Gary Cahill. Yes, really.
Francesco Totti
Whatever your personal feelings about Roma's long-serving captitano, it is hard not be moved by this upbeat anthem which recalls the Europop majesty of The Cheeky Girls. As the second-highest Serie A goalscorer of all time, Totti is an unstoppable footballing He-Man. Indeed, this video neither confirms nor denies our suspicion that Totti is in fact yet another alter-ego of Prince Adam, who has used the power of Greyskull to continue until now.
Jerome Boateng
Perhaps it's the lethargic delivery, maybe it's their rudimentary use of percussion, or possibly it's a chorus that just repeats his name as if that was melodic enough. Either way something tells us these particular Bavarians are not as enamoured with their tough-tackling defensive rock as they should be. Sure, they sing about him giving his all for the team, but where is the verse about his 2010 knee injury following a mid-air collision with an airplane drinks trolley?
Louis van Gaal
LVG may have had difficult relationships with the fans of many of his former clubs, but in his native Netherlands he is regarded as nothing less than a genius on a par with Van Gough, DJ Tiesto and the inventor of the doughnut. Here, a quartet of Orangemen vent their unswerving passion for the taciturn Amsterdammer with this cunning reworking of Neil Diamond's Sweet Caroline. Warning: it takes a while for the chorus to kick in and once it does you may regret waiting.
Zlatan Ibrahimovic
He's a white, Swedish-Bosnian-Croat playing in Manchester so the obvious genre to base a song about Zlatan around is... dancehall reggae. That said, this is not the first ode to Zlatan that has a Jamaican lilt to it – check out this cheery tune sung by a junior fan. Perhaps the finest thing about Sanjin and Youthman's homage to the shy forward is how informative it is about his Champions League achievements.
Lionel Messi
According to popular cliché, if you don't like Messi then you don't like football. The same cannot be said of this rap about the Argentine magician. If you don't like it then it doesn't mean that you don't like music, just that you have taste in music. That said, it's always nice to hear a bit of harmonica in a hip-hop tune and the footage in the video of mini Messi is awesome.
Giorgio Chiellini
Football truly is a world game, and nothing demonstrates this better than the existence of an Indonesian fanbase dedicated to Juventus defender Chiellini. Possibly a better location and turning on a light would have helped make the video a bigger YouTube hit, but Ponco's love for the Italian giant and Luis Suarez snack shines through as impressively as his collection of replica Italian shirts.
Marko Arnautovic
Kurt Razelli's YouTube channel includes several cut 'n' paste trip-hop style tracks featuring David Hasselhoff, Arnold Schwarzenegger and, for not entirely obvious reasons, Marko Arnautovic. Here we are greeted by Marko in Stoke-on-Trent and given a tour of his beautiful home. Highlights include a jacuzzi, a pool table, a trampoline, leather furniture (of course) and some pensioners hanging out in a precinct.
Mario Gomez
Despite failing to point out his alarming similarity to Marty McFly's dad in Back To The Future, this song perfectly captures the metrosexual devil-may-care chutzpah of a man Louis van Gaal once described as having "a body like a god". Binned by Bayern Munich after upsetting Jupp Heynckes with his side-career modelling briefs, Mario has settled down at Besiktas where his centre-forward cha cha is leading Super Lig defenders on a merry dance. See what we did there?
Quizzes, features and footballing fun
Get the best features, fun and footballing frolics straight to your inbox every week.
Thank you for signing up to Four Four Two. You will receive a verification email shortly.
There was a problem. Please refresh the page and try again.