Ranked! The 10 players most likely to replace Cristiano Ronaldo at Real Madrid
Cristiano is gone at Real Madrid, and the search is on for the hapless sap who'll be tasked with trying to fill his boots. Send in the candidates...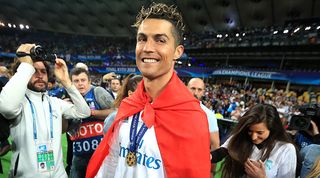 How on Earth do you go about trying to replace a player like Cristiano Ronaldo? (Thore Haugstad had a go at trying to explain for us here.) Real Madrid's all-time top goalscorer with an astonishing 450 goals in 438 games; the jewel in their crown for nine seasons, four of which cultimated in Champions League triumphs.  
So what now? Not only does new manager Julen Lopetegui have the unenviable task of following Zinedine Zidane into the Madrid dugout, he'll also have to do it without CR7. The former Spain boss will surely be boosting the power of his collective after a near-decade of domination from one player, but ultimately nobody in his squad packs the same firepower. Florentinto Perez, you'd think, will be inclined to act this summer.
But there are problems. Neymar, one of two long-term targets, looks set to stay put at PSG this summer; as does Kylian Mbappe, the other. Harry Kane has inked a hefty new deal with Tottenham, Mo Salah has done the same at Liverpool, while Robert Lewandowski turns 30 at the end of August. Does that even matter to Madrid this summer? We've had a crack at rating the chances of the below signing this summer...  
10. Leon Bailey
The 20-year-old Jamaican would be a huge gamble, but he's definitely worth looking at. His potential is incredible, and his style is quite similar to the young version of Cristiano.
Bailey managed 12 goals and six assists for Bayer Leverkusen last season, and his lightning speed and trickery made him virtually unplayable when on-song. Naturally, he's extremely inexperienced and it's impossible to expect he could replace the Portuguese immediately, but touches like his backheel goal against Hoffenheim show that he can become a world-class player.
9. Harry Kane
In an ideal world, Kane is the best target imaginable for Real Madrid. They desperately need a striker who scores goals like Ronaldo, and the Tottenham star is exactly that. Those who considered him a one-season wonder were very wrong indeed: Kane has struck 105 goals in 139 Premier League goals since the start of 2014/15, and won the World Cup's Golden Boot with six goals in Russia. 
Spurs' all-time Premier League record scorer has found the net at Champions League as well. He is extremely confident, loves to shoot from distance and involves his team-mates with good hold-up play too. 
Kane turns 25 this weekend and should be in his prime – exactly the man to build a team around. Unfortunately for Madrid, that won't be in Spain's capital for a while: at the beginning of June he penned a new six-year deal with his beloved Spurs. 
8. Neymar
Obviously, given the quality of the Brazilian, this is a very tempting move. To bring the former Barcelona idol back to La Liga, to play for their biggest enemy, would be a phenomenal PR move by Real Madrid. They could hardly think of a deal that would bring more coverage. Neymar knows the league well and is certain to perform, making El Clasico hotter than ever.
The downside is that the Brazilian would be an extremely expensive purchase. Even if PSG are persuaded to sell their star – an embarrassing exercise for them after only a year – they would want to make a profit on their €222m investment. In addition, Neymar might not make life easy in the dressing room. As his difficult relationship with Edinson Cavani shows, the idyllic MSN relationship at the Camp Nou was perhaps one of a kind.
7. Kylian Mbappe
The 19-year-old has already hit superstardom, culminating in his award for the best young player at this summer's World Cup. Helping Monaco to the 2016/17 Ligue 1 title earned him his big move to boyhood club PSG; initially on loan with a contract clause which would make the deal permanent this summer. 
Technically, Mbappe is terrific, and he's also smart and lightning quick. His mental strength and confidence were both evident in Russia, and he could arguably become an instant success at any club in the world. Madrid don't really have much hope of landing him this summer – Mbappe has already declared that he'll stay in Paris next season – but strangely, the permanent deal hasn't yet been announced. A window of opportunity, perhaps? 
6. Paulo Dybala
The Argentine has a lot appeal – not only is he an outrageously talented and versatile striker, but the Juventus attacker is also extremely charismatic. His smile and looks can sell shirts by themselves, even without his mighty dribbling skills and shooting ability.
There are significant doubts, though, whether Dybala can really be a true big-game player. Granted, he put in a brilliant performance against Barcelona in the 2016/17 Champions League quarter-finals, but he tends to disappear when it matters most – as in the 2017 final against Real. The 24-year-old has scored six Champions League goals in 26 matches, and is yet to prove himself for Argentina. Really, he's only so high on this list because of the lack of availability elsewhere. 
5. Goncalo Guedes
A bold prediction, but wait: Guedes could be the real heir to Ronaldo. For a start, he's Portuguese. Secondly, his style is reminiscent of the young Cristiano. He's able to play on both wings, is creative, his ball control is excellent, and his form for Valencia was very good before a patchy World Cup with Portugal. At just 21, however, Guedes has a lot of room for progress.
Los Che are now dreaming of making his loan move from PSG permanent, and the Parisians will sell to help them meet Financial Fair Play regulations. For Real Madrid, though, this could be a chance to sign a potentially world-class superstar at a decent price – albeit one who isn't truly ready to succeed his international team-mate just yet. 
4. Timo Werner
Madrid already considered signing the German in January, and in many ways he would be a very good fit. He's young at just 22, but also experienced having made his Bundesliga debut at the age of 17 - and he's almost certain to score a lot of goals. Having netted 34 times in 63 league matches for RB Leipzig, he's now the central striker for Germany. As a disappointing World Cup showed, however, he's not quite the finished article and will need more time at the top level to be judged accordingly.  
But Werner is confident, takes his chances cold-bloodedly, and – importantly – he's not a pure No.9. His game is mostly based on speed and the ability to go past opponents. He can play in various positions and become a true heir to Ronaldo at a sane price, as opposed to the likes of Neymar or Mbappe.
3. Robert Lewandowski
Bayern Munich's Polish superstar has been the best centre-forward in the world over the past six years. Though a true penalty area predator who is strong and powerful, Lewandowski is also elegant and capable of scoring exquisite goals. His record for Borussia Dortmund and Bayern speaks for itself: he's not scored fewer than 25 goals per season since 2011, and is especially prolific in the Champions League.
Real Madrid know that better than anyone – he netted four times past them in the 2013 semi-finals. There's one significant problem, though: Lewandowski will be 30 in August, and therefore hardly a player you can build a future around. He would be an extremely costly short-term solution, and it's doubtful Los Blancos need that.
2. Mauro Icardi
If Madrid are looking for a ruthless player, Icardi should be their man. He might not be popular with everyone thanks to his off-pitch antics (especially the infamous Maxi Lopez affair), but the Argentine simply doesn't care about other people's opinions.
He's used to overcoming different crises, including a big fallout with Inter fans, by performing on the pitch and scoring goals. It will be very difficult to find a No.9 with a better one-touch finish: the 25-year-old has a powerful shot, is good in the air and dangerous anywhere around the box. Real Madrid need someone like him, even if he's by no means a direct replacement for Ronaldo.
1. Eden Hazard
Surely, the most likely attacking move for Real Madrid this summer. 
The Belgian is quite similar to Ronaldo in more ways than one – a left-sided player who predominantly uses his right foot to shoot, likes to cut inside and can even perform as a central striker. He's an exquisite dribbler, a major source of unpredictable creativity and vastly experienced at the highest level, having played for Chelsea since 2012.
At 27, Hazard is now the right age to look for a new challenge before it's too late. After being linked with a Bernabeu move almost every summer, it's about time to take that chance. The only call against him is that he wouldn't be able to replace Ronaldo as a scorer: Hazard has never netted more than 16 Premier League goals in a season, and his European record is poor with 11 goals in 67 matches. 
Quizzes, features and footballing fun
Get the best features, fun and footballing frolics straight to your inbox every week.
Thank you for signing up to Four Four Two. You will receive a verification email shortly.
There was a problem. Please refresh the page and try again.