8 Premier League stars not yet cutting it at Euro 2016
Tim Ellis names and shames those who haven't lived up to their reputation so far in France...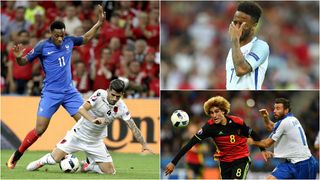 International tournaments place players on the biggest stage, offering them the chance to dazzle the biggest clubs. But it can be easy to forget that some might be playing for their club future, especially if their club has appointed a new manager for the coming season. We're looking at you, Manchester.
Luckily for some of these players, their tournaments might not be over and they still have time to leave a better impression on this summer's European Championship... 
1. Martin Skrtel (Slovakia)
The phrase: "What is Martin Skrtel doing" should be part of the football lexicon. In Slovakia's first game against Wales, the Liverpool defender barged into Jonny Williams with elbow leading, somehow escaping the sanction of a penalty. In the last seconds against Russia, he needlessly bundled Artem Dzyuba to the floor, almost leading to an equaliser.
There was some salvation against England when he saved off the line from Dele Alli as Slovakia kept a clean sheet, but he was lucky more damage wasn't done before that. 
Skrtel's last positive contribution in a Liverpool shirt was to argue the toss over Sevilla's third goal in the Europa League final. The Turks may not want Mario Balotelli, but Jurgen Klopp could have a friend in Fenerbahce...
2. Petr Cech (Czech Republic)
After somehow clawing out Andy Carrol's bullet header in the 2012 FA Cup Final against Liverpool, Cech became a Champions League hero in Munich just a fortnight later, saving penalties in extra-time and in the shootout, to claim a unique double for Chelsea. He subsequently had a dire Euro 2012 for the Czechs.
The Arsenal keeper has had a similar 'mare in France. Cech was a bag of nerves in the first half against Croatia, slicing a backpass wildly for a corner within the first few minutes, coming unconvincingly for crosses and generally playing like he was the reincarnation of Manuel Almunia. After failing to keep a clean sheet in qualifying he's done it again in France – and last night's 2-0 defeat to Turkey has sent the Czechs packing. 
3. Joe Hart (England)
Hart likes to be seen and be heard, as was clear in the tunnel against Wales and Slovakia, and the celebration of Daniel Sturridge's winner against the former. If Gianluigi Buffon is allowed to run up the length of the pitch to prove he is a team man, why not big Joe? Well, it's just that Hart doesn't quite possess the aura of the Italian veteran.
The Manchester City keeper appears to have an unhelpful amount of surplus energy, like a gurning Lee Evans on stage. We still await a big save at the business end of a tournament.
4. Anthony Martial (France)
The 20-year-old was sluggish wide on the left against Albania and subsequently subbed at half-time. There is some mitigation in that he has played 66 games for both club and country and is still learning how to adapt at this level.
However, Martial kept ploughing through the middle of the pitch expecting a different result when he could have copied the equally raw Kingsley Coman and used his pace instead. The pedestrian nature of Manchester United's LGV (Or HGV) style of play was not great grounding. 
5. Paddy McNair (Northern Ireland)
McNair had played just one competitive minute of football since February before Euro 2016, and after his first-half performance against Poland, he was afforded just over a minute against Ukraine in the next match (then benched against Germany).
The Manchester United man struggled to contain the right side of Poland's midfield and was hooked by Michael O'Neill at half-time before things got even more ugly. In mitigation, he appeared to be playing as a No.10 at the tip of a midfield diamond. The result was hardly surprising for someone schooled as a centre-back.
6. Harry Kane (England)
Kane has looked more like a hod carrier than a hotshot so far, with every movement looking a bit like the turning circle of the Titanic. When the Spurs forward was played in against Russia, a 36-year-old beat him for pace. That was telling. The striker looks exhausted and has touched the ball just three times in the opposition penalty area over 149 minutes.
It's not his fault that the supply was choked off by Raheem Sterling running into defensive dead-ends. You can't score too many when you're taking corners either. 
7. Marouane Fellaini (Belgium)
Unceremoniously dumped by Belgium after the 2-0 loss to Italy, Fellaini couldn't find a way to impose himself against a well-organised Azzurri defence. He got lost behind enemy lines and his movement in the hole was so rigid, he might as well have fallen into one.
If Belgium are a collection of talented individuals more than a team, then Fellaini is the maverick without a cause. Even security didn't recognise him when he turned up for the Ireland match.
More FFT content
Spain have finally found their missing link for domination in Alvaro Morata
Mourinho disgusted that no one is talking about him
8. Raheem Sterling (England)
Sterling didn't have a bad first half against Russia – it's just that there are certain Sterling moments that are all too familiar for both club and country. Like the difficulty of putting together decision-making and pace without a turnover in possession.
There is also the hopeless finish, which he demonstrated when skying a perfectly presentable chance over the bar. He should be one step beyond teething issues but the City man is still stalling on the big stage.
Quizzes, features and footballing fun
Get the best features, fun and footballing frolics straight to your inbox every week.
Thank you for signing up to Four Four Two. You will receive a verification email shortly.
There was a problem. Please refresh the page and try again.