Barcelona's second-most important player isn't who you think – and finally deserves plaudits
Gerard Pique has shrugged off a tough stretch at the Camp Nou to reclaim his place at the top of the tree behind Lionel Messi, says David Cartlidge...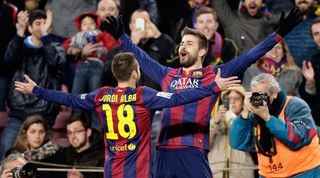 If Barcelona are to overcome Paris Saint-Germain in their Champions League quarter-final encounter, and on an even bigger scale banish the memories of a first trophyless season in six years, then there will be several key factors helping them along the way.
Lionel Messi will be the obvious one. Then there's the showdown that took place in the Camp Nou dressing room to resolve differences between Luis Enrique and his players earlier in the campaign.
Throw in Luis Suarez's arrival too, and the astute signing of Claudio Bravo, and together they make for significant Catalan improvement. As much as Messi has been a constant, however, so too has Gerard Pique.
That's right, Pique. A man, and a defender, who has found himself again. Found himself as in being one of the best centre-backs in the world again, much to Barca's dividend.
That statement doesn't sit well with some, though. Pique splits opinion outside of the club, and inside it, like few do. At one point, the 28-year-old's stock tumbled like that of any normal player. Move along, nothing to see here. But those people were wrong to write him off so early.
Pampered prince
The caveat with Pique is that there are several. Firstly, the retirement of stalwart central defender Carles Puyol immediately brought him much greater responsibility. When you add to that a popstar girlfriend and an apparent unhealthy appetite for extra-curricular activities, you have a problem.
Then there's also his background. Pique, even before he became a footballer, enjoyed a life of prestige. He hails from a respected family with power in political and economic Catalan circles, happens to be the son of a prestigious doctor, and grandson of a former Barcelona director.
Confident, outgoing and with the looks to support his swagger, Pique initially looked to inherit his father's business, but now wants to make a beeline for Barca presidency one day.
Even his smile, for some, is too much to stomach. Few players have had their torsos inspected by the media quite like Pique – and not in the sense of appealing to female admirers either.
On the other hand, Puyol, from a far removed background of a small city, family and humble surroundings, never stepped out of line. Pique has always been the boy who got it all and still couldn't do anything with it.
Admittedly the great Puyol struggled early on, and was weak in certain defensive aspects, but his character was never called into question. He set the bar high for others to attain, and it's one few can grasp.
Pique, in his darkest moments, got nowhere near and there were genuine calls for his sale. He was linked with a return to Manchester United, and many judged it to be best for all parties. Sign Mats Hummels from Borussia Dortmund in his place, and that's a good piece of business.
The defender was one of the chief victims of a post-Pep Guardiola era, and more so under Tata Martino. Few came out of that process with their reputations intact, let alone increased.
Pique's focus was lost, a hangover from the successful years, and it's motivation he has admitted is difficult to come by in certain moments. Pique has never been one to shy away from his detractors, conceding that his form was well below par and, in turn, he needed to mature more.
Shock to the system
To persecute him directly as a cause of Barca's fall from grace, though, is a disproportionate accusation. On-field matters are rarely discussed when it comes to the former Manchester United man.
That Barca integrated a new system once Guardiola left, and went through different transitions that put more pressure on the defence, is rarely brought up.
With midfielders in decline and not adequately replaced, Pique and Javier Mascherano have taken on more responsibility. It's taken considerable adjustment, and also tested Pique's particular skill set.
Driving out of defence with power and energy to thwart attacks is not his forte. Instead, the Spaniard reads the game and anticipates moves from his opponents. Being thrusted into a system that required him to be more physically committed to the cause was always going to present issues.
Fortunately, there's been a turnaround this term. With renewed focus and motivation under a familiar face in Enrique, Pique appears to be taking on the responsibility of not only leading the defence, but also the club itself, in his graceful stride. Talk of Hummels has been quelled, and those who were so sure of the German being the answer might be advised to focus on his Bundesliga form this term. And besides, if another defender was to eventually arrive at the club, it should be to complement and not replace Pique.
Craving Carles
Therein too, lies another issue. Pique has been hung out to dry by a lack of competent partner since Puyol's exit – something entirely out of his hands, and in those of Barca's muddled board. While Mascherano has purveyed himself as an excellent solution, albeit a stopgap, there is still the need for a more long-term fix.
His on-pitch relationship with Sergio Ramos began to falter in the summer too, as Spain fell foul of similar problems to Barca at the World Cup: a midfield losing its weight and unable to control the ball like they used to; giving way to opponents who were leaner, meaner and had wised up to their every move.
"I never had a personal problem with Pique and I don't think I ever will," said Ramos, a similarly easy target for abuse. "Having spent more time with him, he's a great lad with a good heart."
Pique needed a Puyol word in his hear in Brazil, or an arm around his shoulder. But his ex-skipper couldn't save him. "By your side I felt protected and I knew that if one day I made a mistake you'd always be there to save me," sobbed Pique after his colleague's retirement (not death). "You were my guardian angel."
That was then, however, and now it feels like Puyol has, in part, returned when watching Pique this season. There is an extra degree of maturity there. The jokes still exist, and the smile has returned.
But Pique has found the focus again. He strides out of defence with the confidence of a man boasting Champions League and World Cup medals. Pretenders come for the crown, but does anyone move out of defence with more grace and purpose than 'Piquenbauer'? Praise will be lavished upon Barca's attacking prowess this season, but it should be equally put on Pique. Despite reports to the contrary, he deserves it.
PSG vs Barcelona LIVE ANALYSIS with Stats Zone
Thank you for reading 5 articles this month* Join now for unlimited access
Enjoy your first month for just £1 / $1 / €1
*Read 5 free articles per month without a subscription
Join now for unlimited access
Try first month for just £1 / $1 / €1
Get FourFourTwo Newsletter
The best features, fun and footballing quizzes, straight to your inbox every week.