Five Eredivisie midfield starlets destined for greatness – and who they'd suit
Priya Ramesh evaluates the latest batch of Dutch delights primed and ready for transfer window delivery...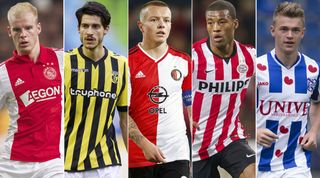 The Eredivisie is a well-known talent factory in Europe. While its clubs possess some great scouts scanning for talent on five continents, they also have a brilliant record of producing their own top players, born and bred in the Netherlands. So much so that the Dutch World Cup squad that finished third in 2014 had 10 players plying their trade in their home country at the time – seven of them playing major roles in Brazil, and a separate seven featuring for the Netherlands in the Under-21 European Championship just a year before.
Holland's top flight has a habit of producing some fine midfielders in particular. Here's a quintet who've shone so far...
Davy Klaassen
Klaassen broke the internet last season with his Bergkamp-esque finish from Niklas Moisander's De Boer-esque long pass, but there is much more to this exciting midfielder. His development as a player over the last two seasons has been something like Georginio Wijnaldum's on fast forward.
Standing tall as Ajax searched for a Christian Eriksen replacement, Klaassen's ascent has been imperious and extraordinary. Having played furthest forward in midfield last season, the 21-year-old built up an excellent understanding with Lasse Schone and Ricardo van Rhijn, showing wonderful finishing ability as well as endurance to chase opponents.
This season he's embraced bigger responsibility as a senior member of the squad and vice-captain, and grown in great measures. The Hilversum-born midfielder has exhibited a greater ability to set up his team-mates for chances and assumes a slightly deeper position in midfield.
Klaassen, whose career was nearly ended prematurely because of a serious hamstring issue, brings an air of calmness when on the ball, and understandably Ajax seem to be best coordinated when he dictates the game.
Schone and Lucas Andersen have fancy skills up their sleeve but they're only able to show them off because of the solid foundation in midfield that Klaassen provides, with his passing, movement and ability to immediately position himself correctly for impending attacks when Ajax lose possession.
Compared to Toni Kroos and Xavi by Johan Cruyff, a controlling midfield role may be something Klaassen and his coach consider in the future, but at the moment he has too much attacking potential to be sacrificed.
Potential suitors: Arsenal, Juventus, Chelsea.
Marko Vejinovic
The lanky, attacking midfielder named Mark Matic played for AZ under Louis van Gaal – and even had the audacity to demand more playing time from the Manchester United chief.
Vejinovic was impressive in flashes, but in truth didn't seem such a fantastic player. Fast forward a few years and the same man now features in Vitesse colours as Marko Vejinovic, having adopted his father's surname, and is arguably the best player of the Eredivisie season so far.
Like his ex-namesake Nemanja Matic (on loan at Vitesse for a season in 2010/11), Vejinovic was pushed back into a defensive midfield role from an attacking one after team-mate Theo Janssen tore knee ligaments. Since then the midfielder has gone from strength to strength, becoming a mainstay in the Vitesse first XI.
A rather strong man of good physique, Vejinovic has enjoyed a more all-round role this season playing alongside another defensive midfielder in Kelvin Leerdam.
Afforded freedom, the Dutchman of Balkan origins is Vitesse's top scorer and leading assist maker this season. Vejinovic is truly at the heart of everything Vitesse do, and has proved equally adept at recovering the ball and giving opponents a hard time.
He's won 70% of his aerial duels this season, while 49% of his tackles have been successful. He's no mediocre player with the ball at his feet either, winning 66% of his take-ons and topping the league for key passes.
Whenever Vejinovic is on the ball, Vitesse look more upbeat and likely to fashion chances. He has not been scouted extensively by major clubs, though that will change soon if he continues to impress.
Potential suitors: Hertha BSC, Villarreal, Southampton (Morgan Schneiderlin replacement), West Ham.
Jordy Clasie
Heavily linked to Manchester United and Fiorentina, and having almost joined Porto, Clasie ultimately opted against leaving Feyenoord in the summer. It's proved a fine decision for both player and club, who had already lost regular starters in Graziano Pelle, Bruno Martins Indi, Stefan de Vrij and Daryl Janmaat.
The 23-year-old, who had already been given the club captaincy by Ronald Koeman towards the end of the now-Southampton boss's tenure, has been a shining light for Feyenoord this season under Fred Rutten.
While he functioned as a single pivot last season with Tonny Vilhena typically playing slightly ahead of him, Clasie has been part of a defensive midfield pairing this season with the returning Karim El Ahmadi.
He has found this an opportunity to refine his attacking skills, functioning as a box-to-box all-round midfielder. The Haarlem-born man's appearance can be deceptive. Stocky and under 5ft 7in tall, Clasie has deceived many onlookers while coming through the ranks. They said he was too small to be a defensive midfielder, and when his name pops up in rumour mills again, no doubt many fans will be wary of this.
Rest assured, while he may not win too many aerial duels, Clasie is stronger than his diminutive frame suggests, and possesses ample strength to go shoulder-to-shoulder (or shoulder-to-midriff in some cases) with bigger players. He has great stamina, and while he looks like Scrappy Doo in certain battles, he does have a resilient way of pressurising opponents and recovering possession.
Clasie has previously been referred to as the 'Dutch Xavi'. Too far fetched? Yes. But the Feyenoord captain possesses a great understanding of the game and has the vision and technical skill to execute his ideas.
Potential suitors: Southampton (a chance to link up with Pelle and Koeman again, and could be a possible replacement should Schneiderlin leave), Arsenal.
Georginio Wijnaldum
Wijnaldum only turned 24 a few months back, but it already feels like he's been around in the Eredivisie forever. Having made his debut for Feyenoord at just 16, eight years ago, Wijnaldum has racked up around 300 appearances for club and various levels of the national team. After bursting onto the scene as a dreadlocked attacking midfielder and likened to Ruud Gullit by Kenneth Butter, his first coach, Wijnaldum was one of the saving graces in a tumultuous period for Feyenoord. But as the club failed to pick themselves up Wijnaldum, like Gullit, felt it right to move, joining PSV in 2011 hoping to improve and win titles.
In his time at PSV, 'Gini' has matured gradually and grown as a player both on and off the pitch. His ability to dictate a match and dribble just as well as he could pass turned heads at Feyenoord.
But the major difference between Wijnaldum and Gullit was the former's relatively light frame. The Rotterdam-born midfielder could be bullied out of games and wane in influence when he had a marker tasked with roughing him up in possession. Now at PSV, the dreadlocks are gone but the physique has improved, with Gini bulking up and, more importantly, knowing how to use it in match situations.
His ability to pick passes and link up with attackers like Memphis Depay and Luciano Narsingh has improved, and he is now PSV's driving force in their title challenge this season.
He excelled in the No.10 role in his first two seasons in Eindhoven, with the safety net of Kevin Strootman and Mark van Bommel behind him. But as the former moved on and the latter retired, Wijnaldum has had to tweak his game to be more defensively aware in the unbalanced Wijnaldum-Guardado-Maher midfield triumvate.
Potential suitors: PSG (Wijnaldum turned them down in the summer to stay at PSV), Liverpool, Inter Milan.
Daley Sinkgraven
'Daley uit, Daley komt' read a few headlines in the summer as papers talked of a possible move to Ajax, who had just lost Daley Blind. That didn't quite materialise in the summer, but Ajax have continued showing interest while Sinkgraven has continued to impress for Heerenveen.
Still only 19, the son of former footballer Harry Sinkgraven is showing the potential to be much better than his father. The attacking midfielder has made Heerenveen fans forget all about Hakim Ziyech, who left for FC Twente last summer. The one quality of this baby-faced Dutchman that stands out most is his exquisite control of the ball; smooth, magnetic and, even at this stage of his career, already like a seasoned professional.
But Sinkgraven was included in a 'Moneyball' team for the first half of the Eredivisie not on the basis of his attacking prowess but his defensive qualities, having made the second-most actions behind Yassin Ayoub.
Praise has been extremely high for Sinkgraven of late. Co Adriaanse called him the new Ziyech but "better in transition and better defensive qualities", Frank de Boer openly serenaded him with an offer from Ajax, and there's been serious interest from both Manchester United and Chelsea.
He still has a long way to go, and based on his qualities it's entirely possible that he could later be converted into a deep-lying playmaker – especially if he moves to Ajax. But for a youngster who considers Andres Iniesta his role model and Barcelona his dream club, he is definitely on the right path to develop.
Though he still needs to add some strength, that will come gradually with a natural physical transformation in his early 20s. Maybe then he will be equipped to become the world beater he already promises to be.
Potential suitors: Ajax (very likely given Sinkgraven says he wants to have an intermediate before a big move, and openly stated his preference for Ajax), Chelsea, Manchester United, Milan, Barcelona.
Thank you for reading 5 articles this month* Join now for unlimited access
Enjoy your first month for just £1 / $1 / €1
*Read 5 free articles per month without a subscription
Join now for unlimited access
Try first month for just £1 / $1 / €1
Get FourFourTwo Newsletter
The best features, fun and footballing quizzes, straight to your inbox every week.