Franck Kessie: The Arsenal-scouted Ivorian who dreams of Manchester United
Arsene Wenger famously turned down the chance to sign Yaya Toure as a teenager and, as Nemanja Grbic writes, Ivory Coast's new marauding midfielder is one the Frenchman won't want to miss out on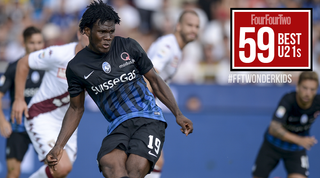 The 60-second story
FACTFILE
Born: 19 December, 1996
Place of birth: Ouragahio, Ivory Coast
Height: 6ft
Position: Midfielder
Current club: Atalanta (6 apps, 4 goals)
International: Ivory Coast (4 apps)
With a few moments of brilliance and a couple of impressive performances, you can quickly become the Next Big Thing. Sometimes the biggest influence to your tag is your nationality.
For Atalanta's Ivorian midfielder Franck Kessie, who has already represented his country five times, the player he is naturally likened to is Yaya Toure (by now you'll have lost count of the many others who went before the 19-year-old).
Last summer Southampton, Monaco and Schalke were all interested in signing the 19-year-old, while a potential move to Sunderland reportedly fell through because of a work permit issue. Now, after his blistering start to the new campaign in Serie A, in which he has already scored four times in six appearances, a host of top European clubs have set their sights on the teenager who's surely en route to stardom.
Why you need to know him
Kessie was already an Ivory Coast international when he arrived at Atalanta 18 months ago, having made his debut in 2014 aged just 17. It was quite an achievement for the youngster, especially considering he was still playing in his native country. But he deserved it after his excellent showings at the Under-17 World Cup in 2013 where, as captain, he led his team to the quarter-finals before they were knocked out by Argentina.
Kessie initially arrived on a loan at Atalanta, but after six months the Serie A club decided to fully acquire his services and sent him on loan to Cesena in Serie B. There, the Ivorian worked under manager Massimo Drago, who is well known in Italy for developing youngsters. Kessie was originally a ball-playing defender, excellent in his distirbution while maintaining a cool head in possession. However, Cesena's head coach had other ideas: he noticed that both his team and the Ivorian would benefit more if he deployed Kessie in front of the defence. He did just that, and the results were excellent – Kessie flourished in his new role. He made 37 appearances, notching four goals and two assists.
The year-long adventure in Serie B was hugely worthwhile: upon his return to Bergamo, the Ivorian was given a chance in Atalanta's first-team squad. During pre-season, head coach Gian Piero Gasperini didn't hide his delight with the teenager's improvement: "He is a boy who, last year in Serie B, had an important season. This year when he joined up with us, we immediately saw that he had quality."
Putting aside the four goals and assist he's produced so far this season, the most striking aspect of Kessie's introduction to Serie A was the way he quickly integrated into the team and adapted to another role. At Atalanta, in a complex 3-4-3 system that Gasperini is implementing, Kessie is successfully fulfilling the duties of a box-to-box midfielder which is perfect for his characteristics: it combines his imposing physique and technique ability at both ends of the pitch.
The comparisons with Toure are inevitable, if lazy. Nobody knows whether he'll reach those heights or not yet, but Kessie is showing more potential than his elder compatriot did at his age. At 19, Yaya was at Belgian side Beveren and it took him another four years before he moved to Monaco, having previously failed to convince Arsene Wenger to sign him when he had a trial with Arsenal in 2003.
On the other hand, Kessie is already making his name in Serie A and attracting the interest of Arsenal, Manchester City, Juventus and Napoli.
Strengths
Kessie constantly surprises with his large array of abilities. Due to his well-roundedness, he can play in various positions and roles. As a defender, Kessie demonstrated excellent marking abilities and his strength in carrying the ball at his feet. As a deep-lying midfielder he shows a good sense of positioning, and that he's more than capable of protecting the back four and kick-starting moves.
As a box-to-box to midfielder, though, Kessie presents himself on a whole different level – his speed, stamina, power and technique come to the fore in both phases of play.
The Ivorian can truly express himself in the final third, anticipating the runs of his team-mates and executing well timed penetrative passes. His excellent movement around the box is the reason why he's finding himself in a lot of scoring opportunities this season.
Weaknesses
During Atlanta's 2-1 win against Torino in early September, Alberto Paloschi was about to take a penalty before Kessie stole the ball off him to take it himself. Though he scored it, his manager was furious with the player and openly criticised him.
"He should not have taken it," Gasperini fumed. "There's a designated list and it should have been Paloschi or [Alejandro] Gomez.
"He put himself in the middle of something he had no right to be in. His team-mates were warning him not to get involved. Such things are not right. In the big teams, it doesn't work like this. If he wants to become a great player, he must grow also in this regard."
A week ago against Crotone, Kessie made a late and a dangerous tackle which resulted in him being sent off, a sign that the young midfielder might be losing his head amongst all the publicity.
At 19, he is still a raw product that needs polishing in many aspects, but if he sticks with his current work ethic there is no doubt that he can become a top-class player who will dazzle fans for many years to come.
Did you know?
Kessie was close to signing for Juventus back in 2013. "In 2013 – after the Under-17 World Cup – they wanted me, but I had watched Milan and I loved [Andriy] Shevchenko," the Ivorian told Gazzetta dello Sport.
One day, however, he dreams of playing at Old Trafford. "I'd like to play for Manchester United. I don't know if [Jose] Mourinho will be there, but they have always been my favourite team."
What happens next…
MORE TALENTSPOTTERS
For now, Kessie seems happy to remain in Bergamo and continue his development, but with the list of his potential future suitors increasing each day it's hard to imagine Atalanta holding off and not succumbing to the pressure.
"During the summer I was close to joining Sunderland, but then I preferred Serie A to the Premier League because in Italy it's possible to learn tactics. I hope I will play in England in the future, but not for now," Kessie recently revealed. "The only thing that interests me at the moment is learning as much as possible from Gasperini.
"I must improve tactically," he continued. "I came to Italy for this reason. I think that this is the best league in the world from a tactical point of view. Here, a young guy learns more about the game, especially from a defensive perspective."
Furthermore, his agent George Atangana admitted that Arsenal have been scouting his client for some time, but also said that the Gunners will face competition if they try to make a move.
"They [Arsenal] were here in Italy to watch him," said Atangana. "Arsenal are a good team but there are a lot of teams interested in him so they're not the only possible destination."
Red tape may have stopped Arsene Wenger signing Yaya Toure back in the day, but now he has a new opportunity to pick up the Ivory Coast's rising star. He might not want to lose out on this one.
Thank you for reading 5 articles this month* Join now for unlimited access
Enjoy your first month for just £1 / $1 / €1
*Read 5 free articles per month without a subscription
Join now for unlimited access
Try first month for just £1 / $1 / €1