How would your Premier League team fare without its three best players?
According to Sunderland's new assistant, English teams would be nothing without their trio of star men. Nick Miller investigates...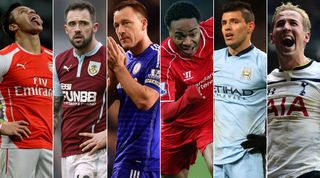 Back in 2010, shortly after leaving West Ham, new Sunderland assistant manager Zeljko Petrovic gave a damning assessment of the Premier League. "Every team has just three good players," he said. "If you take those players out of the teams then there are only players left who would not be playing in the bottom team in Holland."
Is he right? Would the Premier League's 'elite' suffer significantly if you were to remove their three top men? Here, we take a wholly unscientific look at who they might be (partly based on general ability, partly on their form this season) and what might happen without them...
Arsenal
Santi Cazorla, Mesut Ozil, Alexis Sanchez
It's not difficult to see where Arsenal's strengths lie, and given that some of the other candidates for their list of strongest players are in similar positions, it goes some way to highlighting their deficiencies too. Indeed, if you removed these three players from the Arsenal side, they would still be a team with plenty of creativity in the middle, sometimes excellent and sometimes calamitous performers at the back, and strikers who are very good but not as good as they need to be.
Aston Villa
Ron Vlaar, Alan Hutton, Christian Benteke
Had you said in the summer that Hutton would be among Aston Villa's key men this season, you'd probably be quietly taken away somewhere. But in a campaign largely filled with drudgery, the right-back has been comparatively excellent. It's also perhaps not a coincidence that, along with the arrival of Tim Sherwood, Villa's recent revival has coincided with a return to form for Benteke, and considering their dearth of other striking options, without him Villa would be in some trouble. At times during the early weeks of the season it seemed Vlaar was holding their defence together on his own, and while Ciaran Clark has been impressive, Vlaar certainly adds plenty of extra solidity.
Burnley
Jason Shackell, Kieran Trippier, Danny Ings
It goes without saying that Burnley would be somewhat doomed without Ings. His nine goals have been responsible for nine of their 25 points thus far. They're already among the favourites for relegation, but without his contribution they'd be near-certainties. One wonders how they will fare next season without him, regardless of their division. Shackell and Trippier are more low-profile contributors for Sean Dyche's side, but still vitally important, and for a club of Burnley's means, they couldn't realistically hope for better. What success Burnley have had has been based on a strong team effort, but without these three they would be much worse off.
Chelsea
John Terry, Eden Hazard, Diego Costa
It's no coincidence that Chelsea's slightly uncertain recent run of form has come with Costa suspended/out of form. Indeed, they may have been champions last season had they been able to rely on a centre-forward of genuine class, rather than mixing and matching where they could. Hazard is the creative hub of their side but there is enough wit elsewhere in their side to cover for his absence; Terry is easily their best defender, though, and arguably still the best in the Premier League. With the occasionally uncertain Gary Cahill and the still raw Kurt Zouma as the alternatives, Terry's importance should not be understated.
Crystal Palace
Scott Dann, Mile Jedinak, Yannick Bolasie
Among the many pleasing things for Palace this season is that their revival has not necessarily been down to any one single player. Instead it's been thanks to some excellent contributions from James McArthur, Jason Puncheon, Wilfried Zaha and Glenn Murray, plus the change in manager, meaning that taking out a few other key performers perhaps wouldn't have made too much difference. Jedinak, Bolasie and Dann have all been excellent, both at stages this season and in their Palace careers as a whole, but the Eagles' revival is enough of a team effort to mean they aren't reliant on their top men.
Everton
John Stones, James McCarthy, Romelu Lukaku
Lukaku has been maligned by many this season, but he still has 17 goals in all competitions, and you wonder where Everton would be without him. Out of the Europa League, for a start, where his five goals over two legs against Young Boys were the difference between the two sides. And while Everton's Premier League season hasn't gone to plan, there is little doubt they would be in much worse shape without him. Equally in defence, which has been a problem this season, the absence of Stones for a large part of the campaign was clearly a blow, and with Phil Jagielka and especially Sylvain Distin edging towards the end of their careers, the young defender is becoming more and more important for Roberto Martinez's side. In midfield, McCarthy provides a secure presence that has also been missed due to assorted injuries this term. Being without the latter two is one explanation for Everton's season being so disappointing after the hope of last term.
Hull
James Chester, Tom Huddlestone, Nikica Jelavic
In truth it's tough to pick out three players who stand out for Hull in what has been a poor season, but while captain Michael Dawson and Curtis Davies are the two highest-profile names in their defence, it's arguably Chester who is their most important presence at the back, usually making Steve Bruce's men look like a much better team. Huddlestone tends to keep the ball moving in midfield even if he does struggle against the best, while up front Jelavic has eight goals in 19 starts – a respectable number in a successful team, excellent in one that has struggled. However, it's debatable whether they would be significantly worse without these three – they are all good players, but the drop in quality to the remainder of their squad is perhaps negligible.
Leicester
Esteban Cambiasso, Riyad Mahrez, Andrej Kramaric
Given that it was pretty tough to select a third-most important player after Cambiasso and Mahrez, it's probably safe to say that the absence of their top trio wouldn't make a huge difference. Cambiasso has provided bite, experience and a semblance of class to Leicester's midfield, while you always get the feeling that Mahrez will create something and thus at least provide some danger. But neither have been enough to keep the Foxes from the bottom of the table. Kramaric only has two goals in England but is clearly talented, and perhaps has been wondering what on earth he's got himself into since joining in January.
Liverpool
Raheem Sterling, Philippe Coutinho, Jordan Henderson
There are a number of candidates to be among Liverpool's top players, from Martin Skrtel to Lucas Leiva, Daniel Sturridge when he's scoring goals, and perhaps even Steven Gerrard if you're feeling sentimental. However, without Sterling, Coutinho and Henderson, Brendan Rodgers' style of play, focusing on ball retention and rapid attacks, simply wouldn't be possible. It's equally important to Rodgers that this trio are adaptable and able to play a few different roles, which suits his tactical flexibility. Liverpool certainly have plenty of other attacking talents, but Sterling, Coutinho and Henderson are the side's core now.
Man City
Yaya Toure, David Silva, Sergio Aguero
One of the easier trios to name, Silva, Aguero and Toure are the driving force behind most good things Manchester City do, particularly given the decline this season of Vincent Kompany and lack of consistent partners for Aguero and Toure. While they can cope pretty well without one of them in the side (their record without Toure this season is surprisingly good), had they been denied all three they would barely be a top-four team, which is a damning indictment of a side that has spent so much money. While any team would miss their best three players, there can be few who are so reliant on theirs.
FEATUREMan City's poor recruitment means Chelsea keep them at arm's length
Man United
David de Gea, Angel Di Maria, Wayne Rooney
Where would Manchester United be without De Gea? There's a case to be made for the Spaniard being the best goalkeeper in Europe at the moment, and even with Victor Valdes in reserve, it's difficult to see who United could convincingly replace him with. Only just behind him in terms of importance to Louis van Gaal's side is Rooney, who has proved invaluable if only because he's the sole reliable striker United have at the moment, with Robin van Persie and Radamel Falcao injured and out of form. Without him their qualification for the Champions League would be a much bigger struggle. On ability alone, Di Maria is also among United's elite, even if his form in the last few months has been poor, but if he can repeat some of his early-season performances there are few in the world that can touch him.
Newcastle
Daryl Janmaat, Jack Colback, Papiss Cisse
It's difficult to work out what difference losing key personnel would make to this version of Newcastle, such is the transient nature of their squad: players seem to arrive, establish themselves and then leave... or dither and spend seasons on the fringe. And all the time they appear to finish somewhere around mid-table, having either disappointed their fans after a good run that promised more, or inspired belief after a terrible run that threatened relegation. Janmaat is clearly too good for this Newcastle side, Colback has played his way into the England squad at St James' Park, while Cisse is their only reliable finisher. But would they decline significantly without those three? Arguably, no.
QPR
Rob Green, Leroy Fer, Charlie Austin
Austin has scored 15 of QPR's 30 league goals this season; Fer is next on the list with four. No other player has more than two, and wiping his goals have won QPR 10 of their 22 points. So there's a decent argument to be made that there is no other single player upon whom a club relies than QPR and Austin this season, and also perhaps puts paid to the old line that a team can avoid relegation simply by having a decent striker (ask Andy Johnson, whose 21 goals didn't save Palace in 2005). At the other end of the pitch, Green has looked a rather forlorn figure, producing a number of fine performances as the defenders in front of him rather obligingly wave through attacker after attacker. Without Austin and Green, QPR could well have challenged Derby's record low points total this season.
Southampton
Toby Alderweireld, Ryan Bertrand, Morgan Schneiderlin
Plenty predicted doom for Southampton at the start of the season after the fire sale of players who helped them succeed last term, but the transfer business done over the summer turned up some gems that arguably saw them improve. The likes of Graziano Pelle and Dusan Tadic have faded, but both Alderweireld and Bertrand have maintained some level of consistency, to the extent that Dejan Lovren and Luke Shaw haven't really been missed. However, their most important player is still one they managed to keep last year, and if they do eventually lose Schneiderlin in the summer, it may prove very difficult for a club of Southampton's still relatively limited means to effectively replace him.
Stoke
Asmir Begovic, Ryan Shawcross, Steven N'Zonzi
It's perhaps surprising that Begovic and Shawcross are still at Stoke. Both men have been linked with moves away to some slightly more glamorous clubs in the last few years, but Stoke have held on tight – understandably, given that the duo form the bedrock of Mark Hughes's team. Completing the spine of the team is French enforcer N'Zonzi, a midfielder one would perhaps charitably describe as 'robust', but is nevertheless a crucial part of their set-up. Bojan Krkic is also in with a shout of being among their most important players, not least because he symbolises their change of style in the last couple of seasons, but if someone was to remove the Potters' solid spine they would be in some serious trouble.
Sunderland
John O'Shea, Lee Cattermole, Seb Larsson
Now, this was a challenge. So dreary has Sunderland's season been that choosing three players to stand out for them is a thankless task, but skipper Cattermole, so often their driving force and still an underrated passer, must be one. Other than that, O'Shea's experience and Larsson's set-piece deliveries have got them out of a couple of tight spots, nudging them ahead of other candidates like Jermain Defoe, theoretically their best finisher, and Costel Pantilimon, who has made a few vital saves. Still, it's hard to escape the conclusion that Sunderland aren't any good with their three best players, so still wouldn't be any good without them.
Swansea
Ashley Williams, Ki Sung-yueng, Gylfi Sigurdsson
Another season, another set of surprises in South Wales, where Garry Monk has guided his team to comfortable mid-table, carrying on the work done before him. Indeed, Swansea are such a well-run club that they are designed to carry on without their best players, and indeed lost their most important one when Wilfried Bony left for Manchester City in January. Their record without Bony is slightly worse than with him, but not significantly so, and while the likes of Ki, Sigurdsson and Williams are clearly very important to Monk's men, such is the nature of their club that they would still probably carry on in the same vein without them.
Tottenham
Hugo Lloris, Christian Eriksen, Harry Kane
If Manchester City were the easiest selection, Tottenham weren't far behind. You could make a case for Nabil Bentaleb performing a key role in retaining and intelligently using possession, but there are other players available to Mauricio Pochettino who can do that, if not quite as well. However, Spurs would be a shell of a side without one of the best goalkeepers in the division (probably only behind Thibaut Courtois and David de Gea), their creative hub and source of four late match-winning goals, and the surprise of the season and shoo-in for young player of the year. The star trio might not be enough for Spurs to finish in the top four, but without them they'd be nowhere near it.
West Brom
Joleon Lescottt, Darren Fletcher, Saido Berahino
Of course, the key catalyst to West Brom's revival this season has been the arrival of Tony Pulis, but without the goals of Berahino and drive of Fletcher, things look bleak for the Baggies. The former Manchester United man has provided the midfield organisation and security that simply wasn't there before his arrival, while Berahino's goals have obviously been crucial. Even so, as long as they have Pulis in charge, no individual player will ever be as important as his sturdy guidance.
West Ham
Adrian, Winston Reid, Stewart Downing
For West Ham, managing to tie Reid down to a new contract must be one of the coups of the season, given his old deal was due to run out in the summer and there was apparently a queue of frankly bigger and better clubs forming to sign the New Zealander. Without his presence the West Ham defence would be a much less secure place, and the same applies to Adrian, who was initially only signed as a back-up to Jussi Jaaskelainen, but is now one of the better keepers in the Premier League. Finally, much of the Hammers' gameplan often seems to revolve around Downing, whether his job is to play wide and provide crosses for a centre-forward, or through the middle to offer guile and creativity. Their excellent start to the season wouldn't have been possible without his fine form.
So...
Of course, assessing a team's quality without their best players is difficult without knowing exactly who they would replace them with, but it's still possible to look at how much those teams rely on certain men. On that basis, the teams that would suffer the most without their top players are either those who build their strategy around a certain player, or those that don't really have much of a strategy and rely on their best performers to win them games and get them out of trouble.
Thus, Manchester City stand out as the side who would lose the most without their trio, with West Ham, Tottenham, QPR and Manchester United not too far behind. As for those that wouldn't particularly suffer, with some exceptions it generally either seems to be those who are poor anyway, perhaps because 'best' is a relative term in their case (see Leicester, Sunderland), or those teams like Southampton or Swansea who are organised enough to cope with losing their top players, and indeed are used to doing so.
Highly unscientific table ahoy
1. Arsenal
2. Chelsea
3. Southampton
4. Liverpool
5. Man City
6. Man United
7. Swansea
8. Crystal Palace
9. Stoke
10. Tottenham
11. West Brom
12. West Ham
13. Newcastle
14. Everton
15. Aston Villa
16. Sunderland
17. Leicester
18. Hull
19. Burnley
20. QPR
Quizzes, features and footballing fun
Get the best features, fun and footballing frolics straight to your inbox every week.
Thank you for signing up to Four Four Two. You will receive a verification email shortly.
There was a problem. Please refresh the page and try again.