Liverpool target Piotr Zielinski: "If an interesting offer arises, why not? But my dream is Real Madrid"
The Polish playmaker has starred for Empoli this season, and Liverpool are among the clubs linked with a summer move. Martin Harasimowicz chats Robert Lewandowski, Euro 2016 and future plans with the 21-year-old...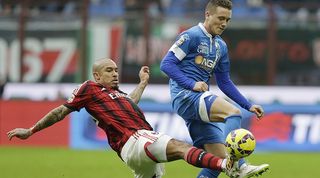 Jurgen Klopp will be given transfer funds to rebuild Liverpool this summer, and a 21-year-old emerging star from Serie A could be his first signing. Piotr Zielinski has registered four goals and six assists for Empoli on loan from Udinese this term, reportedly catching the German's attention in the process.
Udinese sporting director Cristiano Giaretta admitted last week that Liverpool's interest is concrete, while there have been rumours that Klopp and Zielinski have already held talks – reportedly after the manager was shown a video of him by a scout and immediately responded: "Who's this guy? I want him!"
Klopp has already helped one young Polish talent become a world-class international star while at Borussia Dortmund. Zielinski still has a long way to go until he comes close to matching Robert Lewandowski, but the youngster certainly has the potential to grow into one of the best in his position.
So who exactly is this crafty Polish midfielder who many believe has the potential to be one of the stars of Euro 2016? And what does he have to say for himself?
Instant hit
Zielinski left Poland at the age of 17, when Udinese signed him from local side Zaglebie Lubin. Current Swansea boss Francesco Guidolin handed him his Serie A debut against Cagliari a year later, with the teenager immediately becoming a sensation playing alongside veteran forward Antonio Di Natale.
Given his impressive displays in 2013/14, it came as a surprise when Zielinski was sent on loan to Empoli. At the time, it appeared to be a step backwards for the Pole, but the move has worked out brilliantly.
"I lost my place in the Udinese team and I don't know why that happened," Zielinski tells FourFourTwo. "I was only 18 when I started playing for them and I didn't even expect that. It started very well – the coach even said publicly 'I've found the new Di Natale'.
"But he barely played me the following season, so I decided to go somewhere on loan. My first season with Empoli wasn't great, but they showed a lot of faith in me and brought me back for another year. It was a tough start, but after that it all worked out pretty well. I've got myself into a nice rhythm and we've played good football as a team.
"I'm very grateful to coach Marco Giampaolo for showing confidence in me. He was inspirational in telling me: 'You've got skills, you're a very good footballer, but you need to believe in yourself more'. His biggest influence came in teaching me how to play defensively – how to attack by pressing, how to close down full-backs from the opposite side, how to position myself when they opposition has the ball.
"It was my weakest link. I only thought about going forward, but if you want to make it to the highest level then you need to do both. There's still room for improvement defensively, but I'm definitely going in the right direction."
Moving on?
Pairing Zielinski with former Middlesbrough striker Massimo Maccarone was crucial to Empoli's success. Predicted by many as favourites to down, Giampaolo's charges are pushing for a top-half finish in the final three matches of the Serie A season. Zielinski has been instrumental as the team's emerging star and chief source of creativity, with his skills evident in a particularly brilliant showing against Milan.
"That was one of my best performances for sure," he says. "I scored my second goal in Serie A. To play and score against Milan was like a childhood dream come true. When I grew up, they were one of the best teams in the world, so it definitely had sentimental value.
But would he be willing to trade fresh pasta for fresh and chips? "I wouldn't mind staying in Serie A for years because I feel very good in Italy. I understand, though, that the English and Spanish leagues are a little bit better at the moment," he says, diplomatically.


Zielinski slots home against Milan
"If an interesting offer arises, why not? I've got three games left to play this season and then hopefully Euro 2016, so I want to focus on that, but in the summer anything is possible. My childhood dream was always to play for Real Madrid, but I know there's a long way ahead of me, if [it] ever [happens]. They only hire the megastars of football, so I'd have to prove myself first."
Zidane fan
If a move to the Spanish capital did materialise, Zielinski could have the chance to hook up with one of his biggest inspirations.
"As a kid, I loved Zidane, Ronaldinho and Robino – they were my idols," he says. "Today, I admire Iniesta, Modric and Pogba, of course – he's by far the best player in Serie A. I had the chance to play against him recently. It was tough, but I think I held my own."
He certainly did: according to a report in Corriere dello Sport, he is one of the contenders to replace the Frenchman should he depart Juventus this summer, while a serious injury sustained by Claudio Marchisio means he could even be bought if Pogba remains. With Klopp and Liverpool also keen, it could be a defining summer for the Lubin native.
European stage
Many pundits in his home country believe Zielinski's market value will go up substantially after the European Championship. Poland haven't had as many quality attacking weapons since the 1978 World Cup, when Kazimierz Deyna, Zbigniew Boniek, Wlodzimierz Lubanski, Grzegorz Lato and Andrzej Szarmach fired them into the second group stage.
There was also a gifted midfielder named Adam Nawalka in that side 38 years ago, with the ex-Wisla Krakow man now the coach who will lead Poland this summer. With Lewandowski, Arkadiusz Milik and Kamil Grosicki to call upon, many have tipped the Poles to be dark horses in France.
It's Zielinski, however, who could be the hidden diamond destined to shine this summer. "He's a young player and we still see room for him to grow, which is good because it shows scale of his talent," Nawalka said recently. "We definitely count on him and he's got a chance to be in the starting XI for the Euros."
Destined for the top?
"I know my qualities and I believe that with every training camp my position with the Polish national team is improving," Zielinski says. "I'm working really hard to win my spot in the starting XI for Euro 2016. Every time I go onto the pitch, I want to prove to our coach that I can give him something extra.
"I like the way I've linked up with Lewandowski so far. In a recent game. I gave him two through-balls that connected. He's a great striker – he can lose a defender with one move of his body, and he knows when to sprint in behind. But I also believe our second forward, Arkadiusz Milik, is becoming a world-class footballer. Playing right behind both of them would be a lot of fun. I know I can give them proper service in France."
RECOMMENDED
Meet Joe Edwards: The 29-year-old mastermind behind Chelsea's youth team success
Where are they now? France's Euro 2000 champions
THIS is what being a fan in the 1980s was like – and what the Hillsborough verdict means
But where exactly would he like to play, and what does he believe his best qualities are? Some experts have compared him to a young Andres Iniesta, while others consider him to be more in the Marco Reus mould.
"My natural position is as a central attacking midfielder playing behind one or two strikers," Zielinski explains. "I've also occasionally played on the right wing this season, but centrally is where I'm at my best. I can play in the middle in any system, just definitely in a more offensive role. I'm still not that comfortable defensively, but I'm improving steadily thanks to Giampaolo."
Zielinski's agent, agent Bartlomiej Bolek, told FFT: "We have watched his career for a long time and he has everything it takes to be a great footballer playing for a top European club. In my opinion, he's also ready to be Poland's leading playmaker for years to come."
More features every day on FFT.com • Football's hottest prospects scouted
Thank you for reading 5 articles this month* Join now for unlimited access
Enjoy your first month for just £1 / $1 / €1
*Read 5 free articles per month without a subscription
Join now for unlimited access
Try first month for just £1 / $1 / €1
Get FourFourTwo Newsletter
The best features, fun and footballing quizzes, straight to your inbox every week.