Ranked! The 50 most exciting teenagers in world football
The most exciting teenagers in football right now, according to us: what were you up to when you were 18, exactly?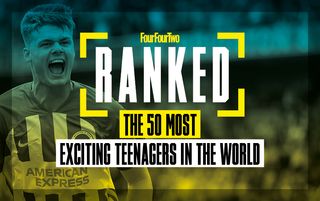 (Image credit: Future)
The most exciting teenagers in world football today are already household names. You have the internet to thank for that, of course, along with modern life's obsession with "the next big thing".
Once upon a time, these were the lads who would spend their formative years biding their time: now, they're able to hold employers to ransom for game-time and a full map of their development. While the previous generation flicked through the NME for tips on the next big bands, we now live in the age of Spotify's AI tools dropping new artists into your playlists – and in a culture of Football Manager wonderkids, it's no surprise to see talents under 20 scattered across a first-team XI.
FourFourTwo consulted analysts, scouts and writers to come up with a defined collection of the must-watch starlets of tomorrow. Remember their names – no pressure, of course, lads.
FourFourTwo's 50 most exciting teenagers in world football, 2023
50. David Kalokoh
Club: Ajax
Nation: Netherlands
Age: 18
Taller than most of his contemporaries and a step ahead of them mentally, David Kalokoh might not be the most obvious superstar of his age group: but he has a lot more swagger than most. His turn of pace is fun but he loves a pause on the ball; his signature is to wait for defenders and goalkeepers to commit before dropping a shoulder. He's the footballing equivalent of Usain Bolt in that 100 metres final: It'll be fascinating to see how he plays with opposition stars – he's outgrown most around him.
49. Iker Bravo
Club: Real Madrid B (on loan from Bayer Leverkusen)
Nation: Spain
Age: 18
So, this is a fascinating origin story: snared by La Masia, Iker Bravo ended up at Bayer Leverkusen but went back on loan to Spain… to play at Real Madrid's Castilla side before permanently joining next year. Bravo surpassed Florian Wirtz as Leverkusen's youngest-ever player, yet his imposing style already fits in with senior football. Leverkusen said he made a mistake by leaving: he could be on the way to becoming the next Benzema.
48. Amario Cozier-Duberry
Club: Arsenal
Nation: England
Age: 18
Unplayable. That's what Jack Wilshere said of Amario Cozier-Duberry, who was taken to the United States on preseason with the senior Arsenal side. The youngster feels very stylistically similar to Bukayo Saka – and with Mikel Arteta yet to find a suitable backup for his Starboy, perhaps the answer in waiting in the wings: he's slight, slippery and can raise the tempo as much as he can slow it down. No wonder he got Wilshere's seal of approval.
47. Adama Bojang
Club: Stade de Reims
Nation: Gambia
Age: 19
Adama Bojang is known as 'the Gambian Hurricane' – and for good reason. The teen is a whirlwind: leggy, confident and despite his stature, he doesn't blast the ball, choosing more often than not to place it. The replacement for Folarin Balogun at Reims, he's going to be fun to watch in France.
46. Alfie Devine
Club: Port Vale (on loan from Tottenham Hotspur)
Nation: England
Age: 19
Being a midfielder often requires a player to do just about everything on the pitch to a decent standard with a few key traits here and there. Alfie Devine is one of those youngsters who's at least a 7/10 in every aspect of a No.8's role. He can affect the game in the final third nicely, his movement off the ball is particularly good – and he's been unlucky not to have made a league performance for Tottenham. That'll come in time, no doubt.
45. Mohamed-Ali Cho
Club: Real Sociedad
Nation: France
Age: 19
The 'new Alexander Isak' tag might hang heavy to some but a boy named Mohamed-Ali is aptly charismatic enough to bear the burden. Real Sociedad have a fascinating attack with a resurgent Take Kubo out on the right (a previous member of these lists), captain Mikel Oyarzabal able centrally or left and Ander Barrenetxea a slippery winger to complement them. Where his team-mates in the frontline are graceful, Cho has the pace, finishing and power to bulldoze. Who knows how complete he'll look in a few years' time.
44. Soungoutou Magassa
Club: Monaco
Nation: France
Age: 19
The path to becoming a defensive midfielder is often an interesting one: it makes sense to go from centre-back to shielding a backline. That's what Soungoutou Magassa has done on occasion, though he may still make a defender yet. The young French talent is tall, calm on the ball and a good carrier: at Monaco, he'll no doubt get ample opportunities over the coming months.
43. Kobbie Mainoo
Club: Manchester United
Nation: England
Age: 18
Manchester United's early season has been marred by controversy and bad luck – and Kobbie Mainoo is a part of the latter. A confident, ambipedal talent who seems to operate in his own space and evade presses across the pitch, it would have been fun to see him start the season – it'll be interesting to see how he matures from hereon in and whether he becomes a bright spark in what's shaping up to be a difficult season at Old Trafford.
42. Leny Yoro
Club: Lille
Nation: France
Age: 17
Watching Leny Yoro in youth football was like seeing someone's big brother come to play with the year group below. Now, the defender has taken to Lille's first team and not looked out of place. He towers over forwards, can tackle with both feet and his anticipation is excellent. He's a superstar in the making for a country that already has a quite frankly ridiculous wealth of talents in that position.
41. Myles Lewis-Skelly
Club: Arsenal
Nation: England
Age: 16
There's something about Arsenal's Hale End academy and its ability to spawn midfielders this good. Myles Lewis-Skelly is delicate, thoughtful on the ball, but has the kind of intensity whenever he's out of possession that modern coaches wish they could teach. He seems tailor-made for Mikel Arteta's No.8 position – is he one of the principle reasons Granit Xhaka was never properly replaced when he departed north London?
Thank you for reading 5 articles this month* Join now for unlimited access
Enjoy your first month for just £1 / $1 / €1
*Read 5 free articles per month without a subscription
Join now for unlimited access
Try first month for just £1 / $1 / €1