Rejected Football Scripts, #5: "Avengers Dissemble – Bronze, Forster, Kane, Carroll, Dempsey and Deeney"
When the world is under threat from aliens (look, just go with it) and their Mourinho-led pals, there's only one crack team for the job. Well, apparently...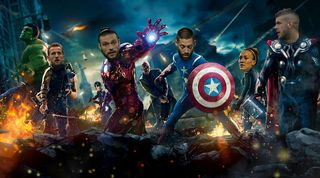 FADE IN:
INT: SOME BUILDING, SOMEWHERE
NICK FURY is sat in front of a group of assembled superheroes in a secret lair. We can't see them as they are all in shadow because SHIELD spent their entire budget on FLYING AIRSHIPS and had none left for LIGHTBULBS.
NICK FURY
I've gathered you all here today because I need some new Avengers. The last ones only signed on for three films and don't want to keep making one of these interminable snoozefests every year.
HARRY KANE
Why are you still here then?
NICK FURY
Much like Jack Grealish - I make bad decisions and need a new agent.
HARRY KANE
So which Avenger do I get to be?
NICK FURY
You're an up-and-coming Hot Shot, Harry, so naturally you're going to be…

(drumbeat)
…Hawkeye! Here you go!
Nick gives Harry a bow and arrow.
HARRY KANE
Are you kidding me? I'm the best player around and you're not even giving me a gun?
NICK FURY
Wait until you see who else I have lined up. We need a big muscular guy to replace Thor and I have just the ticket.
FRASER FORSTER emerges from the shadows.
FRASER FORSTER
I'm ready, Nick. I've been saving my best for this opportunity.
HARRY KANE
Which is literally the only thing you've been saving this season.
NICK FURY
Don't be mean. Hey Fraser, would you mind going to grab us all a coffee from the kitchen while I introduce the others?
FRASER FORSTER
Sure thing, Nick.
He leaves the room. Naturally, HE GOES THE WRONG WAY.
NICK FURY
Next let me introduce you to our Hulk replacement.
TROY DEENEY
Alright everyone.
HARRY KANE
Oh great, the Hulk is from Birmingham. What are his qualifications, anyway?
Deeney SMASHES Laurent Koscielny out of a window.
HARRY KANE
Alright, then.
NICK FURY
OK, so now we need a new Captain America.
CLINT DEMPSEY
To be honest Nick, I think I'm a bit old for this and I don't even live in the UK anym-
NICK FURY
Sorry Clint but you'll have to do it. No one in England has ever heard of any other American players. Like, who the hell is Christian Pulisic?
CLINT DEMPSEY
(muttering)
He's actually a really good player, and plays for Dortmund who are better than most English tea-
NICK FURY
Exactly! He's a nobody. So put on the suit, Clint. Now we need an Iron Man. He needs to be constantly injured and prepared to fly into things without worrying about the consequences.
ANDY CARROLL
Hi everyone!
NICK FURY
Excellent. And last but not least, you need your very own Black Widow. I present to you the England and Lyon full-back… Lucy Bronze.
MALKY MACKAY immediately appears in the doorway.
MALKY MACKAY
Er Nick, she's a girl. Don't be silly.
NICK FURY
Folks, put your hands up if you've ever played in a World Cup.
Bronze and Dempsey are the only ones with their hands up.
NICK FURY
And keep them up if you've ever scored the winning goal in a World Cup quarter-final against the host nation.
Only Bronze has her hand raised now.
LUCY BRONZE
Thanks Director Fury. So, what's my superpower?
NICK FURY
We're not going to give you one.
LUCY BRONZE
What? I get no superpowers or super-serum or anything?
NICK FURY
Nope. The guys get all that. But all their usefulness come from powers that someone else has given them, whereas you're their equal just using your own abilities. It's really quite subversive if you think about it.
LUCY BRONZE
I guess so. You're right – that's almost progressive.
NICK FURY
Exactly! Now quickly slip into this skintight leather outfit and we'll get going.
Forster returns at this point with a tray of coffees. He promptly DROPS it.
CUT TO:
INT: SHIELD PLANE, SOMEWHERE IN THE AIR
Fury is directing the Avengers on their first mission.
NICK FURY
Alright people. Loki has stolen some Macguffin called "The Tesseract" and now weird stuff is happening. Palace have beaten someone, an England team just won a penalty shootout, and the sky this week was all brown and apocalyptic. It's end of days-type stuff.
HARRY KANE
Isn't Loki a God? And all I have is a bow and arrow?
NICK FURY
Er, yeah, anyway. We're all going to go to Germany because that's where Loki is for some reason. But you need to know he has help.
FRASER FORSTER
From who?
NICK FURY
I'm sorry to say this, but it's Jose Mourinho.
LUCY BRONZE
Goddamnit. He'll have buses!
CUT TO:
EXT: CENTRAL PLAZA, STUG
The plane arrives in Stuttgart, Germany where LOKI is stealing something FOR SOME REASON. There is a giant BUS parked in front of the building and PHIL JONES and JOSE MOURINHO are helping him.
CLINT DEMPSEY
Let's go Avengers!
Troy Deeney spies Per Mertesacker and SMASHES him through a window.
TROY DEENEY
I am not Tom Cleverley! Everybody acknowledge my cojones!
Andy Carroll arrives in his Iron Man suit and promptly crashes in the plaza, injuring LOADS of people.
NICK FURY
Fer cryin' out loud, Andy, be careful with that thing.
ANDY CARROLL
Sorry boss, won't do it again.
99 seconds later, HE DOES IT AGAIN.
JOSE MOURINHO
If my opponent opens a window here, I will destroy him.
JURGEN KLOPP is in the watching crowd.
JURGEN KLOPP
Sure, I am a charismatic, funny loser. But my players do cross the halfway line occasionally.
JOSE MOURINHO
Oh, give it a rest would you? All I have at my disposal is the single largest budget available to any football manager anywhere in the world. You can't expect me to attack.
As the two argue, Kane and Bronze successfully CAPTURE Loki. Then they fly off to some sort of flying heliplane airship because THE CONCEPT OF PHYSICS doesn't exist in the Marvel Universe. Phil Jones MAKES THAT FACE.
CUT TO:
INT: SHIELD FLYING HELIPAD NONSENSE, THE SKY
The Avengers are sitting around doing calculations and arguing about what to do with Loki.
FRASER FORSTER
OK, because I'm now Thor I'll volunteer to transport him to Asgard and hand him over to Stringer Bell. Don't step to the Barksdale gang, yo.
ANDY CARROLL
OK, but before you go did you save all of our research findings and calculations?
FRASER FORSTER
Er, one sec.
Forster accidentally DELETES the findings. He has yet to save anything. That's the JOKE.
LUCY BRONZE
Given that Loki is a God, it seems pretty sensible to return him from where he came given that he has powers we can't possibly comprehend.
HARRY KANE
Like Tim Sherwood.
TROY DEENEY
I think we should keep him here so I can explain to him in great detail what is acceptable on a football pitch, as I am the sole moral arbiter on that in the English game.
CLINT DEMPSEY
This is the most insane place I've ever been. And I'm American.
At that moment our heroes are interrupted. Mourinho and his men are attacking the HELIPLANE THING. It is happening incredibly SLOWLY.
HARRY KANE
(watching out of the window)
It's like they've never attacked anything before.
We see ANTHONY MARTIAL falling off the side of the ship. He is immediately replaced by MARCUS RASHFORD. The Avengers disperse and engage in a BIG FIGHT with the attackers. It is almost amusingly BORING. Somewhere amidst the yawning, Loki escapes.
CUT TO:
INT: STARK TOWERS, NEW YORK
The Avengers are now at Andy Carroll's pad in New York. The walls are covered with posters for NEWCASTLE BROWN ALE and drunk samurai.
HARRY KANE
OK everyone. Apparently Loki is now going to attack Earth with a load of alien ships because the scriptwriter for this thing isn't even trying anymore.
NICK FURY
Right, they're going to come through a hole in the sky which is a portal to another dimension and I think we can all agree that attempting to adapt this script was a serious mistake.
Suddenly ALIEN THINGS start descending on New York.
LUCY BRONZE
They're the most ridiculous-looking things I've ever seen.
Suddenly GARY CAHILL appears with his head in a sling.
LUCY BRONZE
I stand corrected.
All The Avengers go off and DO STUFF. This goes on for AGES because Joss Whedon hates you all.
HARRY KANE
(firing arrows at aliens and hitting them all)
Thank God these guys didn't invade in August.
CLINT DEMPSEY
Fraser! Go up there and stop that wave of aliens getting through.
Forster goes to stop them and lets every single one in.
FRASER FORSTER
Were those aliens from Newcastle? They were past me in a flash.
NICK FURY
We can't rule it out.
LUCY BRONZE
(killing aliens all over the place)
These guys are going down quicker than Leicester managers.
She then STRANGLES a passing alien with a Pulis/Shakespeare HALF AND HALF SCARF.
TROY DEENEY
Thing is, I reckon these aliens are trying to mug me off.
Deeney then PULVERIZES ROB HOLDING and somewhere MARTIN KEOWN has a stroke.
ANDY CARROLL
Woah, woah, woah – a massive ruck and nobody told me? I'm getting involved.
CLINT DEMPSEY
I'm in charge here Andy, as I'm American and US audiences wouldn't accept a leader who clearly has literally no concept of what is happening in front of him.
ANDY CARROLL
Seems plausible.
CLINT DEMPSEY
Anyway, I'm really sorry Andy but I need you to use your aerial ability to get rid of the nuclear bomb.
ANDY CARROLL
What nuclear bomb?
NICK FURY
Sorry gang, did I forget to tell you? The government decided the best way to resolve this was to nuke our own city despite having no idea of the effect on the alien invaders, but knowing for sure it would kill tens of millions of humans.
LUCY BRONZE
God, the fictional leaders of America in the Marvel Universe are the dumbest people imaginable. Thank goodness real life isn't so scary.
NICK FURY
(uncomfortably)
Yeah, haha.
In the meantime, Carroll HEADBUTTS the nuclear warhead through the hole in space to destroy the attacking fleet OR SOMETHING. Everyone then goes for dinner.
CUT TO:
POST-CREDITS SCENE
INT: LABORATORY, SCOTLAND
GORDON STRACHAN and SOMEONE EVIL FROM HYDRA are hatching a secret plan.
GORDON STRACHAN
We need them to be bigger. They're too small.
We cut to the floor where there are HUNDREDS OF TINY SCOTSMEN.
EVIL HYDRA GUY
I honestly think these films have the stupidest, most ridiculous, laziest, least believable storylines ever. Hydra just comes across as the worst-run organisation imaginable.
On the TV behind them, Sky Sports News are broadcasting details of the FA's handling of the ENI ALUKO affair.
EVIL HYDRA GUY
I stand corrected.
THE END
See also...
Strachan sacked after bringing nine-foot man into meeting with Scottish FA
More chuckle-worthy stuff from Rejected Football Scripts
Quizzes, features and footballing fun
Get the best features, fun and footballing frolics straight to your inbox every week.
Thank you for signing up to Four Four Two. You will receive a verification email shortly.
There was a problem. Please refresh the page and try again.