Which country's players have the best Premier League success rate?
Raj Bains spends a (really, really, really) long time assessing the top flight's deals since 1992 to determine which country's stars really have offered the best hit rates...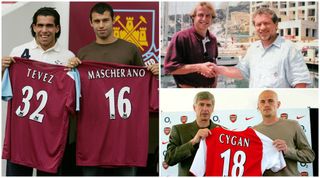 The Idea
It started with an innocent hypothesis speculating which country's players made for the riskiest Premier League signings. It ended with a hefty research project, conducted with a special set of (wholly unscientific) regulations which operated in the name of fairness and curiosity. To find out which nation really did offer the worst ratio of true successes to failures, well over 1,000 transfers needed to be analysed. Was it Brazil, or was another nation lurking behind the cover of ignorance?
The first rule (perhaps an obvious one): home nations weren't to be included in the data. The second: only nations that had provided the Premier League with 20 or more players would be in contention. Those that had provided fewer were simply too small a sample group to be worth consideration.
With those in mind, a 23-nation shortlist was formed, including: France (179), Netherlands (111), Spain (95), Italy (61), Brazil (59), Argentina (58), Norway (58), Sweden (55), Denmark (54), Portugal (49), Australia (47), Germany (43), United States (39), Belgium (38), Jamaica (35), Nigeria (32), Senegal (30), Serbia (26), Czech Republic (25), Cameroon (24), Croatia (22), Greece (20) and Ivory Coast (20).
The Method
Look, football isn't science OK? You can't just chuck a bunch of players – 1,180 of them involved in the whole affair – into a super computer and expect rational results at the other end. FFT could tell you there was more to it than a heady mixture of research and Curb Your Enthusiasm, but that would be a lie.
One important distinction to make, though, was what exactly success meant to the data. Was it most concerned with goals? Longevity? Cult status? Or general contribution to the cause?
With so many variables, FFT decided to simplify the concept and only note down players as being successful if it was clear that their club(s) would have suffered had they never signed in the first place. Success does not mean mediocrity, after all.
Once that was done, the ratios were numbered one to 23, creating a league table of everything that had been worked out. To make sure the data had been processed in a comparable manner, ratios became percentages. Real numbers!
The Results
Didier Drogba! Salomon Kalou! Wilfried Bony! Cheick Tiote! Yaya Toure! Er, Ibrahima Bakayoko! You boys are ace (well, nearly all of you), according to FFT's results. Intriguingly, three of the top four nations are African, with Senegal and Nigeria making into the top four. And Norway? Not even Henning Berg, Stig Inge Bjørnebye or John Arne Riise can save you here.
ALSO ON FFT.COM
Conclusions
The method isn't perfect, of course, but it does give a better idea about the hit rate clubs have achieved and allows us to spot trends from certain areas.
Take a look at the other strong European leagues, for example; because their very best players are likely to stay at the top of their domestic competitions, the players England import are quite often not of the same standard. Spain, thanks to the remarkable history of their past generation of players, are the obvious outliers in that scenario, but it rings the most true for Italy, with their very best rarely likely to test themselves outside of Serie A.
That same notion works in the opposite way, of course. The best percentages are taken by several African countries, with weak domestic competition leading to the continent's top stars finding their way over into European competition more regularly than most. You don't have to look that far past just how many players clubs lose during the Africa Cup of Nations to see just how many of their standout names have become Premier League successes. The same applies to the likes of Croatia, Serbia and Belgium.
Of course, 10 years ago the results wouldn't have been anywhere close to this, and 10 years on from now they'll be completely different again.
Quizzes, features and footballing fun
Get the best features, fun and footballing frolics straight to your inbox every week.
Thank you for signing up to Four Four Two. You will receive a verification email shortly.
There was a problem. Please refresh the page and try again.