Why transfer rumours twist and shout louder than The Beatles
January means it's crazy season when it comes to transfer rumours, as Neil Humphreys is all too happy to discuss...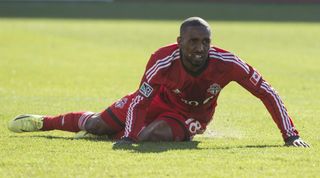 And here it is once more. The transfer window merry-go-round that somehow manages to mimic The Beatles' prolific career from sensible mop-tops to stoned artists in psychedelic kaftans in a single month.
At newspaper meetings and agents' offices around the world, a designated Vanna White-type figure is currently standing by to spin a wheel filled with the faces of international footballers. From Lionel Messi in Barcelona to Manchester City's forgotten Scott Sinclair, they're all on there - it's a really big wheel - waiting to be spun and hoping for a mention in the daily gossip columns.
SEE ALSO "Are they still here?!" The Premier League squad fillers
The first few spins are straightforward, practical and down-to-earth, very much like the early output of The Beatles.
Jermain Defoe possibly returning to the Premier League, Victor Valdes signing for Manchester United and Crystal Palace chasing Rickie Lambert. This is all predictable, middle-of-the road stuff, the Love Me Do of football speculation. It's entertaining, but not life-changing.
But in the omnipresent news cycle, a month-long window is a lifetime. The need for a daily gossip fix is insatiable. So the rumour hunters dig deeper into their creative well to unearth small, palatable nuggets of nonsense, suggesting they're smoking something stronger than whatever Wojciech Szczesny was puffing.
By mid-January, the fanciful football gossip hits its Rubber Soul and Revolver peak, its innovative summit, by successfully blending hardheaded pragmatism with early hints of creative lunacy. With Valdes on board at United, David de Gea gets linked with a move to Real Madrid. On first inspection, the idea of selling Manchester United's best player seems outlandish. It's too much of an imaginative leap, like listening to Norwegian Wood for the first time.
But it grows on you. There's a clear method and very little madness. Iker Casillas is on his way out at Real Madrid. De Gea is Madrid born and bred and eager to skip along Cristiano Ronaldo's path towards a childhood dream. Meanwhile, a World Cup penalty-stopping saviour could conceivably be eager to link up with his former Dutch master. Louis van Gaal selling De Gea for a sizeable profit and replacing him with Newcastle's Tim Krul suddenly makes sense, particularly when Krul is stuck at a club where board meetings must look like a backstage gathering of The Muppets.
SEE ALSO January or June: Is it better to buy now or pay later?
Mid-January marks the high point. This is as good as the transfer speculation is going to get. It's John Lennon singing Tomorrow Never Knows, pushing the boundaries and testing the public's appetite for new, bolder material. Some of the rumours are groundbreaking, but still listenable. James Milner being linked with Liverpool, for instance, may be a radical departure for some but others clearly recognise the merits of such a move. Milner remains a reliable, committed performer, but his playing time is limited at Manchester City, whereas Liverpool keep selling their reliable, committed performers.
Of course, even in this golden era of transfer window conjecture, someone will always go too far and put something out there that the world just isn't ready for, like Ringo Starr singing Yellow Submarine. Luis Suarez moving to Manchester United is similarly out of whack. It just doesn't resonate. Even if one allows for the ongoing Barcelona breakdown, the thought of the Uruguayan signing for United less than a year after leaving Liverpool is too much, too soon.
That's a story for the end of January, when Sgt Pepper is delivering the most mind-bending transfer speculation in a newspaper taxi. That's the moment when any semblance of realism is jettisoned and we all tumble through the looking glass towards a Sky Sports clip of Harry Redknapp, sitting in his car on deadline day and explaining why he's signing one of his old Tottenham players.
SEE ALSO The truth behind the transfer window rumour mill
For The Beatles, that tipping point from brilliant to break-up came after the release of their iconic album Sgt. Pepper's Lonely Hearts Club Band. For this transfer window, it could come after revelations of Saint Messi's lonely broken heart at the Nou Camp. The loopy reasoning behind his rumoured defection to Chelsea makes sense only if viewed through hallucinogenic binoculars.
Messi followed the club on Instagram. That's it. He followed Chelsea's official account, along with a couple of Chelsea players, on the social media site. So he's off then. The Instagram theory drags our addiction for fresh product towards the I Am the Walrus era of transfer nonsense, where goo goo g'joob thinking is either inspired or insane, depending on your state of mind or how many hours are left in the transfer window.
After which, the January market will conclude its business just like the Fab Four, suddenly, acrimoniously and in an unseemly dispute over money.
For some, The Beatles will always end on a road, with four guys crossing a zebra crossing. For many others, the transfer window will always end on a road, with Sky Sports crossing over to speak to Redknapp through his car window.
Neil Humphreys is the best-selling author of football novels Match Fixer and Premier Leech, which was the FourFourTwo Football Novel of the Year. You can find his website right here.
Quizzes, features and footballing fun
Get the best features, fun and footballing frolics straight to your inbox every week.