Full Europa League draw: Manchester United face Barcelona in play-off round
The Europa League has thrown up a bunch of exciting fixtures between heavyweight clubs just looking to progress to the last-16 of the tournament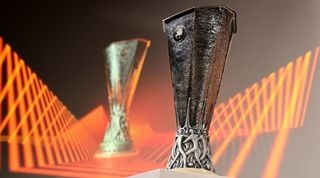 (Image credit: Getty Images)
The Europa League draw for the play-off round of the 2022/23 tournament has been confirmed, with Manchester United set to face Barcelona in the standout tie of the round.
Barcelona were among the eight teams to finish third in their Champions League group and subsequently drop down into the Europa League, with those eight teams being drawn against one of the eight teams to finish second in their Europa League group.
Arsenal finished top of their group so have received a bye into the last-16, but Manchester United failed to finish first and will therefore face Barcelona in a mouth-watering Europa League play-off round two-legged tie.
The two giants last faced each other in the 2018/19 Champions League quarter-finals, with Barcelona winning 4-0 on aggregate. Both clubs have struggled in recent years, though, and find themselves matched against each other to try and progress in Europe's second-tier competition.
Juventus have drawn Nantes for their play-off fixture, the French side currently sitting a place above the relegation zone in Ligue 1. Fellow French team Rennes are enjoying different fortunes in the league this season up in third place, and they'll face Shakhtar Donetsk in an attempt to progress in the tournament.
Unfortunate not to reach the knockout rounds of the Champions League, Sporting will need to beat Danish club Midtjylland if they are to taste European glory this season. Meanwhile, Sevilla are up against PSV in what seems a very intriguing clash.
PSV were unlucky not to beat Arsenal to the top of their Europa League group, finishing level on points with the Gunners. Sevilla are also struggling in La Liga, 17th in the table and dropping down from the Champions League.
Dutch side Ajax are up against it in their play-off game, facing high-flying Bundesliga side Union Berlin in perhaps the most difficult tie to call. Both clubs are exciting to watch with brilliant fan bases, so expect plenty of action and entertainment on the pitch and in the stands.
The draw has set up a clash between Jose Mourinho's Roma and Red Bull Salzburg, with Roma looking to add Europa League glory to their Europa Conference League trophy from last season.
Finally, Bayer Leverkusen will play against Monaco, Leverkusen the only German side to drop out of the Champions League so far this season.
Full Europa League play-off round draw:
Barcelona vs Manchester United
Juventus vs Nantes
Sporting vs Midtjylland
Shakhtar Donetsk vs Rennes
Ajax vs Union Berlin
Bayer Leverkusen vs Monaco
Sevilla vs PSV
Red Bull Salzburg vs Roma
Thank you for reading 5 articles this month* Join now for unlimited access
Enjoy your first month for just £1 / $1 / €1
*Read 5 free articles per month without a subscription
Join now for unlimited access
Try first month for just £1 / $1 / €1