7 Ligue 1 prospects worth getting excited about in 2016/17
With France's top flight a go-to source for value and untapped potential, Aakriti Mehrotra looks at the league's big prospects who are set to leave their mark on the upcoming campaign
France has long been used to seeing its brightest and best imports fly the nest for bigger and better things around Europe. This summer has proved no exception, with Ousmane Dembele (Borussia Dortmund) and Michy Batshuayi (Chelsea) just two players to have hot-footed elsewhere, and crown jewell Alexandre Lacazette the subject of serious interest from Arsenal. 
But despite the revolving door of talent, Ligue 1 has never suffered a dearth of talent – and won't anytime soon...
1. Adam Ounas (Bordeaux, attacking midfielder)
Ounas' ability to beat defenders with pace and trickery is what makes his game so exciting
When Sunderland snapped up Wahbi Khazri from the Bordeaux in the winter transfer window, there was understandably some cause for worry given that he'd been the only player livening up the club's otherwise turgid displays. 
But former coach Willy Sagnol had given Adam Ounas his debut against Lorient just three months earlier, and fans knew they had another player who could inject the dull Bordeaux side with some vibrancy. Sure enough, he proved the beacon of light in an otherwise dingy campaign: the 19-year-old finished his debut season with five goals and two assists in 1,315 minutes of league football.
His main strength is his ability to play in different positions. Sagnol used the player as a forward, behind the striker and on both wings, but his ability to beat defenders with pace and trickery is what makes his game so exciting. 
He isn't too flashy with the ball and shows great awareness during games by spotting team-mates in better positions than him. Simply, he doesn't seem to have the 'star' problem that Newcastle flop Florian Thauvin suffers from. 
Ounas has great potential and Bordeaux have a very good player on their hands. He has been linked with major European clubs, notably Manchester United. It will be interesting to see how new manager Jocelyn Gourvennec uses the 19-year-old, and for now it would be best for the player to stay put with a team who'll give him regular minutes – something so crucial at his age. 
2. Thomas Lemar (Monaco, attacking midfielder)
Lemar's arrival at Monaco last year went under the radar but he has since established himself as one of their key players.
The attacking midfielder is capable of playing anywhere along the frontline. He made 20 starts in the league last term, something he wasn't expecting himself after setting modest pre-season expectations ("I'd like some game time and to settle well into the squad," he'd said). 
After Monaco sold several players and endured a slow start to the season (three wins in their opening 10 games), he was given a chance to shine very early into the season. Lemar took his opportunities well, and ended the season with five goals and three assists. 
He's a player without imposing stature and physical attributes, but intimidates the opposition with the ball at his feet. Boasting 2.5 successful dribbles every 90 minutes, this is quite evidently one of his major strengths. Former Monaco man Anthony Martial was effusive in his praise for his old team-mate, declaring: "He's small, thin, frail, but he never loses the ball – technically he is huge." 
Los de Thomas Lemar en @ligue1 esta temporada !https://t.co/NtAQWp0KQx

— AS Monaco ES (@AS_Monaco_ES) May 31, 2016
3. Maxwel Cornet (Lyon, attacking midfielder)
Cornet's 2015/16 stats
Total Apps: 36
Minutes: 1,508
Goals: 11
Assists: 1
Perhaps it was Ousmane Dembele's rise that kept Cornet out of the limelight, the 19-year-old having enjoyed a fine breakthrough campaign on the banks of the Rhone.
After getting a taste of first-team action upon his signing from Metz in January 2015, Cornet's talents were on display when, in a dead rubber Champions League tussle against Valencia last December, he scored a wonderful solo goal.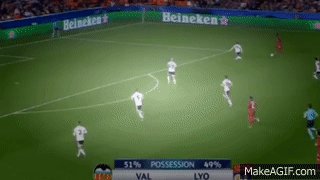 Not a pointless game for everyone involved, then
He netted three in four games between February and March, and added four more before the season's end – including both goals in a 2-0 win over Montpellier. 
With Lacazette almost always on the verge of departing, Lyon fans should be relatively relaxed that they have a player as talented as Cornet within their ranks. The Ivory Coast-born teenager will have a more important role this season and it will be intriguing to see how well he handles it. 
4. Vincent Koziello (Nice, central midfielder)
Hatem Ben-Arfa might have got all the attention last season but without a player like Koziello in the midfield, it is difficult to envision the poster boy of Nice's success to have done so well
The 20-year-old central midfielder joined Nice in 2013. He made his first senior appearance in November 2014 and featured 35 times in the league for les Aiglons last season, with just three coming from the bench.
Koziello managed three goals and six assists in 2015/16, but these attacking returns are a bonus in his game. His real value comes in his passing, fine work-rate, ability to start attacks and intelligence in possession. He isn't really a box-to-box midfielder, or a defensive one either, and plays in between the two positions to do his job. 
Hatem Ben Arfa might have got all the attention last season, but without a player like Koziello in midfield, it's difficult to envision the poster boy of Nice's success to have done so well. 
Koziello is likely to maintain the same importance under new boss Lucien Favre, but it won't be surprising if admirer and former mentor Claude Puel tries to persuade the Frenchman to join him at St. Mary's sometime in the near future.  
5. Clement Lenglet (Nancy, centre-back)
Thanks to missing out on promotion in 2014, Nancy had a tight budget to work with the following term, forcing manager Pablo Correa to reshape the side and promote talent from within. 
His impressive displays at the back helped Nancy gain promotion to Ligue 1 - they finished top of the table with the best defensive record (just 32 goals conceded all season)
So after the club's U19 side enjoyed a good season, it made sense when Clement Lenglet – a player who played a big part in that success – was promoted to the senior squad for the 2014/15 campaign. 
His biggest strength is his mentality. What the defender lacks in speed he makes up for in calmness and assuredness in the box, and his maturity on the pitch seems beyond his years. 
Technically astute, Lenglet has a strong left foot and his ability on the ball enables him to push on from behind the midfield. At 6ft 2in, his aerial presence and strength helps him command the box. His impressive displays at the back helped Nancy gain promotion to Ligue 1, and with style – they finished top with the best defensive record (just 32 goals conceded all season). 
The talented 21-year-old has earned the interest of Juventus and Sevilla in the past, and if he keeps his performances up there might well be a few more clubs added to that list. Lenglet will face tougher opponents in the league this season, where his abilities will face a sterner test, but he undoubtedly has the ability to excel at a higher level. 
6. Youssef Ait Bennasser (Monaco, defensive midfielder)
Defenders aren't solely responsible for keeping the screws tight at the back, and Nancy know that better than anyone. Their tight defence last term was assisted by the midfield performing admirably and shielding the back four with command. Ait Bennasser's performances contributed significantly to that. 
The 20-year-old Moroccan played 33 games in Nancy's quest for promotion. While he can be mainly put down as a defensive midfielder, he has played in a number of positions early on in his career. 
Technically excellent, he is best utilised in the centre of the park, shielding the defence, distributing the ball forward and passing accurately to help manoeuvre attacks. He is perfect for both the 4-3-3 and the 4-2-3-1 systems where another midfielder supports him.
His eye-catching displays have managed to interest Atletico Madrid, Arsenal and Fiorentina but it was Monaco who acquired his services last month. They have loaned him back to Nancy for the short term, a good move for the player who will continue to play regularly. 
L'@AS_Monaco est heureux d'annoncer la signature de Youssef Aït Bennasser pour 5 saisons!



https://t.co/FvvBEaUB2R pic.twitter.com/ypbCsgPaG4

— AS MONACO (@AS_Monaco) June 25, 2016
Monaco have a very talented player on their books, and if he can continue to build on the last couple of seasons, he has a massive future ahead of him. 
7. Kylian Mbappe (Monaco, striker)
The youngest on this list at 17, Mbappe also plays for Monaco. The forward made 11 appearances for the French side last season, with nine of them coming from the bench. 
Mbappe proved his 'highly rated' tag by becoming the youngest player to score in Monaco's history, breaking Thierry Henry's record. 
The player's style is reminiscent of another French young starlet, Kingsley Coman. He is an explosive player who possess a lot of pace, can play on the flanks as a wide forward or a winger, but enjoys cutting inside and using his powerful right foot. 
Dribbling and managing to keep possession are two other strong qualities he boasts. Mbappe can shoot with both feet, and his finishing is strong. An unselfish player, he also likes to get in positions to assist his team-mates and create chances. 
Ladies and gentlemen, Kylian Mbappe Lottin. Future world beater. pic.twitter.com/C3JT1T1J6R

— ㅤ (@EliteTalents) July 25, 2016
At just 17 years old, the player has already shown a lot of quality and has the ability to become a very dangerous player in the future.