8 players who turned down major transfer moves
In the modern era, money often talks – but not for these footballers who based a career choice on their love for a particular club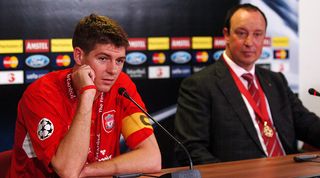 "Loyalty is difficult in football," stated former Manchester City defender Vincent Kompany in 2017. "Everybody wants it, but in reality managers are thinking: 'If I can find a better player, you are out' and players are thinking: 'If I can find a club that wins more games, I am out'."
Yet that isn't always the case. Not all players are driven by either monetary incentives or the bright lights of bigger clubs - reports just this week suggest that Ajax captain Matthijs de Ligt has rebuffed Barcelona's overtures. Here are few more paragons of loyalty we should show some respect to...
Alan Shearer (Newcastle)
After joining Manchester United, Romelu Lukaku stated in an interview: "Who would say no to the biggest team in the world?" Veteran striker Alan Shearer was quick to respond, tweeting: "I did. I turned down… Barcelona."
Two decades earlier, Shearer had claimed the Premier League title and two consecutive golden boots with Blackburn. After he'd top-scored at Euro 96, Manchester United were once again strongly linked with the forward - Alex Ferguson having first shown an interest in Shearer when he signed for Blackburn from Southampton in 1992.
Yet Shearer opted to join his hometown club of Newcastle. In his first season he won another golden boot, but the Magpies finished second in the Premier League table – behind the club he rejected, Manchester United.
As the season ended, Barcelona boss Sir Bobby Robson called Shearer, trying to lure him to the Catalan giants. Nothing was enough to tempt the Englishman away from St James' Park, though, as Shearer remained faithful to Newcastle throughout his football career. He failed to win a trophy there, but finished his career with 260 Premier League goals – making him the most prolific striker in the English top flight of the post-1992 era.
Alessandro Del Piero (Juventus)
In 2006, only a few months after winning both the World Cup for his country and the Scudetto with Juventus, Del Piero found his team demoted to Serie B thanks to Italian football's calciopoli scandal.
The Old Lady was stripped of many megastars who moved on to other elite European clubs (including Zlatan Ibrahimovic, Patrick Vieira and Fabio Cannavaro) – but some key players chose to stay, including Pavel Nedved and Gianluigi Buffon. Most crucially, so did their iconic No.10 Alessandro Del Piero, who duly declared: "A true gentleman never leaves his lady."
Del Piero took the Bianconeri back to Serie A, but the club failed to touch any silverware for four seasons. The player stuck with Juventus even when he was benched, when they were knocked out of Europa League losing 4-1 to Fulham and when they finished seventh in the league... twice.
Del Piero saw the Old Lady get back on her feet as he was waving goodbye to Italian football, with Antonio Conte's side winning the Scudetto in 2011/12. In his final game, a tearful Juventus Stadium was begging to watch the club's all-time record scorer play for one more season.
Francesco Totti (Roma)
Del Piero isn't the only cult hero in modern Italian football, not the only No.10 worshipped for his faithfulness. No one described Francesco Totti's case better than former coach Luciano Spalletti when he said: "It would be easier to move the Colosseum out of Rome."
For 25 long years, no offer was enticing enough to draw Totti's skilful feet from the Stadio Olimpico. Two seasons after winning his only Scudetto (in 2000/01), Real Madrid approached Totti – only for the Eighth King of Rome to remark: "They taught us in school that family is the most important thing. Did you ever hear of someone leaving his poor parents to live with rich strangers?"
Totti never won a fraction of what he could have achieved elsewhere, but Serie A's second-highest all-time goalscorer had tears in his eyes and a huge smile as he enjoyed football's most emotional farewell in 2017 (and again this month) - a feeling no trophy could ever have given him.
Steven Gerrard (Liverpool)
Gerrard leaving Liverpool after that historic Champions League triumph over Milan at the Ataturk Stadium seemed idiotic newspaper talk. Yet the truth is that the Liverpool captain handed in a transfer request in the summer of 2005, after temptation from Chelsea and Jose Mourinho got to him.
That the Premier League champions wanted the midfielder left him torn between playing for a club with big ambitions and a visionary coach, or staying with the club he'd loved since he was eight. Gerrard said he'd only handed in his request in the hope that Liverpool would show their desire to keep him, after he became frustrated with hold-ups to his contract extension talks.
In the end, Gerrard chose to remain devoted to the Reds. Upon his retirement, he said: "Of course I'm sitting here with that one big regret that I didn't win the Premier League, but I am proud of my loyalty… Liverpool means the world."
Diego Godin (Atletico Madrid)
Manuel Pellegrini was hoping to be reunited with his ex-player as Manchester City boss in 2015, but couldn't land Atletico Madrid's Champions League finalist and La Liga champion Godin.
The Uruguayan centre-back recently commented on his former Villarreal coach: "It's true that two years ago, City wanted me when Pellegrini was there... I'm proud that he wanted me, but I feel like just another fan of this club. I'm very happy here."
Godin had to go through the pain of losing out to Real Madrid once more in a Champions League final in 2016, and will finally leave Atletico this summer to join Inter.
Pavel Nedved (Juventus)
Juventus left Nedved frustrated when they showed him the exit in declining to renew his contract in 2009. Then-Inter manager Jose Mourinho called Nedved - who'd previously stayed loyal to Juventus following their calciopoli demotion – urging him join the Nerazzurri, and promising the player that his team would win the Champions League.
Nedved knew how good Mourinho was, and what he could have achieved playing under the Portuguese. But one thing blocked the Czech Fury's path: the rivalry between his previous club and Inter.
"I was and am a Juventino, so I said no," he later explained. "I loved Juventus too much to join Inter… I really wish I'd been able to win the Champions League with Juve, but I couldn't do it with another jersey on my back."
Nedved missed out on winning a stunning treble with Inter following season. On the other hand, he's now the vice-president of the club closest to his heart.
Jamie Vardy (Leicester)
Arsenal triggered the £20m release clause of Vardy's contract in 2016, after he'd bagged 24 goals leading Leicester to a historic Premier League title.
Although Vardy gave serious thought to moving to Arsenal, even looking at London schools for his kids, he backed out knowing he had a good thing at the King Power Stadium. "It was more a case of seeing Leicester as a club that wanted to build on what we achieved with the title and I want to be part of that," he explained.
Claudio Ranieri sent him a text saying 'the dream continues' after he agreed to stay – but although that went awry the following season as Leicester's form fell away and Ranieri was sacked, Vardy has continued banging them in for the Foxes.
Marek Hamsik (Napoli)
Five years ago, agent Mino Raiola said that "a great sportsman needs to find new motivation, whether you are Messi, Ibrahimovic or Hamsik. Otherwise you're a flat player." The message was pretty clear: Raiola believed it was time for the Slovakian star to leave Naples.
In 2017, Raiola is no longer Hamsik's agent – and his current one is still talking about the offers they're rejecting.
Napoli's vice-captain has been a long-time target of Bayern Munich, Juventus and several of the Premier League's finest sides. But according to the player, winning with the Partonopei is better than doing so anywhere else – and not even the be all, end all of things.
"I need to have more than just a paycheque and trophies; I need to feel something in my soul," said the idolised playmaker. Sounds pretty clear to us.
NOW READ...
5 La Liga stars we could see in the Premier League next season – and where they might end up
Quiz! Can you name the 37 players to finish in the Ballon d'Or top three from 1995 to 2018?
Thank you for reading 5 articles this month* Join now for unlimited access
Enjoy your first month for just £1 / $1 / €1
*Read 5 free articles per month without a subscription
Join now for unlimited access
Try first month for just £1 / $1 / €1
Get FourFourTwo Newsletter
The best features, fun and footballing quizzes, straight to your inbox every week.