FourFourTwo's Best 100 Football Players in the World 2016: No.1 – Cristiano Ronaldo
Andy Brassell explains why the Real Madrid man is back on top this year…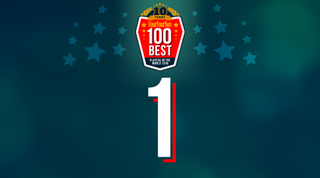 It says everything about Cristiano Ronaldo's still-bulletproof confidence that he's described a year in which many have tried to suggest that his imperiousness is waning as "the best of my life." In fairness, he has all the ammunition one might need as he exits 2016 with a Champions League, a European Championship with Portugal and a new five-year contract at Real Madrid all safely stashed at Casa Ronnie.
The rate at which records continue to fall at his feet is remarkable. This year he arrived at a total of 500 goals in club football, and matched Gerd Müller and Robbie Keane's 68-goal hauls in the international game with a brace in Portugal's November defeat of Latvia.
Yet there's no denying Ronaldo is visibly ageing - and changing. That's been the case for a while now, with his body perhaps finally paying the price for the relentless, punishing workload he's put it through for over a decade. Portugal collectively held its breath on the eve of Euro 2016 as doubts over his fitness bobbed to the surface in spring (Ronaldo missed the first leg of the Champions League semi-final against Manchester City), bringing back bad memories of the World Cup two years before - which he admitted in his documentary film, Ronaldo, that he shouldn't have played in.
International glory
Even amid the joy of Madrid's win in Milan, which he sealed with the winning kick in the penalty shoot-out – tearing his shirt off in celebration as he had done when setting the seal on the 2014 final win over Atletico in Lisbon – there was cause for concern. He was a pale imitation of himself for most of the game, a passenger. One was justified in wondering what sort of state he would arrive at the Euros in.
Brazil had been agony for Ronaldo and his fans alike, as he fought vainly against nature; this time, in France, there was a happy ending. Much of the credit for that has to go to Fernando Santos, with Portugal's wily and experienced coach understanding that his captain is not quite the explosive force of years past. Santos moved to a 4-4-2 which required Ronaldo to run less, and crucially gave him the close support of Nani, his fellow Sporting academy graduate.
Still, nobody could have foreseen the high drama of the Saint-Denis final, where he was hobbled by a Dimitri Payet challenge and – after again trying to play through it – was forced from the field in tears. His final role was that of a frantic, unhinged and heavily bandaged touchline coach, roaring Portugal over the line in extra time. It revealed another side to Ronaldo to the world at large, one that his countrymen have been aware of for a very long time; that for all his posturing and scarcely concealed vanity, there are few things that matter more to him that playing for – and winning for – his country. The Euros, as much as the Champions League or the Ballon d'Or, were the realisation of a long-held dream.
Goal machine
The one thing that hasn't changed this year, of course, is the goals. Ronaldo has continued - remarkably so given the injury obstacles placed in his way - to rattle along at a goal per game for club and country, and it's easy to see why Florentino Perez has placed such faith in his medium-term future. Portugal's skipper is more than just a totem for Real's success.
He's a guarantee of goals and given his finishing power, his strength, his aerial prowess and – most importantly – his own understanding of how he's becoming a more penalty box-based player, there's little to suggest he can't continue at the top of the game for a while longer yet. Before, Ronaldo wanted to do everything. Now he knows he needs to be served.
As he celebrated his new deal at a packed Palco de Honor in the Bernabeu in November, Ronaldo spoke on his apparent fixation with the Ballon d'Or. "I'm not obsessed with this," he insisted. "Obviously it's important but for me, the key to the individual prizes are the collective ones." In that respect, he couldn't have done much more this year to cement his legend.
Vote for your favourite player of 2016 at ForzaFootball here. We'll reveal the results next week.
The list
FourFourTwo's Best 100 Football Players in the World 2016
Thank you for reading 5 articles this month* Join now for unlimited access
Enjoy your first month for just £1 / $1 / €1
*Read 5 free articles per month without a subscription
Join now for unlimited access
Try first month for just £1 / $1 / €1
Get FourFourTwo Newsletter
The best features, fun and footballing quizzes, straight to your inbox every week.