Ranked! The 10 best attacking midfielders in the world right now
The greatest collection of defence-splitting passers, dribbling maestros and assist machines currently on the planet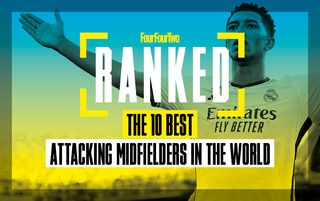 (Image credit: Future)
Who are the best attacking midfielders in the world? They were once deemed football's luxury men: that player who didn't track back because they were simply too good and would hopefully cause more damage at the other end of the pitch.
Well, times have changed now, and these attacking midfielders are industrious, combative and intense, all while maintaining their creative and technical qualities in the same breath.
Attacking midfielders are now defined as those players who stray further forward than the traditional box-to-box central midfield player, but still maintain their defensive duties throughout a full 90 minutes. Too highly revered on the ball to be lumped in with 'normal' centre-mids, not high enough on the pitch to be regarded as a second striker looking to benefit off of a striker's flick-ons. Here are our favourites…
The 10 best attacking midfielders in the world right now: 10. Piotr Zielinski
Part of a hugely impressive Napoli side, Piotr Zielinski has emerged from the Dries Mertens and Lorenzo Insigne shadows to become the side's talismanic figure.
An effortless attacking midfielder, the Pole is always in space, never in a rush and always makes the correct decision. Zielinski's sublime technique creates attacking opportunities, while his dribbling skills often send defenders sprawling on the ground. He has yet to keep his levels consistently high throughout his career, but, right now, the Pole is among the world's very best attacking midfielders.
9. Lucas Paqueta
Manchester City were enamoured with him, West Ham United fans adore him. Lucas Paqueta has adapted perfectly to English football and is showing the world why he was so highly coveted when he was at Lyon.
Last season was a strange one for David Moyes, who toyed with systems and styles to get the best from his Irons – but the proof of the pudding came in Prague. Paqueta, given a free role all season, unleashed Jarrod Bowen for that iconic Conference-clinching finish. Few playmakers would have that composure and vision – especially in occasions as huge – and it sums up what a titanic signing he's been.
8. Bruno Fernandes
Bruno Fernandes rocked up at Manchester United in January 2020 and single-handedly turned their fortunes around, helping the club into the Champions League. He has struggled to live up to those same heights he reached back then, but under Erik ten Hag the Portuguese international has been hugely influential.
Not afraid to take a risk, Bruno's incisive passing and long-range shots can infuriate fans when they don't work, but are glorious when they do. A returner of plenty of goals and assists each season, Fernandes' work rate and desire to win are second to none.
7. Dominik Szoboszlai
The No.8 is a heavy shirt on the red side of Merseyside but not to this precocious Hungarian. Jurgen Klopp's 2.0 version of Liverpool is well and truly underway – and Dominik Szoboszlai is the centrepiece of it all.
He's been outstanding since landing in the Premier League: Szoboszlai has been direct and devastating, offering the kind of intensity that Klopp demands from his men and combining it with creativity. This is a player you build around: he's been the key man for the Reds in the opening weeks of the season and alongside Trent Alexander-Arnold, he's found a level of imagination that's reignited Anfield.
6. James Maddison
James Maddison carried Leicester City at times last season, earning a World Cup callup out of the blue and making many prospective teams of the season midway through the Premier League, despite the Foxes' form dropping off a cliff from the campaign prior.
At Tottenham, he's backed up the hype. Maddison is totemic for Ange Postecoglou, with all play going through the No.10: he directs the traffic, supplies for his team-mates and offers leadership in the void of Harry Kane. Maddison has become the kind of output machine he always threatened to be in the Midlands and Norwich City before – now he could take his side into a title fight.
5. Martin Odegaard
Once a wonderkid signed by Real Madrid at just 16-years-old, Odegaard is finally fulfilling the hype that surrounded him in his teenage years. Still only 24, the Norwegian playmaker is already Arsenal's captain and is leading by example on the pitch.
Inspiring others around him, Odegaard's intelligent movement frees up spaces for his Gunners teammates, while his ability to control games is often reserved for much more experienced players. Not to mention the fact that his passing is sublime, Odegaard is a big reason why Arsenal have started challenging at the top of the league. His work in the press is exemplary and with 15 league goals last season, he can deliver in numbers, too.
4. Lionel Messi
He may have left Europe for a quieter life but Lionel Messi hasn't become any more normal with age. Controlling games for Inter Miami and still bossing the pitch for Argentina, he may have lost his drive on and off the ball – but he hasn't lost his ability to slice open defences.
He still has so many ways to destroy you. He is arguably the greatest passer of all time, has a long-range screamer in his locker, while he could be moving in slow motion and he'd still fool defenders with his motions and movements.
"Even the modern-era 'walking football' Messi has you mesmerised," FourFourTwo's Matthew Ketchell wrote, ahead of the Flea's eighth Ballon d'Or win. "His pace and acceleration are blunter, but the technique and IQ remain razor-sharp."
3. Jamal Musiala
We never really knew for sure whether Croydon-bred Jamal Musiala would become a striker, a winger (on the left or right), an attacking midfielder or… whatever Thomas Muller is. He found a home in midfield under Julian Nagelsmann, though – and he's been the man Thomas Tuchel builds around.
Barely 20, Musiala has been outstanding for Bayern Munich for a while now, cementing his place in both the Bavarian club's starting XI as well as Germany's World Cup squad. His mazy runs, physicality and awareness are all excellent, and he is clearly a player with an assuredness of their brilliant ability.
He can certainly feel aggrieved that he didn't win the Kopa Trophy, after scoring the winning goal for Die Roten on the final day of the season to win the title ahead of the award's eventual winner, Jude Bellingham. At the ceremony, Musiala provided a video message to his friend and former England youth team-mate congratulating him. Clearly, he could never have ended up a striker with selflessness like that…
2. Kevin De Bruyne
Over the past five years there is only one man who could ever be considered the best attacking midfielder in the world, and that man is Kevin De Bruyne – it's only that he's been injured of late that he's slipped to second in our ranking.
With pinpoint, threaded passes often putting Manchester City's attackers clean through on goal, De Bruyne's trademark cross from the inside-right position also provides plenty of danger to opposition defences. Close him down at your peril – for De Bruyne's speed of thought consistently gets him out of tight situations – but leave him with too much space and watch the devastation unfold.
With Erling Haaland now up front for City, the Belgian has even more attacking options to play, and when has he ever chosen the wrong one? Under Pep Guardiola, De Bruyne has also added an intense pressure to his game, closing down opposition players with dogged determination so that he can spray more passes around.
1. Jude Bellingham
There's a good case that he's the best player in the world right now: there's an even better one that he's living the dream.
Jude Bellingham's first few months at Real Madrid have been like something from a blockbuster: last-minute winners, Man of the Match performances and the world copying his celebration. He now has more goals that number-sake Zinedine Zidane ever scored in a single season – we've not even got our Christmas tree up, at FFT Towers – as the 20-year-old redefines what it means to be an attacking midfielder in the modern game, shifting Vinicius Jr into another position to suit him.
It's insane. He has the awareness, the off-ball movement, the hunger: his interpretation of a false nine-cum-No.10 is fascinating and it's even more amazing to consider that he can also play as a No.8, too. The goals are mere page numbers in this incredible story: the performances, too, are breathtaking.
He's like nothing else in world football right now…
Thank you for reading 5 articles this month* Join now for unlimited access
Enjoy your first month for just £1 / $1 / €1
*Read 5 free articles per month without a subscription
Join now for unlimited access
Try first month for just £1 / $1 / €1