Real Madrid vs Atletico Madrid: the 6 big changes since 2014's final
The clubs from the Spanish capital met in the Champions League final two years ago, but both look rather different now. Kiyan Sobhani casts one eye back to Lisbon and one forward to Milan...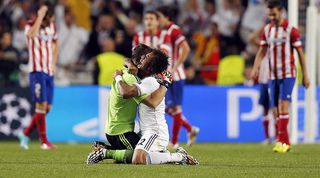 1. Angel Di Maria: the engine
Real Madrid's triumph in the 2014 Champions League Final was powered by the engine that is Angel Di Maria. The Argentine was nearly pushed out of the team when Gareth Bale arrived earlier that season, but then Carlo Ancelotti reinvented him, pushing him back into a central-midfield role where he could hound opponents into coughing up possession while silking through defenders with his eel-like dribbling skills.
Ancelotti's way of shuffling Di Maria into a more two-way player made Real Madrid's midfield a headache to deal with all season. In that role, Di Maria proved the perfect box-to-box midfielder, with his unique stamina and apparent third lung ensuring he never tired.
"The game changed with Di Maria," Diego Simeone said after a 1-1 draw against Real Madrid in the Spanish Super Cup three months later. "It's logical – he's the best player they have."
Di Maria has moved on to two different clubs since that night in Lisbon, and Real Madrid still haven't found a replacement as unique as him this time around when they travel to Milan for the final.
2. Momentum shift
A rampant Real Madrid stormed past Bayern Munich 5-0 on aggregate in the 2014 Champions League Semi-Finals, giving them the favourites status going into the final. This season, it was Atletico's turn to deny Pep Guardiola's side an appearance in the showpiece event, with their path to the final dramatically more difficult than that of their neighbours'.
Does that give Atletico an edge? It might. At the very least, it upgrades them from the underdog status they had in 2014. Real Madrid have found momentum in their own way, winning their last 12 league games, but will be up against an improved Atletico side further tuned to Simeone's ways. They've solidified their identity and improved their defensive strategy in the last two years; Atletico are patient without the ball and have found a way to simply keep winning this term, even when their backs were to the wall.
3. Simeone's squad depth
Atletico have greater strength in depth in 2016 than they did in 2014, when they became visibly fatigued in the latter stages of the final in Portugal. Simeone had to waste a substitute early on by withdrawing the injured Diego Costa, but this time around Atleti have many more options on the bench to try to change the game.
"We've had more time to prepare than the 2014 final in Lisbon," Simeone said. "That year we'd just played the league decider against Barcelona and were tired, this year we're better physically,"
Costa off after nine minutes in 2014
4. Navas is better than 2014 Casillas
Iker Casillas's final season with Real Madrid ended with the Champions League trophy in his hands, but it could be argued that the Blancos lifted that trophy in spite of, rather than because of, their captain, whose error led to Diego Godin's opener.
Casillas will long remain one of the greatest goalkeepers to ever play the game, but he was in sharp decline by the time of the 2014 final. Madrid are now able to rely on Keylor Navas, though, a safety net between the sticks who has rescued his side on multiple occasions this year. 
Navas today is what Casillas was to Madrid six years ago: a reliable shot-stopper who can single-handedly keep his team in games when the defence collapses. 
5. Marcelo The Reliable
Both Jose Mourinho and Ancelotti turned to Fabio Coentrao when they wanted defensive assurance at left-back in big games, with the Champions League final two years ago no exception.
This Madrid team is a little different, however, as it relies heavily on creativity from its full-backs. Marcelo was a substitute against Atletico in 2014 but is guaranteed to start on Saturday, with the Brazil international likely to be one of his side's key attacking weapons.
Marcelo's ability to dribble through tight spaces and whip crosses in from the left is dangerous, and if Zinedine Zidane wants to really take advantage of his left-back, he could field Isco instead of Casemiro. The Spanish midfielder always seems to form a reliable partnership on the left with Marcelo, sending incisive through-balls to him while dropping in behind to cover for his bombarding runs down the flank.
6. Different teams, same rivalry
The underlying message here is that, although both Real Madrid and Atletico have morphed into different teams since that memorable night in Lisbon, both are in good form and in a confident mood.
This contest should prove no less entertaining than that meeting two years ago: Simeone's machine is more established in its identity and stronger too, while Real Madrid are in a great rhythm under Zidane, though are arguably a less stable team.
The Madrid derby in Milan could be one of the most evenly matched finals in recent Champions League history, and the contrasting identities of both teams should make this a fascinating encounter.
More features every day on FFT.com • More Champions League chatter
Quizzes, features and footballing fun
Get the best features, fun and footballing frolics straight to your inbox every week.
Thank you for signing up to Four Four Two. You will receive a verification email shortly.
There was a problem. Please refresh the page and try again.