Revealed! 16 average footballers with absolutely incredible medal collections
By Amit Katwala
World Cup winners, multiple Champions League victors and more. We're not saying this lot were bad footballers, but their epic trophy hauls probably surpass their ability...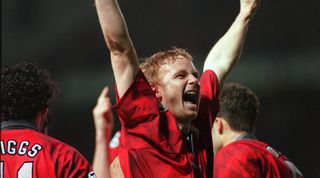 Jose Bosingwa
Champions League, Primeira Liga (4), Taca de Portugal, FA Cup (2)
Only a handful of players have won the Champions League with two different clubs. One of them is full-back Jose Bosingwa, who also collected four Portuguese league titles with Porto, two FA Cups with Chelsea, and 17 consecutive Premier League Eyebrows of the Month Awards.
After hogging the Champions League celebration images with Chelsea in 2012, he departed in the summer to join QPR, who were quickly relegated.
Martin Montoya
Champions League, La Liga (3), Copa del Rey (2)
An understudy to an all-time great, full-back Martin Montoya joined Barcelona's fabled academy at the age of eight but found himself stuck behind Dani Alves in the pecking order.
He made 45 league appearances for the Catalans in five years, but that was enough to see him win La Liga three times, as well as the Champions League in 2015. He left Barcelona when his contract expired in 2016 and was picked up on a free by Valencia.
Djimi Traore
Champions League, FA Cup, League Cup, Coupe de la Ligue
Best remembered by Liverpool fans for Cruyff-turning the ball into his own net in an FA Cup tie against Burnley, and the resulting song, French defender Traore will look back on his spell on Merseyside rather differently.
He joined the Reds in 1999, but barely played until the 2002-03 season, when he helped them win the League Cup. Two years later, Liverpool won the Champions League against Milan, almost despite Traore who made a number of errors as the Italians took a 3-0 half-time lead. An FA Cup win the following year completes an unlikely hat-trick of medals from his time in English football.
Jesper Blomqvist
Champions League, Premier League, FA Cup, Alllsvenskan (5)
It's fair to say that the Swedish winger wouldn't have started the 1999 Champions League Final if Roy Keane and Paul Scholes had been available. It turned out to be his last game for Manchester United, and the perfect way to cap a very efficient season in which he won it all – FA Cup, Premier League and Champions League, to add to multiple Swedish league titles and a third place at the 1994 World Cup.
He spent the next two seasons out injured, before spells in the treatment rooms of Everton and Charlton Athletic. A few years ago, Blomqvist admitted that he dropped his Champions League medal in the celebrations. He probably got injured bending down to try to pick it back up.
Roque Junior
World Cup, Champions League, Campeonato Paulista (2), Copa do Brasil, Copa Libertadores, Coppa Italia
The arrival of a Brazilian international centre-back on loan was greeted with much excitement at Elland Road, but seven games and 24 goals conceded later, the Leeds fans were starting to have second thoughts about Roque Junior. He'd spent much of his career in Brazil with Palmeiras, where he won the Copa Libertadores before joining AC Milan and helping them win the Champions League in 2003 (he came off the bench in the final).
Roque Junior was also part of Brazil's surprisingly solid 2002 World Cup winning side – although having Ronaldinho, Rivaldo and Ronaldo in front of him probably helped.
David May
Champions League, Premier League (2), FA Cup (2)
The defender benefited from a number of quirks of history – he was signed from Blackburn Rovers in the summer of 1994, as Alex Ferguson needed to add an Englishman to his squad due to the restrictions on foreign players in European competitions. That rule was soon abolished, but May went on to win two Premier League titles, two FA Cups and the Champions League. He collected a European medal despite not playing a single minute in the competition, because he was named on the bench for the final.
Oriol Romeu and Ryan Bertrand
Champions League, Europa League, FA Cup
Pretty much every 20-something player in Europe has been on Chelsea's books at some point before being moved on. Some turned out to be so good that it makes you wonder why they weren't given a proper chance at Stamford Bridge – think Mo Salah or Kevin De Bruyne. Others are more average.
Romeu falls into the latter category, alongside similarly decorated Southampton colleague Ryan Bertrand. A handy pair, they nonetheless have more to show for their time in west London than most. The duo collected FA Cup, Champions League and Europa League titles in their time with Chelsea, despite rarely being first-choice players.
Joan Capdevila
World Cup, European Championship, Copa del Rey, Taca da Liga
Some players are born into greatness. Others have greatness thrust upon them. Meanwhile, some are dragged into greatness merely by being in the right place at the right time. So it was for Joan Capdevilla – whose club career only netted cup wins in Spain and Portugal (and a league title in Andorra, for some reason).
At international level, he was a largely unremarkable member of Spain's 2010 World Cup and 2008 European Championship winning sides. Notable as he was the only member of Spain's World Cup final line-up who wasn't a Real Madrid or Barcelona player.
Anderson
Champions League, Premier League (4), League Cup (2), Copa America, Club World Cup, Primeira Liga (2)
The Brazilian midfielder gained more than just weight during his time at Manchester United, despite never really becoming a regular starter. It's been argued that he didn't live up to his early promise, but he still won pretty much everything going in England, with the exception of the FA Cup.
There were four Premier League titles to add to two from Portugal, plus two League Cups, the Champions League and the Club World Cup. He's only played eight full internationals for his country, but still managed to gobble up a Copa America win, plus an Olympic Bronze medal.
Juliano Belletti
World Cup, Champions League, La Liga (2), Premier League, FA Cup (2)
Only five players have won the Premier League, the Champions League and the World Cup - and one of them is Juliano Belletti. The Brazilian won the World Cup in 2002 – although he only played half of one game – and then collected two La Liga titles and a Champions League at Barcelona.
The right-back was also a semi-regular feature in a strong Chelsea side that won the Premier League and two FA Cups, but lost on penalties to Manchester United in the 2008 Champions League final.
Massimo Oddo
World Cup, Champions League, Serie A, Coppa Italia, Club World Cup
The Italian right-back made just one appearance as his country won the 2006 World Cup, and spent most of his time cutting his teammates hair, earning him the nickname 'The Barber of Brazil'.
He came through the youth system at AC Milan, but couldn't break into the first team, and spent five years with Lazio before returning to the San Siro in 2007. The same year, he helped Milan lift the Champions League and the Club World Cup.
Wes Brown
Champions League (2), Premier League (5), FA Cup (2), League Cup (2)
Alex Ferguson once called Wes Brown the best natural defender that Manchester United had had in decades, and he has the medal collection of an all-time club great, without ever quite reaching that exalted level. Brown was a bit-part player for much of his decade at the club, but did play a key role in the 2007-08 season, and set up a goal as United beat Chelsea to win the Champions League.
That added a second European medal to his one from 1999, meaning he has double the total of Roy Keane or Peter Schmeichel. Brown also won two FA Cups, two League Cups and five Premier League titles. He left to join Sunderland in 2011 and is now playing for the Kerala Blasters in India.
Paulo Sergio
World Cup, Champions League, Bundesliga (2), DFB Pokal
The Brazilian might just hold the record for the most prestigious medals won with the least amount of positive input. Paulo Sergio made two substitute appearances in the group stages as Brazil won the 1994 World Cup, then won the Champions League with Bayern Munich in 2001 after coming as a 108th-minute extra-time substitute. He missed the first penalty of the shoot-out.
Tom Starke
Champions League, Bundesliga (5), DFB Pokal (3), Club World Cup
When veteran goalkeeper Tom Starke retired from football in 2017 after five seasons with Bayern Munich, he'd won more trophies with the German giants than he'd made appearances. The back-up net-minder boasted five leagues, three domestic cups, the Champions League and the Club World Cup despite just eight first-team appearances.
However, Starke was drafted back into the squad this season following injuries and has made a further two outings for Bayern – so it's now level. Although Bayern are so far clear at the top of the Bundesliga that it probably won't stay that way for long. Here's to your sixth Bundesliga crown, Tom.
Maxwell
Champions League, Eredivisie (2), KNVB Cup, Serie A (3), La Liga (2), Ligue 1 (4), Copa del Rey, Coupe de France (3), Coupe de la Ligue (4), Club World Cup (2)
Now, we're not saying that the Brazilian was a bad player. He wasn't, but you wouldn't exactly be rushing to get his name on the back of your shirt. But Maxwell was, up to July 2017, the most decorated player in European football, with an incredible collection of gongs from five different countries and spells at Ajax, Internazionale, Barcelona and PSG.
His haul includes 11 league titles, 10 domestic cup medals, plus a Champions League and two Club World Cup medals with Barcelona. If you include all the Community Shield equivalents, the left-back has an amazing 34 medals. His total has since been surpassed by his fellow Brazilian full-back Dani Alves, who's probably more deserving of the record.
Quizzes, features and footballing fun
Get the best features, fun and footballing frolics straight to your inbox every week.
Thank you for signing up to Four Four Two. You will receive a verification email shortly.
There was a problem. Please refresh the page and try again.