Weekend stats winners and losers: who was the pass master? Guilty waster? Dribble king?
Alex Keble uses Stats Zone to pick out the good, bad and ugly from the Premier League weekend past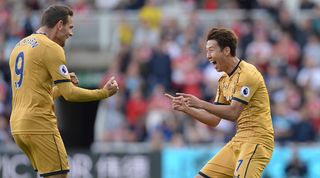 Best pass combination – Santi Cazorla to Mesut Ozil (26)
Arsenal's superb 3-0 victory over Chelsea was partly the result of some excellent attacking play between Santi Cazorla, Mesut Ozil and Alexis Sanchez, but largely because Chelsea's lacklustre performance saw them camped in their own third.
Antonio Conte's team struggled to pass out from the back because their full-backs sat square on with the central defenders, meaning that Arsenal's wingers weren't pinned back and Thibaut Courtois had few passing options. Furthermore, Chelsea's timidity played a big part; they rarely pressed Arsenal and instead sat deeper and deeper, allowing Cazorla and Ozil to dictate the tempo under no pressure at all.
Unsurprisingly, it looks as though Cazorla's ability to weave into the final third will once again be crucial to Arsenal's title challenge this season.
Most take-ons – Son Heung-min (9/16)
No Premier League player has attempted more take-ons in a single match than Son did against Middlesbrough on Sunday, and there is no doubt that his dribbling skills directly impacted upon the game. Six of the South Korean's successful take-ons took place in the build-up to his two first-half goals.
Son is now averaging 4.7 successful take-ons per match, which is both a career high and the most in the Premier League this season. One thing that Spurs lacked last campaign was a penetrative winger (hence the £30 million acquisition of Moussa Sissoko), and in ex-Bayer Leverkusen Son, Mauricio Pochettino has (eventually) found the final piece of the jigsaw.
Most passes in attacking third – Philippe Coutinho (46/58)
Jurgen Klopp was right to claim that Liverpool's counter-pressing was the most impressive aspect of their 5-1 victory over Hull on Saturday. This felt like a turning point in the Klopp project; we have seen Liverpool find space in the final third against expansive teams (such as in the 3-0 and 4-1 victories over Manchester City last season) but this was their most accomplished performance against a more defensive outfit.
Philippe Coutinho was able to complete so many passes in the final third because Liverpool were essentially camped in this zone of the pitch. Ordinarily this territorial advantage would lead to aimless possession for central midfielders as they look for gaps in the defensive block, but here Liverpool's superb pressing of the ball when possession was lost meant that spaces opened up for Coutinho on the counter.
Liverpool attempted 16 tackles – and recovered the ball 26 times – in the Hull half.
Most crosses – Wayne Routledge (5)
Swansea matched Manchester City for an hour at the Liberty Stadium, and were perhaps unlucky to finish without a point. Their key player was Wayne Routledge, who looked a constant threat from the right wing – an area that Man City struggled to defend.
David Silva was used as the left winger in Nolito's absence, but unsurprisingly the Spaniard drifted constantly away from his flank to join Kevin De Bruyne in central areas. Aleksandar Kolarov was expected to provide the width in attack, which meant that the away side's left side was frequently left free for Routledge on the counter.
Pep Guardiola will need to come up with a much better Plan B for when Nolito is unavailable – a more confident side would have punished their lopsided shape.
Most aerial duels won – Christian Benteke (9/19)
Crystal Palace's Benteke won this category a fortnight ago and is set to win it most weeks, but it was the position of his headers on Saturday – and how he interacted with Jason Puncheon – that makes his performance noteworthy.
After winning one header in the box against Middlesbrough and zero against Stoke, Benteke won four out of five duels in the penalty area against Sunderland. This suggests that the Crystal Palace players are slowly learning how best to utilise their new targetman, with Puncheon in particular forging a good partnership with the Belgium international.
Puncheon completed eight passes to Benteke, seven of which were long balls and five of which led directly to goalscoring opportunities. As a direct result of his drilled long balls to Benteke, Puncheon created more chances this weekend (eight) than any other Premier League player.
Most unsuccessful touches, most dispossessed – Ross Barkley (12)
Ronald Koeman was frustrated by the line of questioning following Everton's 1-0 defeat to Bournemouth, telling reporters: "I don't like that every game I need to explain the performance of Barkley." Perhaps criticism of the 22-year-old is too frequent, but this weekend he was particularly poor.
Barkley had seven unsuccessful touches of the ball and was dispossessed five times in a wholly disappointing display against Bournemouth. He also completed just 31 passes and made just one successful tackle across the 90. With Jack Wilshere impressing for the Cherries, Sam Allardyce is unlikely to include Barkley in his next England squad (again) unless his performances become more consistent.
Most fouls – Danny Simpson (4)
That Leicester's right-back had a torrid time at Old Trafford is testament to Manchester United's excellent attacking play. The main difference between Saturday and previous United performances was that Jesse Lingard, Juan Mata and Paul Pogba all bunched up around the ball, offering numerous short-passing options on the left.
Jose Mourinho deliberately targeted Simpson's flank because Riyad Mahrez often fails to track back and support his right-back. With so much close support to Zlatan Ibrahimovic – and Marcus Rashford's width forcing Simpson wider than he would have liked – United dominated the centre-left zone. Strong individual performances certainly helped, but the number of bodies that the home side managed to get around the ball was the biggest factor in their victory.
RECOMMENDED
Best of the Premier League weekend: FFT's favourite performance, player... and moan
It was the kind of high-tempo performance they haven't managed in some time. If only we could work out who's been slowing them down all this time…
STATS ZONE Free on iOS • Free on Android
Thank you for reading 5 articles this month* Join now for unlimited access
Enjoy your first month for just £1 / $1 / €1
*Read 5 free articles per month without a subscription
Join now for unlimited access
Try first month for just £1 / $1 / €1
Get FourFourTwo Newsletter
The best features, fun and footballing quizzes, straight to your inbox every week.