The 7 deadliest derby hitmen: Aguero, Adebayor and Shola the Mackem Slayer
Stephen Tudor looks at the men who've tormented their rivals over time...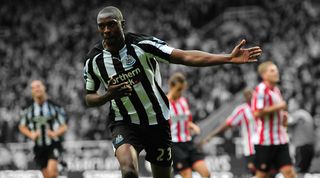 Sergio Aguero has sent the Manchester City faithful delirious eight times in nine previous clashes since his move from Atletico Madrid in 2011, meaning he's now three away from besting Franny Lee's proud 41-year record and equalling Wayne Rooney as the ultimate Manchester derby menace.
Aguero is well on his way but the seven marksmen below are already there. For repeatedly dashing the dreams of the enemy, their legendary status is forever set in stone... 
1. Ian Rush vs Everton
Derbies: 36 Goals: 25 Hero status: Kop idol
Rush scored one, Rush scored two, Rush scored three and Rush scored four. 
The coda to Poor Scouser Tommy may be the Liverpool choir celebrating a quite surreal afternoon when the 'tached assassin helped himself to a clinical quartet in a 5-0 rout, but in truth the Welshman seemed to score in every Merseyside meet-up.
For 15 years it was Groundhog Day on each side of Stanley Park: the boyhood Evertonian would drill one home an inch inside the post, leaving Neville Southall – his international team-mate and arguably the greatest keeper in the world for a good portion of that time – slapping the turf in utter exasperation.
2. Ally McCoist vs Celtic
Derbies: 58 Goals: 27 Hero status: Gers untouchable
Amid the frenzied high-drama of Old Firm clashes, Rangers striker Ally McCoist let others see red, blanked out the seething cauldron of colour and noise and coolly set about doing what he did best: scoring goals.
From eager teen with highlighted mullet to a seasoned Glasgow giant, Super Ally poached, curled and jammily pounced on ricochets more times than any individual in this famed fixture. With it, he made himself an adored figure at Ibrox while earning a begrudging admiration from the Celtic fanbase.
3. John Wark vs Norwich
Derbies: 19 Goals: 9 Hero status: Prince of Portman Road
Forty miles of A140 may separate Ipswich and Norwich, but the agriculturo clasico is as fiercely contested as any parochial affair made all the more meaningful by stints kept apart in different divisions. 
The derby's absence may not make the heart grow fonder but it certainly nourishes the nostalgia, which is why a Wark hat-trick against the Canaries in 1980 is still cherished by the Suffolk lot today – even if two of them were tucked away from the spot.
Elsewhere the marauding midfielder, who looked like someone's oil-rig working uncle, had a happy proclivity for ensuring bragging rights remained south of the county border.
4. Wayne Rooney vs Manchester City
Derbies: 24 Goals: 11 Hero status: Hart-breaker supreme
The follically challenged record-breaker has scored more derby goals for Manchester United than Denis Law and George Best combined, with his intimidating tally including a last-minute clincher in a League Cup semi-final.
Yet for Wazza and this iconic fixture it will always boil down to a good-natured (OK, maybe not) debate over his acrobatic winner in 2011. The Stretford End and the guy who puts together Sky montages insist it was a Rivaldo-esque spectacular bicycle kick. The rest of us say shinner.
5. Shola Ameobi vs Sunderland
Derbies: 16 Goals: 7 Hero status: Purely belta
The local pastor's son's seven Newcastle United goals in 16 north-east skirmishes is all the more remarkable considering against every other side he struggled to score like Jeremy Clarkson at a WI meeting.
Currently worrying row Z at Fleetwood Town, Foluwashola was fondly dubbed the 'Mackem Slayer' by t-shirt-dispensing Geordies for his canny habit of breaking hearts of the Wearside foe – an impressive streak that included two in a 5-1 drubbing and a last-gasp equaliser.
6. Billy Walker vs Birmingham
Derbies: 24 Goals: 11 Hero status: His own chapter in the books
Whenever full-back Tommy Smart was asked by a reporter who would be in the team that coming Saturday, his answer was always the same: "Billy Walker and 10 others."
The inside-forward was without question the most gifted Aston Villa player of them all, and two decades of outstanding service – not to mention a body swerve that could rejig an opponent's organs – guaranteed his name was passed down through the generations.
It was his nearly one-in-two strike rate against Brum, however, that resulted in him never having to pay for a pint of Midlands mild again for the rest of his days.
7. Emmanuel Adebayor vs Tottenham
Derbies: 9 Goals: 8 Hero status: Seriously tarnished
On the Saturday evening of September 15, 2007, a multitude of Arsenal fans drunkenly went home to their other halves intent on procreation purely to name their offspring 'Emmanuel'.
That's because hours earlier the Togolese striker had nonchalantly fired two past Spurs at White Hart Lane, the second of which was a 90th minute pearler from 25 yards.
RECOMMENDED
Why the Premier League's failure, not success, means it can attract top-class managers like no other
History is repeating itself for Mario Balotelli: so now what?
Fast-forward two years later to his infamously provocative goal celebration for Manchester City, though, and the travelling Arsenal support were throwing abuse and whatever else came to hand at a player they have now come to despise.
To score more goals in a north London derby (the Togolese also got two for Spurs against Arsenal) than any other player past or present yet see your popularity ratings slip lower than Piers Morgan, takes a unique and truly complex person. His name is Emmanuel Adebayor.
Quizzes, features and footballing fun
Get the best features, fun and footballing frolics straight to your inbox every week.
Thank you for signing up to Four Four Two. You will receive a verification email shortly.
There was a problem. Please refresh the page and try again.