How safe is your Premier League manager? FFT ranks them all by job security
Mark Coughlan orders the top-flight chiefs by job security, from the man sweating at No.20 to the safest job in the division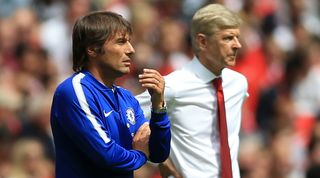 20. Mark Hughes (Stoke)
It's been four seasons since Sparky arrived at Stoke, and things haven't exactly gone to plan. Hughes was meant to oversee a transition in which the club pushed for European football, as well as a total change in style.
The dirge that was produced last season – only five sides scored fewer, and three of them went down – was despite the talent of Xherdan Shaqiri, Marko Arnautovic and Bojan (who left halfway through the season). Peter Crouch, 36 by campaign's end, finished up top scorer.
Arnautovic has now left for West Ham, with Andros Townsend reportedly lined up as the replacement. At some point soon, you expect that Stoke and Hughes will have to go their separate ways.
19. Marco Silva (Watford)
Oh, Marco. Many grew to love the suave Portuguese chap who arrived as a total unknown – to British pundits, at least – and nearly pulled off the impossible dream of survival at Hull. But now he's thrown his cards in with the insanity of Watford.
Silva has actually brought in some shrewd reinforcements, while Brazilian U20 forward Richarlison adds a dash of excitement, so maybe Watford will be a force to contend with this season. But this low ranking says more about the club than the man. Silva is the seventh manager to take charge at Vicarage Road in three years – all of which leaves his job about as secure as a spot in Trump's White House team.
Side note: Silva told press recently that Jose Mourinho advised him to take both the Hull and Watford roles. What a good friend…
18. Craig Shakespeare (Leicester)
It's hard to know what to make of Shakespeare's future prospects at Leicester. He isn't some owner-chosen super-coach who'll be given plenty of time if things go wrong. Then again, he got the best out of the Foxes at the tail end of the last campaign, and he's just signed Kelechi Iheanacho, who we fancy to do the business this year.
In a strange way, he also taps perfectly into the 'everyone against us' mentality that served Leicester so well two years ago. But who knows how long owner patience will last? A summer transfer window, and a chance to get his own ideas across, is going to expose Shakespeare like never before. A tragic ending could await him sooner rather than later.
17. Slaven Bilic (West Ham)
It's hard to know what to make of West Ham at the moment, which is why Slaven sits relatively low here. They've spent a fair bit of money, and brought in some quality over the summer.
However, if the Hammers start as badly as last season, are the board going to stand by their man? Probably not. There were rumours of issues behind the scenes last season, and Bilic appears to be the sort of man who wouldn't stand around and take too much crap when it comes down to it (translation: he looks slightly unhinged).
16. Paul Clement (Swansea)
Listen closely, and you can just make out the sound of Clement thunderclapping day and night outside Gylfi Sigurdsson's house. Lose his main man, and Clement's name drops down this list (not below Sparky, though – obviously).
Only the poor quality of the three teams below them saved Swansea last season. They had three different managers – and only two players who carried any threat (Fernando Llorente, alongside Sigurdsson). Clement steadied the ship that Bob 'Voldemort' Bradley had all but sunk, so that leaves him in good standing at the Liberty Stadium, but lest we forget: Swansea have had five managers in less than two years. Good luck, Paul.
15. Frank de Boer (Crystal Palace)
On one hand, Palace have had five managers in less than five years. On the other, De Boer is their biggest coup to date, and arrived with a whole summer to organise a side to play his way.
It's an intriguing challenge, and after much chopping and changing, you'd think the board might stand by him unless the Eagles sink to the foot of the table in quick time. De Boer is clever enough not to try to reinvent the wheel straight away, but he's arriving in a new country with no prior knowledge of the league as player or boss. The last time he did that was at Inter – and he lasted 85 days. Last longer than that here, and he'll be preparing for Manchester City, Manchester United and Chelsea in successive games.
A good start is needed in south London, then.
14. Antonio Conte (Chelsea)
Before Chelsea fans go crazy, this doesn't mean the club is going to finish 14th. More like 10th again. Just kidding. Anyway, it'd be crazy if the Premier League-winning manager left within 12 months for the third successive season – but something does feel a bit off behind the scenes at Chelsea right now.
Rather than sit on what he had, Conte has gambled by signing some talent that looks good on paper but is unproven in this league - while at the same time alienating last season's top scorer via text message. It's an odd move for such a brilliant coach, who will be sorely missing the injured Eden Hazard as the season begins. How long will Roman Abramovich stand by his man if the Blues are struggling to keep pace midway through the season?
13. Rafael Benitez (Newcastle)
The Spanish Waiter efficiently served up Premier League football for Newcastle after just one season in the Championship, and the faithful locals adore him. So even a middling season that ends in survival will be accepted by most.
The problem is that Mike Ashley owns Newcastle, so how long can Rafa last the insanity? The Toon Army have long been one of those sides that believe they belong in the upper echelons, but they currently have a squad built more for Championship success (we're looking at you, Dwight Gayle). When Mike Ashley gives Rafa a £25 Sports Direct gift voucher to buy a new striker, it might just tip him over the edge.
12. Mauricio Pellegrino (Southampton)
Has anyone, other than all of Liverpool's scouting system, checked that Southampton are still there? Given their silence in the window - until the sudden signing of future Reds' star Mario Lemina from Juventus for £18m - we'd assumed that Pellegrino must be happy with his squad on the south coast. Yet he faces a challenging season.
The Saints finished eighth last season, with a League Cup final thrown in for good measure. It's going to take a heck of a season to improve on that, so it's up to the owners whether they accept a slightly inferior return. Then again, we say this about Southampton every time they sell players or lose a manager, and they just keep getting better. All hail the Premier League-winning manager of 2017/18.
11. Chris Hughton (Brighton)
Six of the last 12 promoted sides have changed managers within a year of going up (some of them more than once). Chris Hughton might have been granted the freedom of the city as a reward for leading Brighton to the Promised Land, but they face a tricky time of it now they're here – and Hughton won't be the first fan favourite to see his star fade after a few defeats.
Brighton have missed out on a lot of transfer targets, which doesn't help, and - while good home form meant they lost just two games at the Amex last season - the Prem is a different beast. The visitors on the opening day spent more on two full-backs this summer than Brighton spent on their stadium. Welcome back to the big time, Chris.
10. Pep Guardiola (Manchester City)
After taking a season to settle in Manchester, Pep has splashed the cash in a massive way this summer. All well and good, as City have added real quality to their squad, while Jesus Navas's kidnapping at the hands of Sevilla is a bonus – but if it doesn't go as planned, his bankrollers are likely to be a tad irked.
A quick glance at the odds shows Pep as the second-safest manager in the league, but 'with all due respect' to the bookies, that's ridiculously misleading. The club's owners are probably too patient to swap managers midway through a season (unless things go really wrong), but will they really tolerate another season of starting out as title favourites, then failing to land their goal? Alan Pardew is available, after all.
9. Tony Pulis (West Brom)
Whisper it quietly, but Pulis is turning West Brom into a decent side, and the even better news (for him) is that their ambitions aren't the loftiest. Secure mid-table, and Pulis won't be going anywhere, even if he should probably be trying to take the next step.
While TP's remarkable post-40-point malaise continued last season, guaranteed safety is a big thing for a club to reject. He'll be safe at West Brom, unless a really bad start changes opinions. The good news, though, is that the Baggies begin against Bournemouth, Burnley, Stoke, Brighton and West Ham. Get more caps in the club shop, boys – he's here for at least another year.
8. Ronald Koeman (Everton)
It's been all change at Goodison over the last two seasons, and in theory, we really like the look of Ronald's beefed-up squad. There's a huge, Lukaku-shaped hole to be filled, though – and Koeman's position probably rests on how well the squad can make up that shortfall of goals, as well as how quickly the owners want to see their investment paying off.
Youth and experience, workers and magicians, record signings and local lads – Everton have a lovely balance right now, and Koeman has talked about targeting the top six (even if he means top four). They face Man City, Chelsea, Man United and Spurs in their first five games, though, so it'll be interesting to see how they fare.
Yet it seems unlikely that Everton - after landing a coup by poaching Koeman from Southampton just over a year ago - will be in any hurry to get rid of him.
7. Sean Dyche (Burnley)
The Ginger Mourinho (who, in true football nickname style, has barely any hair and is nothing like the Portuguese gaffer) is one of those who falls into the category of 'more likely to leave of his own choosing' than be pushed.
Dyche was linked to the Palace job earlier in the summer, but he clearly feels a strong bond to Burnley – and having led them back to the Premier League after their last relegation, it's hard to see what would get him the heave-ho this time.
The downside is that the Clarets' first three away games are at Chelsea, Tottenham and Liverpool. When you consider that they won seven points from 19 games on the road last season, they're clearly in for a tough start after a summer of slim pickings in the transfer market (like selling two of their best players in Michael Keane and Andre Gray, for example). Dyche isn't getting sacked any time soon, but he might not be around all season if the right offer comes in.
6. Arsene Wenger (Arsenal)
Fun fact: Marcus Rashford has never been alive at a time when Arsenal weren't managed by Arsene Wenger. Nor has Gabriel Jesus, for that matter. Despite rumblings in recent seasons, Le Prof (as nobody calls him anymore) is still very much the man in charge at Arsenal – and now that he's survived a season where Champions League qualification was beyond the Gunners, you'd assume he'll be here to see out his two-year contract at least.
That might frustrate some fans, as a genuine title challenge hasn't been forthcoming in recent years, but Arsenal supporters might want to be careful what they wish for. Just ask Manchester United. Although they seem to be doing better now, so what do we know?
5. Jose Mourinho (Manchester United)
He can be a sulky sod, but Jose doesn't tend to leave a job until he's at least delivered a league title – and his work at United is starting to look like it's coming together nicely.
After the debacles of Moyes and Van Gaal, Mourinho is the man that a club like United need at the forefront – and despite last season's league failings, he proved it in trophies last season, winning England's third-most prestigious domestic honour and securing Champions League qualification by beating some of Europe's most mediocre sides.
Laugh it up, rivals - but it's hard not to be impressed by a spine of Lukaku, Pogba, Bailly and De Gea. Jose should be here for a while yet - and the rest of the world could soon get used to hating United because they're really very good all over again.
4 David Wagner (Huddersfield)
Forget the other football fairytales for a minute (we're looking at you, No.3 on our list), this is a story that just wasn't meant to happen - and Wagner has been absolutely key to Huddersfield's rise. The way the club have invested in the summer also makes many believe they're the promoted side to keep an eye on. If not, chairman Dean Hoyle has already stated that he won't fire the German boss even if the Terriers are relegated, because he backs Wagner to develop a long-term plan.
It's a clever line from the chairman to eliminate all talk of manager changes and, in the world of football, is about as solid backing as you're ever going to get. Gone by Christmas, then?
3. Eddie Howe (Bournemouth)
Mr. Bournemouth has been with the club through thick and thin (no, he didn't leave them for Burnley for 18 months - that must be your imagination). Howe has taken the Cherries from second bottom of League Two in December 2008 to Premier League security in 2017. It's been a remarkable journey, and the board would have to prepare for utter pandemonium in the stands if they ever sacked Howe.
This is football, though, so you can shove your ideals where the sun don't shine (Burnley, ironically), and accept the fact that a bigger club is going to come in for Eddie at some point. Yet his job is safe as long as he wants it, even if those fickle Arsenal fans must be very tempting.
2 Mauricio Pochettino (Tottenham)
After some serious misfires, Tottenham finally found a manager who knows what he's doing, even if their rise up the table came quicker than perhaps even he expected. Pochettino is here to build a legacy, with a team laid on the foundations of youth.
That they have been title challengers in two successive seasons was beyond anyone's expectations (Younes Kaboul was their captain three years ago), so Poch probably even has a bit of room for a few failures right now. As long as he doesn't get his head turned, he's here to stay. After all, Daniel Levy isn't going to fire a manager with a net spend of £7m in two seasons.
1. Jurgen Klopp (Liverpool)
The man everyone in football loves (except fans of Manchester United, Everton, Chelsea, probably Manchester City, Arsenal and any other Premier League side) has earned himself plenty of breathing space at Anfield.
Champions League football is back on the menu as Liverpool finished above Arsenal and Manchester United last season, the style of football is thrilling, James Milner is suddenly a passable left-back and it's all being done with a smile.
The board and the supporters are unified in their support of a manager who seems fully committed to the club despite Liverpool's transfer market frustrations this summer. Even if this isn't the eternal 'Liverpool's year' (and we're not saying it won't be), it's going to take something monumental for the fans and owners to turn against Kloppo.
Now read...
Quizzes, features and footballing fun
Get the best features, fun and footballing frolics straight to your inbox every week.
Thank you for signing up to Four Four Two. You will receive a verification email shortly.
There was a problem. Please refresh the page and try again.