Mel, Magath, Manuel and some Dutchmen: The Prem's fourth wave of foreign managers
With Arsene Wenger celebrating 20 years as Arsenal manager on Thursday, FFT has decided to honour every foreign boss to grace (and often not) top-class football in England – all 50 of 'em. Here's the fourth set of imports...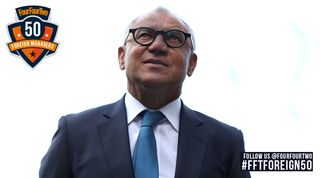 31. Paolo Di Canio (Sunderland)
March 31, 2013 to September 22, 2013
Paolo Di Canio was never going to be a calm, forgettable manager. Always passionate and frequently controversial, the Roman attention-magnet long stated his intention to manage, notably West Ham (it's "destiny", apparently). He started at Swindon, earning a promotion and several column inches – imagine the lower-league press corps' delight when that quote-machine rolled into to town – before resigning over finances.
That was in February 2013 and he'd probably have waited until the summer, but he found a club in need. Starting what has become a habit of sacking underachieving managers in either October or March, Sunderland had kicked Martin O'Neill to the kerb when seven losses in eight league games left the drop zone just a point below their quivering backsides with seven games to go. The fans clamoured for passion, and the Black Cats called for Di Canio.
Di Canio's previously stated fascist leanings caused the immediate resignation of their vice-chairman David Miliband, but few mourned the former wannabe Labour leader when Di Canio won his second game 3-0 at Newcastle. A week later he won his first home game, and although Sunderland were promptly hammered 6-1 at Villa, Wigan were more determined to be relegated and the Black Cats survived.
However, the combustible Italian's man-management was already being queried and the summer squad overhaul – 14 players in, 15 out – didn't work: Sunderland earned one point from the first five league games. After a 3-0 loss at West Brom, Di Canio marched towards the Hawthorns away end giving it the chin-up gesture before exploding into the dressing room to excoriate his players, some of whom apparently went nose-to-nose with him shouting "Nobody likes you here. Nobody wants you here." Unluckily for the Italian, the board agreed. Di Canio won three out of 13 league games and is yet to find another managerial job.
32. Manuel Pellegrini (Manchester City)
June 14, 2013 to June 30, 2016
For all the accusations thrown at Manchester City fans, you can't call them impatient. Perhaps it's the lean years – heck, decades – that give them a much more lenient view of managers whom plenty outside the club would see as underachieving. Roberto 'Bobby Manc' Mancini might have been expected to win more than one league title in his three full seasons, considering he'd lifted three on the bounce with Inter and then spent £285m on incoming transfers at the Etihad, but he'll always be a hero to the blue half of Manchester.
One title in three seasons is also what Manuel Pellegrini delivered. That his triumph happened in his maiden campaign only exacerbated the subtle subsequent sense of drift. His second season was ruined by a miserable March and April (six defeats in eight), his third and final campaign terminally torpedoed by the inevitable acknowledgement that Pep Guardiola was on his way.
That said, and for all the understandable excitement over Pep, Pellegrini will forever be the most popular Chilean in Droylsden. The first non-European to win the English title had his side playing with a panache that won admirers as well as games (63 per cent in his first two seasons), and usually conducted himself with a quiet dignity. He may well be back, and he'll be welcomed by most.
33. Gus Poyet (Sunderland)
October 8, 2013 to April 16, 2015
The Chelsea dressing room of 1997/98 hosted a team full of managers: Ruud Gullit, Gianluca Vialli, Mark Hughes, Gianfranco Zola, Steve Clarke, Roberto Di Matteo, Dennis Wise, Dan Petrescu and Didier Deschamps all went on to notable employment. The last (so far) to reach the Premier League was Gus Poyet; he earned his stripes lower down the leagues, leading Brighton to the third-tier title then the second-tier play-offs before leaving in acrimonious circumstances.
Having hurriedly sacked Paolo Di Canio, Sunderland made him the top flight's first (and to date only) Uruguayan gaffer. It started badly, with a 4-0 loss at Swansea, and by mid-April – after two points from nine games either side of a League Cup final defeat by Manchester City – the Mackems were bottom of the league with a mountain to climb. But they won at Chelsea, hammered Cardiff, triumphed at Manchester United and saw off West Brom to complete a 'great escape'.
The feelgood factor didn't last. Poyet clashed with incoming sporting director Lee Congerton and the results didn't improve in 2014/15. The traditional win at Newcastle, four days before Christmas, was only their third of a season which had already included an 8-0 capitulation at Southampton. In a mid-March six-pointer at home to Aston Villa, his side were 4-0 down by half-time as the stands emptied. Of his 14 wins in 62 league games, four had come in succession during one month, which sadly proved as unrepeatable as it was unforgettable.
34. Rene Meulensteen (Fulham)
December 1, 2013 to February 14, 2014
For some, the transition from bootroom coach to manager is smoothly inevitable. For some, it never comes. And for others, it's a brief, doomed fling. So it's proven for Rene Meulensteen, one of the most highly-regarded coaches of the Premier League era, whose own leadership career never got off the ground.
Coaching since his early twenties, the Dutchman spent 12 years (either side of briefly bossing Brondby) on the Old Trafford staff, ending up as Fergie's first-team coach. When David Moyes arrived, Meulensteen joined Guus Hiddink at Anzhi Makhachkala, soon replacing his compatriot but lasting only 16 days in the top job.
That left him free to switch back to England. Considered by Crystal Palace as a replacement for Ian Holloway, he was instead parachuted in to assist his countryman Martin Jol at Fulham, struggling in the drop zone. Within three weeks Jol was gone and a "surprised" Meulensteen was in charge.
Not for long, though. After results included a 6-0 reverse at Hull, a home FA Cup elimination by third-tier Sheffield United and four consecutive league losses, owner Shahid Khan shunted Meulensteen to one side and appointed Felix Magath. In 10 winter weeks under the Dutchman, Fulham had gone from third bottom to rock bottom, and it was time to roll the dice one last time. Having been considered but rejected for the roles of assisting Louis van Gaal at Old Trafford, then Brendan Rodgers at Anfield, Meulensteen spent two years out of the game before cropping up at Maccabi Haifa in August 2016.
35. Ole Gunnar Solskjaer (Cardiff)
January 2, 2014 to September 18, 2014
Let it not be said that Cardiff merely went for a famous name when seeking to replace Malky Mackay. Despite still resembling a teenager, 40-year-old Solskjaer had done more than loaf about on the pundit's sofa awaiting a desperate Premier League club: the Manchester United legend had gained his tracksuit stripes coaching the Old Trafford strikers and reserves before leading his first side Molde to consecutive Tippeligaen titles.
Having politely declined successive suitors including Norway and Aston Villa to continue learning his trade, Solskjaer seemed to be sensibly awaiting the right club. For some reason he chose Cardiff, arguably overachieving under Mackay, until the Scotsman was forced out by 'characterful' owner Vincent Tan – much to the disbelief of fans already enraged by Tan's controversial abandonment of the traditional club colours, repainting the Bluebirds red.
When Mackay walked the plank, Cardiff were 15th; they finished dead last, with Solskjaer's 18 league games yielding 12 points and just three wins. Although the Norwegian acted with quiet dignity, humour and honesty, his signings didn't work and his defence collapsed, at one point conceding 12 goals in three games. The impeccable timing and eye for an opportunity Solskjaer had displayed as a striker completely deserted him as a manager – until he returned to Molde, where he topped a Europa League group featuring Ajax, Celtic and Fenerbahce.
Next: The Dutch trio
36. Pepe Mel (West Brom)
January 9, 2014 to May 12, 2014
By December 2013, West Brom had two problems. One was that they needed to change their gaffer; the other was who might replace him. Although Steve Clarke had led them to an eighth-place finish – their finest since 1981 – his side was on a serious slide, with just nine wins in 41 games, and chairman Jeremy Peace was in no mood to sit idly by and watch his club relegated.
The second problem was that the Baggies were run on the 'continental model'. Signings were made not by head coach Clarke but director of football Richard Garlick, and he wasn't excelling at it, spending £13m on Stephane Sessegnon and Victor Anichebe. Nor were fans enthused by the idea of Pepe Mel replacing Clarke, especially when the former Betis boss walked away over the Baggies' refusal to hire his backroom staff, but there seemed few other options willing to work within those constraints.
Mel was eventually persuaded into it, but it took him nine attempts to win a league match, and his side collected just 16 points from his 19 games in charge. Luckily for West Brom, they survived – on 36 points, the lowest survival total in four years – because three teams were even more awful than them… two of which were managed by imports. The day after the season ended, Mel left by mutual request, and after floundering further under Alan Irvine the Baggies were saved by Tony Pulis – who took the job on condition of being in charge of transfers.
37. Felix Magath (Fulham)
February 14, 2014 to September 18, 2014
There's a certain type of fan, generally older, who believes footballers should suffer: that they should be beasted into shape by a ruthless sergeant major. Such types may wish to observe the man hired by a somewhat desperate Shahid Khan in February 2014 as Fulham's third manager of the season.
Unemployed for the previous 18 months, the Premier League's first German gaffer had a big reputation – he'd won the Bundesliga with Wolfsburg and twice with Bayern Munich – but not all of it was good. Notorious for training players to the point of physical exhaustion then hiding their water bottles to "test their reaction", the son of a US serviceman was known at one previous club as Saddam; Bayern's Uli Hoeness said "I would never treat human beings like he does".
Little of that would matter if it got results, but Magath's 12 points from 12 games didn't come near saving Fulham from relegation. He promoted youth, largely because he'd ostracised players like Bryan Ruiz, Kostas Mitroglou, Fernando Amorebieta and Maarten Stekelenburg, preventing others from talking to them.
Some players said he would call them into his office and stare at them silently for minutes on end. Increasingly erratic, he allegedly told the club doctor to treat Brede Hangeland's thigh injury with cheese, and certainly played Dan Burn at right-back. Like Solskjaer, he was fired in mid-September after looking very unlikely to get his club back up at the first attempt – and like Cardiff, Fulham didn't manage it at the second attempt either.
38. Ronald Koeman (Southampton, Everton)
Southampton: June 16, 2014 and June 14, 2016
Everton: June 14, 2016 to date
Things didn't look good for Southampton in the summer of 2014. After what was generally held to be 18 months of overachievement, manager Mauricio Pochettino was off to Spurs, and the bigger clubs were hoovering up £100m of talent in Luke Shaw, Calum Chambers, Dejan Lovren, Adam Lallana and Rickie Lambert. A tweet from the new gaffer, showing an empty training ground, provoked a mixture of laughter and genuine fear that the side who had finished eighth might plunge to relegation.
Instead, they got 13 points from the first 18 as September's Manager of the Month Koeman augmented the Saints' excellent academy graduates with astute buys like Fraser Forster, Toby Alderweireld (on loan), Ryan Bertrand, Sadio Mane and Graziano Pelle. Furthermore, the only man to have played for and managed all of Holland's big three (Ajax, PSV, Feyenoord) also displayed plenty of tactical acumen, switching formations regularly and to good effect.
Having finished seventh in his first season then lost Nathaniel Clyne and Morgan Schneiderlin to richer pastures, Koeman then kicked on again, holding off Clyne's Liverpool and a resurgent West Ham to finish sixth, qualifying for the Europa League groups.
And then he was off. Saints wanted to extend his original three-year contract but Koeman wanted to keep his options open; Everton represented an opportunity for growth and a pay rise, although the Dutchman denied he was a mercenary: "If it was about money, I could stop tomorrow. It's about more than money. You can buy two cars, but you can only drive one car." Goodison's denizens will hope he drives them forward.
39. Louis van Gaal (Manchester United)
June 16, 2014 to May 23, 2016
With David Moyes leading Manchester United to their lowest finishing position (seventh) since Liverpool were winning league titles, the Ill-Chosen One had to go and United needed a proven winner. With Pep Guardiola only one year into his Bayern sojourn, and Jose Mourinho back at Chelsea, the opportunity fell to Aloysius Paulus Maria van Gaal.
Fresh from leading the Netherlands to the World Cup semis, the man who'd won the league seven times in three countries certainly had the track record. He also had big-club experience, at Ajax, Barcelona and Bayern; he'd even been set to take the Old Trafford job in 2002 before Fergie reversed out of retirement. And the man whose 1995 European Cup winners averaged 23 years old happily promoted no fewer than 15 of United's academy lads into the first team (partly through necessity).
But while the Old Trafford faithful love a commitment to youth, they are even more insistent on employing attacking football. Van Gaal's unpenetrative possession dismayed the fans, his control freakery alienated the players and his results assuaged neither: having hauled United back into the top four in his first season, the following year's fifth-place finish sealed his fate and he was sacked with the FA Cup final champagne still drying on his suit. The stage was set for Mourinho.
40. Dick Advocaat (Sunderland)
March 17, 2015 to October 4, 2015
Recruitment can be cyclical. After a 2013/14 Premier League season of eight overseas managerial appointments (Mourinho, Martinez, Pellegrini, Poyet, Meulensteen, Solskjaer, Mel, Magath), 2014/15 was low on imports with just the three close-season appointments: Pochettino swapping Saints for Spurs, Koeman and Van Gaal arriving from abroad. And that was that until mid-March, when Sunderland needed help – again.
With nine games to go, the Mackems were still a point above a drop zone featuring Burnley, QPR and the apparently doomed Leicester. But after Gus Poyet's side had won only twice in 19 league games and gone 4-0 down by half-time at home to Villa, they turned to the 35 years' coaching experience of Dick Advocaat.
Either side of the traditional initiation ceremony of beating Newcastle, the Little General lost two of his first three but the next five games yielded two wins and three draws to see Sunderland safe with a game to spare. Having been moved to tears by that success, Advocaat unwisely extended his initial deal for a year; he was gone within eight weeks of the new season, but will be remembered well on Wearside.
THE LIST 1-10 • 11-20 • 21-30 • 31-40 • 41-50
New features every day on FourFourTwo.com • 50 Foreign Managers hub
Quizzes, features and footballing fun
Get the best features, fun and footballing frolics straight to your inbox every week.
Thank you for signing up to Four Four Two. You will receive a verification email shortly.
There was a problem. Please refresh the page and try again.