8 players who switched international allegiances – and a Premier League star who still could
Tim Ellis picks out a handful of stars who chose to represent a country they weren't born in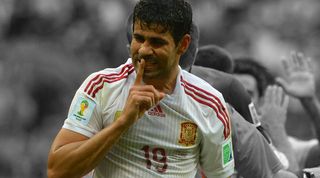 1. Diego Costa (Spain)
After playing in two friendlies for Brazil under Luiz Felipe Scolari, Costa declared his allegiance to adopted homeland Spain after a frank discussion with coach Vicente del Bosque in 2013. Scolari scoffed: "He's turning his back on a dream of millions, to represent our national team, the five-time champions, in a World Cup in Brazil."
The then-Atletico Madrid man insisted he had "a special affection" for the Spanish people, even if that love wasn't always reciprocated - especially when some La Liga fans greeted him with chants of "No eres Espanol" ("you're not Spanish"). A disastrous World Cup campaign in his birth nation followed, with Spain thumped by the Netherlands and knocked out after just two group stage matches.
There was another problem for Costa: he couldn't score. Although a reliable goal-getter at club level, it took him seven games to register his first for la Roja - and that came against Luxembourg. Even Del Bosque had started to lose faith at the stage, and the Chelsea striker was duly axed from Spain's Euro 2016 squad. He's since returned, though, and could start at No.9 in the Russia World Cup next year.
2. Kevin-Prince Boateng (Ghana)
Born and raised in Germany, Boateng played for his birth country's youth teams but was dropped from the under-21 squad for breaking a curfew – the first of many misdemeanours that littered his early career. Boateng received a Ghanaian passport in 2010 - just in time to represent them at the World Cup in South Africa after FIFA changed the age limit rules on players switching allegiance.
A year later, he retired from international football at the ripe old age of 24, claiming his body couldn't cope with playing for his country (especially when there was a less glamorous AFCON around the corner).
He then reversed that decision and returned for the 2014 World Cup, before being sent home from Brazil for an alleged "vulgar verbal assault" aimed at coach Kwesi Appiah. Boateng is hoping for another return to the Black Stars squad in time for Russia 2018, although his criticism of their fourth-place finish at the 2017 AFCON might mean his exile doesn't end.
FEATURE Which legend TWICE retired and came back for major tournaments? Find out here...
3. Owen Hargreaves (England)
Raised in Canada by a Welsh mother and English father, Hargreaves experimented with all of his options before settling on the Three Lions. As a 15-year-old he had a trial for Canada's U17 side, but was rejected; Hargreaves then set off for Europe, where he was schooled at the Bayern Munich academy and even made his Wales Under-21 debut at the 1998 Milk Cup.
England came calling in 2000, though, and Dragons coach Jimmy Shoulder was surprisingly generous when assessing his the last-minute switch: "I think Owen is sensible to keep his options open. If he commits to us in a European Championship game, he's stuck with us for the rest of his career."
Hargreaves, who enjoyed 10 successful years at Bayern and also won a Premier League and Champions League double with Manchester United, was capped 42 times by England but never forgiven by some in Canada.
4. Tony Cascarino (Republic of Ireland)
After winning 88 caps for the Republic of the Ireland, Bromley-born Cascarino admitted in his 2000 autobiography that he should never have played for the country: "I didn't qualify for Ireland. I was a fraud. A fake Irishman."
The striker revealed that he was refused an Irish passport by the authorities in 1985, but carried on regardless as he'd already played for the Republic three times. The Millwall legend had orginally believed he qualified under the one grandparent rule, only for his mother to reveal in 1996 that his grandfather wasn't a blood relative.
Cascarino once complained: "The only people I got stick from were the English. They would give it the 'Plastic Paddy' stuff and I would tell them, 'My mother is Theresa O'Malley. How much more f***ing Irish can you get?'"
The Football Association of Ireland said there was no evidence that Cascarino was ever refused a permanent passport, and FIFA took no retrospective action.
5. Granit Xhaka (Switzerland) and 6. Taulant Xhaka (Albania)
The Xhaka brothers, who were born in Basel, became the first siblings to play against each other at a European Championship in France last year.
Older brother Taulant had played for the Swiss at youth level, but on the advice of Switzerland's Granit chose to switch to Albania. When they went head-to-head at the Stade Bollaert-Delelis, the brothers' mum was in the crowd with a t-shirt displaying the flags of both nations.
The story became more complicated when Granit was later invited to represent Kosovo, his parents' homeland, and said he would be proud to do so. This led to criticism from the Swiss media, who accused him of lacking commitment to his adopted nation.
7. Alfredo Di Stefano (Colombia, Spain)
The late Real Madrid legend won five consecutive European Cups with the same club between 1956 and 1960, but international wanderlust and politics saw him play for three nations.
He turned out six times for his homeland, Argentina, before a players' strike over money saw most of their stars decamp to Colombia, for whom he picked up another four caps which weren't officially recognised.
In 1954, FIFA ruled that Di Stefano couldn't represent Spain, but that decision was reversed after he gained citizenship three years later. The 'Blond Arrow' went on to win 31 caps for the European nation, racking up an impressive 23 goals.
The most disappointing part of this peripatetic international career was the fact that Di Stefano never played at a World Cup; the Argentine strike, subsequent switch to Colombia, injury and Spain's shock defeat by Scotland in a qualifier all conspired against the boy from Buenos Aires. His modesty went before him, though: "I was a footballer who played for the team. I did what I could, but I was no superhero."
8. James McClean (Republic of Ireland)
The feisty West Brom winger was born in Northern Ireland and represented the nation seven times at under-21 level. Then, like Darron Gibson before him, he chose the Republic of Ireland under the terms of the Good Friday Agreement – just in time to make the cut for Euro 2012.
Regretting his original decision to play for the North, McClean explained: "I didn't feel part of the squad. And I think any Catholic player, if they said they did, I'd probably call them a liar."
During West Brom's 2015 summer tour of the USA, the Derry-born player turned his back on the British national anthem. Perhaps it's time to get McClean on Question Time - he'd probably be more interesting than Jermaine Jenas and Joey Barton.
9. Xherdan Shaqiri (Kosovo?)
All was calm as Switzerland prepared to face Romania at Euro 2016 – at least until Shaqiri made an announcement that left the nation's football fans choking on their Toblerone.
"What if the coach of Kosovo wants me as the captain? Of course, I am thinking about it then," the Stoke forward, who was born in Kosovo before his family emigrated to Switzerland, exclaimed.
With the Balkan country recognised by FIFA and UEFA in May 2016, the possibility remains that the 'Alpine Messi' will move Swiss mountains to play for them.
Thank you for reading 5 articles this month* Join now for unlimited access
Enjoy your first month for just £1 / $1 / €1
*Read 5 free articles per month without a subscription
Join now for unlimited access
Try first month for just £1 / $1 / €1
Get FourFourTwo Newsletter
The best features, fun and footballing quizzes, straight to your inbox every week.