9 times clubs REALLY regretted letting their star join a rival
Oh Arsenal, it's happening again: Alexis Sanchez looks all set for a Manchester United move this week. Here's what happened when these other top players signed for a direct rival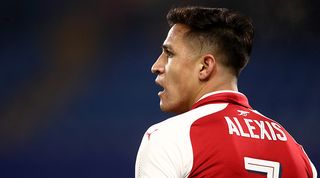 Andrea Pirlo (Milan to Juventus, 2011)
The idea of a club deeming Pirlo, the most graceful midfielder of his generation, surplus to requirements is faintly ridiculous. But that's exactly what the powers at Milan thought in 2011 when, after a decade of service, the Rossoneri allowed the 32-year-old's contract to run down, leaving him free to join Juventus for nothing. Pirlo for free!
The playmaker had been integral to Milan's success in the 2000s, helping them to two Serie A titles and the Champions League twice. But in 2011, Pirlo didn't slot into Massimiliano Allegri's system at San Siro and, hungry to prove that he could still be an asset to a top side, he joined Juventus when his contract expired.
The Old Lady were on the up. Pirlo joined Antonio Conte's Turin revolution, with a new stadium and a group of players determined to reach the summit of the Italian game. Pirlo helped them achieve precisely that, notching 13 assists as the Bianconeri finished the 2011/12 league season unbeaten to clinch their first title in nine years.
Juventus went on to win four consecutive Scudetti, with peerless pass-master Pirlo at the heart of the team – all while Milan fell into decline. CEO Adriano Galliani would eventually admit that allowing Pirlo to leave was his biggest mistake in football. Can't argue with that one.
Andy Cole (Newcastle to Manchester United, 1995)
In January 1995, Kevin Keegan made a decision. The Newcastle boss decided that he no longer wanted Andy Cole, the striker who'd scored 55 goals in 70 league matches for the Magpies. Cole had been a force of nature at the head of Keegan's attack-happy side, but things were never the same after a row between the pair. 
When Keegan believed that Cole had been slacking in training, tensions began to simmer. "I felt so tired, and I couldn't get myself going," Cole told ITV. "He said, 'Don't you fancy it today?' So I said to him, 'No I don't fancy it today.' So he said, 'Well if you don't fancy it you can do one.' So I said, 'Okay, not a problem to me,' and I just walked off."
Finally, in January 1995, Newcastle accepted an offer of £6m (plus Keith Gillespie) from Manchester United. Fans demanded answers and, to his credit, Keegan answered them face to face outside St James' Park. He rationalised the sale as a matter of footballing judgement but, on the pitch it proved to be catastrophic. Cole went on to win five Premier League titles with United, while the Magpies never fully recovered from a spectacular capitulation during the 1996/97 season that allowed United – and Cole – to triumph.
Johan Cruyff (Ajax to Feyenoord, 1983)
Having enjoyed not one but two successful spells at Ajax during his illustrious career, Cruyff would have been forgiven for thinking he was untouchable in Amsterdam. He was 36 in the summer of 1983 but had just helped Ajax win a domestic league and cup double. But Ajax opted not to give their greatest ever player a new contract.
The man who'd shaped Ajax's destiny as much as anyone was understandably incensed. His response was an emphatic middle finger in the direction of the club he'd served so immaculately – signing for their biggest rivals Feyenoord.
The Rotterdam giants had consistently underachieved in the decade after winning the league and UEFA Cup in 1974, so capturing Cruyff – albeit in the winter of his career – was a real coup. Ajax thought they'd had the last laugh when they pulverised Feyenoord 8-2 in De Klassieker, but the beaten side – buoyed by the wisdom of Cruyff, the youthful exuberance of Ruud Gullit and free-scoring brilliance of Peter Houtman – weathered that and embarked on a 15-game unbeaten run. In February, they even exacted sweet revenge on Ajax with a 4-1 spanking.
Cruyff, virtually ever-present in the team, helped Feyenoord to their first title in 10 years, a KNVB Cup, and was named Dutch Player of the Year. That's how you retaliate.
Robin van Persie (Arsenal to Manchester United, 2012)
Arsenal's self-sustaining business model has made them look like a selling club at times, having surrendered talismanic figures like Patrick Vieira, Thierry Henry and Cesc Fabregas to financial heavyweights. In 2012, Robin van Persie and his representatives sat down with the Gunners board and allegedly made a set of demands about transfer policies and the running of the club.
With the ownership not willing to change philosophy, it was agreed that Van Persie would move on. An offer from Juventus was deemed insufficient, but when Manchester United swooped in with a more substantial package, the Arsenal board felt obliged to sell. They believed that £24m for a 29-year-old with a history of injury problems was good business, and Arsene Wenger was content, armed with replacements in the form of Olivier Giroud and Lukas Podolski.
It brought Arsenal fans much pain, however, as they watched the Dutchman score 26 goals and lead United to their 20th league title. Alex Ferguson's swoop for Van Persie, who he viewed as the man to rejuvenate a side reeling from relinquishing their crown to Manchester City, was his last managerial masterstroke. Arsenal, meanwhile, just sneaked into the top four.  
Carlos Tevez (MSI/West Ham/Manchester United to Manchester City, 2009)
Tevez didn't really want to leave Manchester United. Adored by fans after being instrumental in the club's Champions League-winning 2007/08 campaign during a two-year loan spell, the Argentine grew increasingly irritated that his efforts on the pitch didn't result in a permanent deal at the club.
Alex Ferguson took exception to some particularly strident remarks Tevez made about his future in an interview a UK newspaper, which led to the start of a breakdown in their relationship. Eventually, Tevez signed for Manchester City and immediately took aim at Fergie, claiming that the Scot didn't want him at Old Trafford.
Ferguson responded by saying that Tevez wasn't worth the money City paid for him (around £25.5m, if his advisors are to be believed). How wrong he was. The Argentine scored 52 goals in his first two seasons at the Etihad, but it was his third year in sky blue which sticks in the craw of United fans.
After refusing to come on as a substitute in a Champions League game against Bayern Munich in 2011, Tevez was widely condemned – not least by City boss Roberto Mancini. United fans rubbed their hands in glee at the thought of the striker's City career going up in smoke. However, he returned against the odds and played a pivotal role in City clinching their first title in 44 years. It's important to note that United didn't actually sell Tevez to City, but they certainly could have done more to keep him. 
N'Golo Kante (Leicester to Chelsea, 2016)
Chelsea and Leicester are hardly bitter rivals with a storied history of mutual antipathy - but the context and repercussions of this deal are key. A facile view of N'Golo Kante and Leicester goes a little something like this: they were outstanding with, and hopeless for months without him.
The freakishly efficient ball-winner brought an unprecedented degree of control and thrust to the Foxes' midfield during their triumphant Premier League campaign of 2015/16. Naturally, Chelsea were keen to rebuild under Antonio Conte after a dismal title defence – and Kante was identified as a key target.
Leicester needed to retain their best players if they were to put up a reasonable defence of their title, but felt powerless when Kante expressed a desire to leave. It was soon proved just how important he was, though, with the Foxes' decline and Chelsea's immediate superiority laying it bare. Leicester didn't plug the gaping hole in their midfield under the January arrival of Wilfred Ndidi – but really, it was all too late for Claudio Ranieri by then. 
Luis Figo (Barcelona to Real Madrid, 2000)
It was the transfer that rocked the football world. Feeling unappreciated at Barcelona, Figo decided to up sticks and move to bitter rivals Real Madrid in a then-world-record £37m deal.
Everyone knows the immediate story: the controversy, the bitter feeling of betrayal, the pig's head on the pitch.
But what happened afterwards? Well, Figo's arrival at the Bernabeu signalled the beginning of the Galactico era and Barça's ill-feeling wasn't helped when Figo won the Ballon d'Or in November 2000, largely for what he'd done at the Camp Nou.
Seven months later, he was lifting the Liga trophy in the white of Real Madrid. Figo was soon joined by Zinedine Zidane as Florentino Perez assembled one of the most ludicrously talented squads in football history. That project culminated with the 2002 Champions League title, with Figo an influential figure throughout their campaign.
Barcelona, in stark contrast, didn't win the league title again until 2005.
Ashley Cole (Arsenal to Chelsea, 2006)
In the small hours of Friday, September 1, 2006, Arsenal and Chelsea agreed a swap deal that took Ashley Cole to Stamford Bridge, with William Gallas (and £5m) going in the other direction. It completed the most controversial Premier League transfer since Cole's namesake 11 years prior.
Rushing to meet the deadline was a dramatic end to what had been a torturous saga, but the real soap opera had yet to come. A few months after the move, Cole released his autobiography in which he revealed the moment he nearly swerved off the road at hearing Arsenal's £55k-per-week contract offer.
It was a transfer that defined the contrasting trajectories of the two clubs. Chelsea, bankrolled by Roman Abramovich's billions, had real pulling power, while Arsenal's status among the Premier League's elite was under scrutiny. The animosity directed at Cole by Arsenal fans was legendary, but it did little to stop him as he became the finest left-back in the league and achieved his objective of "winning things" with the Blues.
For Arsenal, Cole's departure set a worrying precedent. After him they sold Thierry Henry, Samir Nasri, Cesc Fabregas and Robin van Persie, and still haven't restored their place at the Premier League summit. Nasri, Fabregas and Van Persie, meanwhile, have all helped other clubs win it – but it started with Cole.
Roberto Baggio (Juventus to Milan, 1995)
Winning the Scudetto in 1995 was the pinnacle of Baggio's five-year stay at Juventus – but he didn't stay too long after to celebrate. Instead, the Divine Ponytail became the crown jewel in Milan's quest to become Italy's premier force once again.
Now read...
9 Premier League rejects who went on to thrive in Europe
13 players whose career paths were truly bizarre
9 footballers' brothers who were only signed to keep their siblings sweet
 
At 28, Baggio had enjoyed his finest years in Turin and Alessandro Del Piero was the emerging star, yet selling him to a direct rival was not ideal. Juve fans protested the decision as Baggio was allowed to join Fabio Capello's Milan for £6.8m.
Although Baggio wasn't the undisputed superstar at Milan as he had been at Juve, the Rossoneri won the following Serie A title with him in tow. The Italian's time at San Siro may not have been as glittering as it could have been in his younger days, but he still scored crucial goals to help Milan win the league.
Juventus briefly regretted allowing Baggio to leave - at least until they got to experience the full potential of Del Piero, who guided them to the Champions League in 1996 and Serie A title in the two years later.
Quizzes, features and footballing fun
Get the best features, fun and footballing frolics straight to your inbox every week.
Thank you for signing up to Four Four Two. You will receive a verification email shortly.
There was a problem. Please refresh the page and try again.