The 9 weirdest transfer rumours we've heard this summer
You might not think anything can top the real-life Neymar to PSG move, but these reputable rumours were surely too outlandish to happen. Right?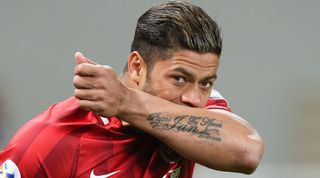 Paulinho to Barcelona
Now, Paulinho is undoubtedly talented - anyone who can clock more than 40 caps for Brazil has to be - but given his age and career trajectory in club football, this one is a head-scratcher.

Paulinho is 29 and has played in Lithuania, Poland, Brazil, England (in a very disappointing spell with Spurs), and currently plies his trade in China with Guangzhou Evergrande. He's not exactly the superstar calibre of player that Lionel Messi and Luis Suarez would be excited to play alongside.
Barcelona have their pick of the world's finest midfielders (unless they're called Marco Verratti), so to choose Paulinho was hard to fathom. But they did, as confirmed by the player himself. "Since I received the offer from Barça I've not stopped thinking about it," he sobbed in July. And didn't get his way.
Adama Traore to Chelsea
Chelsea have the financial clout to compete with the world's biggest teams. They've spent £127m on Antonio Rudiger, Tiemoue Bakayoko and Alvaro Morata alone in this window so far, showing a real ambition to improve despite winning the 2016/17 Premier League at a canter.

It seems odd, then, that they were genuinely linked with Middlesbrough's Adama Traore by the Evening Standard. The winger was well regarded coming through the youth ranks at Barcelona, but endured a disastrous spell at Aston Villa and then made little impact at his second relegated Premier League club, Boro. Needless to say, the Blues decided they'd be better off spending £20m on someone other than the inconsistent young Spaniard.
Phil Jagielka to Tottenham
Mauricio Pochettino's Spurs have a very clear transfer strategy that involves signing young players and making the most of their potential. It would be a huge surprise to see the Lilywhites splash out on anyone over the age of 26, so to see them linked with Everton's soon-to-be 35-year-old centre-back Phil Jagielka was... different.
Spurs could do with some centre-back cover for Jan Vertonghen and Toby Alderweireld, that much is fair: Kevin Wimmer looks shaky (and is potentially on his way out) and Cameron Carter-Vickers is still very young. But easing that problem by signing Phil Jagielka would be right up there with the 2012 capture of Ryan Nelsen in its weirdness.
A Sergio Aguero/Alexis Sanchez swap deal
This rumour is strange for a few reasons - the first being that straight swap deals very rarely happen these days. It's not often that two big clubs agree that two extremely valuable players are worth the same amount of money.
Secondly, it doesn't really benefit either team. They'd both be losing their star player, only to replace them with the star player from one of their rivals. Third – and most prevalent – is that it really doesn't suit either player. In the event that Sergio Aguero or Alexis Sanchez wanted to leave Manchester City or Arsenal respectively, it would surely be for bigger and better things. It's hard to argue that either of them would be getting that by moving from one good Premier League team that struggle in Europe to another good, but equally travel-shy Premier League team.
M'Baye Niang to Arsenal
Niang is a Milan player, but the young Frenchman has been loaned out three times in the last few seasons - most recently to Premier League Watford in 2016/17.

The 22-year-old is clearly talented but yet to really blaze a trail, and his impact at Vicarage Road was mixed to say the least: he scored just two goals in 11 top-flight appearances for the Hornets. It was strange, therefore, to see him being linked with a move to Arsenal by Italian outlet Tutto Mercato earlier this summer.
Niang is nowhere near the quality of Arsenal's current first-team attackers and, having failed to tear up Premier League defences already, it's hard to see why Arsene Wenger would have been impressed enough to bring him back. The truth is that he probably wasn't (hmm, Tutto Mercato.... HMMM).
Mesut Ozil to Fenerbahce or Besiktas
Germany international Ozil may not have had his best campaign last season, but at 28 the attacking midfielde is still in his prime and one hell of a player. Opposition teams could have been forgiven for trying to capitalise on his uncertain future this summer... but Besiktas were surely trying their luck hard here – not least as he's a Fenerbahce fan.
Either way it seemed strange that Arsenal's assist king would be linked with two clubs in the league currently ranked as Europe's 10th best. There's plenty of money in Turkey but, more to the point, the idea of Ozil in his prime going to play there right now seemed highly unrealistic. "In the future I want to wear a Fenerbahce shirt, it would be an honour," the 26-year-old told Sabah last month. "Everyone knows I'm a Fenerbahce fan." Give it a few years, folks.
Gareth Bale/Luka Modric to Arsenal
We can file these two rumours under the same entry, as they're both pretty ridiculous for the same two reasons.

Both Bale and Modric are bona fide superstars plying their trade at the world's biggest football club. Bale is still in his prime at the age of 28, and while Modric is the wrong side of 30, he's still capable of controlling games against top-class opposition. Thus, neither of them have any reason to take a step down, even to a club of Arsenal's size – and it's questionable whether the Gunners could even afford either of them.
But nonetheless, Spanish outlet Don Balon claimed Arsenal had made an enquiry for Bale earlier in the window, while Diario Gol claimed they were among a nunber of clubs interested in Modric. Per-lease.
Kostas Manolas to Zenit
Manolas is a top-class central defender who is fast approaching his prime. Aged 26, he plays regularly for Roma and Greece. He's drawn admiring glances from teams like Arsenal, Chelsea and Juventus, all of whom would be a step up - so it was weird that Manolas was on the verge of a move to Zenit earlier this summer.

Simply, the Greek is too good to consider the Russian Premier League. It's been said that Juventus couldn't actually afford him, despite supposed interest in the stopper. In the end it turned out Zenit couldn't either – Manolas had a medical scheduled with the Russian side (who've finished third for the past two seasons, remember), and the deal was aborted after a disagreement about wages.
Hulk to Arsenal
Don't be fooled: this isn't a rumour from 2010. Former Brazil international Hulk has had a number of opportunities to play in Europe's top leagues over the years, but opted to maximise his financial gains than elevate his career. Aged 31, he currently plays for Shanghai SIPG in the Chinese Super League.

It seems unlikely, therefore, that rumours of Arsenal moving for him in this transfer window ever had any truth to them. Not only would the former Porto hitman demand astronomical wages (he's currently trousering £320k per week in China), he's also unproven in a top league and a move to the Premier League now would be about five years too late.
Ruben Neves to Wolves
A 20-year-old full Portugal international who captained Porto in the Champions League aged 18, and was strongly linked to the likes of Chelsea and Liverpool in recent seasons. Wolves, you say?! Pah.
Oh.
Now read...
Long read: Neymar – How boy became man... and the most expensive footballer of all time
Thank you for reading 5 articles this month* Join now for unlimited access
Enjoy your first month for just £1 / $1 / €1
*Read 5 free articles per month without a subscription
Join now for unlimited access
Try first month for just £1 / $1 / €1