FIFA 22 news: Pre-order now – plus release date, cover, trailer and everything else we know so far
EA Sports' FIFA 22 is set to drop in the autumn and excitement is already high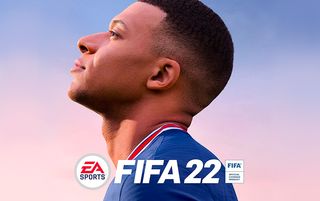 (Image credit: EA Sports)
Details are gradually getting released for EA Sports' FIFA 22, with gamers and football fans alike both excited for the new game's drop.
Release date
The new game is set to come out on October 1 2021, on Microsoft Windows, PS4, Xbox One, Nintendo Switch, PlayStation 5, Xbox Series X/S and Stadia.
Preorder
FIFA 22 is available to preorder now.
PREORDER Preorder FIFA 22 from Amazon
As ever, there will be bundle deals that you can take advantage of when it comes to getting a GEN5 console with FIFA 22 - and while there's no news on a FIFA 22 on PS5 bundle deal so far, here's how to secure the latest game on the next-generation console.
Cover
For the second year in a row, Kylian Mbappe is the cover star for the game.
Honoured to welcome back @KMbappeThe #FIFA22 cover star 🌟Stay tuned for the game-changing reveal on July 11th 👉 https://t.co/oT0kH2cJ7b pic.twitter.com/w1NABM6FjjJuly 9, 2021
Trailers
EA Sports have already released two trailers for FIFA 22, which features the likes of Kylian Mbappe, David Alaba and Christian Pulisic
As promised in the trailer, the game has new 'HyperMotion' technology, which is said to be groundbreaking new gameplay technology, available on PlayStation 5, Xbox Series X/S and Stadia.
EA has since released a longer trailer going into more detail about the brand new game.
There is also a trailer online featuring three of the four new icons of the game, Cafu, Robin van Persie and Iker Casillas.
New features
Details of FIFA 22's brand-new features are slowly leaking.
Derek Rae is returning to the commentary team but Lee Dixon has left, with Stewart Robson and Alex Scott set to join the franchise.
There are set to be tweaks to the way goalkeepers react, how to run more explosively and new tactical style set-ups to get stuck into.
FIFA 22 Everything you need to know about FIFA 22's new features
EA have already promised "groundbreaking new gameplay" tech, HyperMotion, which is set to improve the realism in the game on new-generation consoles.
FIFA 22 What is Hypermotion? Everything you need to know about EA Sports' gameplay explained
FIFA games tend to move in three-year cycles when it comes to features; The Journey, for example, had three separate stories across the game. It's therefore likely that VOLTA - the FIFA Street-style mode - is going to get an upgrade on this game before being either ditched or reworked for FIFA 23.
FIFA 22's Career Mode to feature Create A Club
You've been able to create your own player for a while now - but FIFA 22 will enable users to create their own club and guide to them to the top from scratch.
Create A Club brings some of the best elements of Pro Clubs and FUT together to allow users a little more fantasy in the game. FIFA 21 saw big improvements to Career Mode - and it looks like EA are ambitious to expand the feature further.
The highest potential players have also been announced.
Will FIFA 22 have new skill moves?
Yes - there are four new skill moves set to be added to the new game.
First Time Spin, Four Touch Skill, Scoop Turn Fake and Skill Bridge will all feature in FIFA 22, with an emphasis on the first touch of players in the new game. While little was revealed about these new tricks in early teases of the game, it's likely that the Skill Bridge expands on FIFA's Bridge technique.
Will FIFA 22 have Dual Entitlement?
Back when fans purchased their copy of FIFA 21, next-gen consoles, PlayStation 5 and Xbox Series X/S, were yet to be released.
Luckily though, EA allowed Dual Entitlement. This meant that anyone who purchased the game on a last-gen console was entitled to a free upgrade of the game, should they buy a next-gen console.
Unfortunately, EA have decided that since the PlayStation 5 and Xbox Series X/S are already out, FIFA 22 will not be offered to free on next-gen consoles to anyone who purchases a last-gen version of the Standard Edition.
Only the Ultimate Edition, which costs $99.99 / £89.99, will come with Dual Entitlement.
Women will be added to Pro Clubs
In previous versions of FIFA, women have only been available to play as in the Volta mode, as well with international teams. But as of FIFA 22, users will be able to play as women in the Pro Clubs mode of the game.
Player ratings
As expected, Lionel Messi (93), Robert Lewandowski (92) and Cristiano Ronaldo (91) are the highest-rated players in the game.
EA first released the list of the highest-rated players in the game before revealing the top Premier League XI that can be assembled in FIFA 22.
The full list has now been released.
FIFA 22's top-rated players:
Lionel Messi (RW) – Argentina
Robert Lewandowski (ST) – Poland
Cristiano Ronaldo (ST) – Portugal
Kevin De Bruyne (CM) – Belgium
Kylian Mbappé (ST) – France
Neymar Jr (LW) – Brazil
Jan Oblak (GK) – Slovenia
Harry Kane (ST) – England
N'Golo Kanté (CDM) – France
Manuel Neuer (GK) – Germany
RANKED! The 10 best clubs to play as in FIFA 22
Who are the fastest players and five-star skillers on FIFA 22?
FIFA 22: LEAGUE XIs
PREMIER LEAGUE The best XI
LIGUE 1 The best XI
BUNDESLIGA The best XI
SERIE A The best XI
LA LIGA The best XI
LIGA MX The best XI
Paris Saint Germain's Kylian Mbappe tops both categories when it comes to the quickest players on the game and the 5* skill list.
FIFA 22 Four new skill moves set to be added to the game
The likes of Alphonso Davies, Dan James and Adama Traore appear on the list of the fastest players on the game. Cristiano Ronaldo, Paul Pogba, Thiago Alcantara, Riyad Mahrez and Hakim Ziyech are among those all given five-star skills.
You can see the full list of the speed merchants and skill kings that you'll want to play with here.
Who are the best dribblers on FIFA 22?
Paris Saint-Germain own the three best dribblers on FIFA 22, with Kylian Mbappe, Lionel Messi and Neymar all in the podium spots on the new game.
Bernardo Silva is the highest-rated Premier League dribbler on the game, while Jadon Sancho is the highest-rated English player.
You can see the full list of the top dribblers in the game here.
Who are the best passers on FIFA 22?
Manchester City talisman Kevin De Bruyne is top of the list for passing, while includes a number of LaLiga stars.
Toni Kroos and Luka Modric of Real Madrid are both in the top 10, while Trent Alexander-Arnold is the highest-rated English player for passing.
You can see the full list of the top passers in the game here.
Soundtrack
The soundtrack for FIFA 22 has now been released, featuring the likes of AJ Tracey, Lorde, Major Lazer and Glass Animals.
Last year, FourFourTwo compiled the greatest 100 songs ever to feature on the game series' iconic soundtrack. You can listen to the playlist on Spotify, below.
FIFA Ultimate Team
What new features are coming to FUT 22?
Most of the new features revolve around the re-structuring of Divisions and FUT Champions.
FIFA 22 FUT updates announced for the new game, with brand new features
There are new ways to customise your stadium too and the addition of Heroes cards.
Which new Icons cards are coming to FIFA 22?
EA Sport have announced four major new icon cards to be featured on the game: Wayne Rooney, Robin van Persie, Cafu and Iker Casillas.
FIFA 22 Wayne Rooney to be added to the game as a FUT icon card
The four players all have the traditional three tiers of cards, with Cafu's 93-rated RWB card being the highest-rated of the lot.
Which new Heroes cards are coming to FIFA 22?
EA Sports have teased Heroes cards, which are similar to icon cards. This year, Ole Gunnar Solkjaer, Tim Cahill, David Ginola, Freddie Ljungberg and Jerzy Dudek all look set for the game.
FIFA 22 New Heroes cards revealed ahead of the new game
These icons will be available to purchase and unlock within the game.
Who's in the FIFA 22 FUT Team of the Week?
The first Team of the Week was revealed on September 23, featuring the likes of Mohamed Salah, Thiago Silva, Vinicius Jr and Joshua Kimmich.
Keep up to date with the latest TOTW here.
FIFA 21 The top 125 wonderkids on Career Mode
FIFA 21 How to (legally) buy and sell your assets to maximise profits
RANKED! The 100 greatest FIFA songs ever
Thank you for reading 5 articles this month* Join now for unlimited access
Enjoy your first month for just £1 / $1 / €1
*Read 5 free articles per month without a subscription
Join now for unlimited access
Try first month for just £1 / $1 / €1