FourFourTwo's 50 Best Football Managers in the World 2016: No.3, Luis Enrique
Don't be fooled by the star-studded squad at his disposal: this is a brilliant team very different to the one marshalled by Pep Guardiola, all thanks to its current incumbent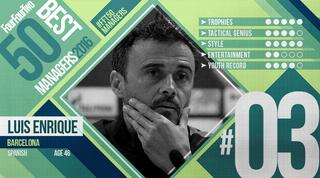 Most folk would say coaching Barcelona is a dream. Blessed with Lionel Messi in your team, and the likes of Neymar, Luis Suarez and Sergio Busquets, life must be a whirl for whoever coaches the Spanish giants.
But that's not necessarily the case. Just ask Luis Enrique.
The man from Asturias has put up with his fair share of criticism and flak from a demanding Barcelona press, but also his own fans too. Seen as cold, distant and gruff, Enrique has managed to win over many of his detractors with the performances of his team on the pitch and trophies in the cabinet.
From a possible nine trinkets available in his time with the club, the 46-year-old has lifted seven of them. Yet somehow, he remains vastly underrated.
Utility team
Putting together a team to facilitate the brilliance of MSN is no simple feat. While many critics view it as simply letting them play, Enrique has constructed a system that doesn't just maximise the best attacking trio in the history of game, but also one that functions in other areas of the field.
The ship has been steadied since the exits of key figures like Xavi and Carles Puyol, and Enrique has retained the values of traditional Barça with a new twist. The Blaugrana can still beat you 4-0 or 5-0, but they can also grind out 1-0 wins and squeeze out points in tough away trips.
Barça are no longer soft, instead built in the personality of their manager – himself an unflinching utility man in his playing days. There's a tough exterior that has helped the Catalans to glory not just in 2016, but since Enrique's arrival.
Enrique the Ironman
So what have been key factors of his reign? Enrique is a man who draws on his own experiences as a player, and it makes up a large part of his coaching style. He uses this to his advantage when dealing with players, as he knows how they feel and can offer useful advice and guidance in any situation.
Then there's his meticulous approach to fitness and organisation, from a man who has completed the Ironman event in Frankfurt, the New York Marathon and even a bike ride called the 'bone crusher'. He brings this energy and dedication for wellbeing to his football: Barcelona's players are leaner and meaner than ever before, allowing them to control matches even against the world's greatest teams. The demands of battling on several trophy fronts are hard to contend with, but 'Lucho's' outlook on the game's physical side is significant.
He's an astute tactician too – again, another overlooked aspect of his coaching acumen. When he first arrived at Celta Vigo he had scaffolding erected over their training pitches so he could observe from a new vantage point. He's been similarly attentive at Barça, and while he rubbed people up the wrong way initially, they have now seen that by following him you can achieve success.
A self-confessed leader, Enrique identified his team's weaknesses on set-pieces and in defensive transition play, and took about turning them into strengths. The set-plays have been particularly successful, having helped turn one of the poorest teams in this area into the best in La Liga.
In the last two seasons Barça have blown away set-piece-obsessive Atletico Madrid when it comes to scoring from dead-balls. They're also handy in the air these days, and have shrugged off the stigma of being 'just' a possession-based team.
Different kind of dominance
This is undoubtedly Luis Enrique's greatest gift to Barça; opening up another dimension, making them less predictable. In turn the Blaugrana have rediscovered the lustre of Pep Guardiola's era, but in a completely different guise.
Trophies, and winning every game, remains Enrique's main remit. He's never put himself out there as a long-term thinker like Guardiola, a philosopher who leaves an impact on the club greater than the basics of winning games.
Like it or not, however, he's now moving into that phase. The Treble in his first season, a Double in his second – seven trophies matching Pep's haul in the same period of time at Barça – means Lucho is making ground up in the annals of club history.
If there's one thing predictable about Enrique's reign it's the winning – and that will likely continue. The coach brags a win percentage of just over 77%, and that continues to be the stick he's measured by.
The club's powers aren't just asking him to build a Barça for the next decade, bring youth through or become a Johan Cruyff-like figure. They want wins, now. They have the right man.
50-46 • 45-41 • 40-36 • 35-31 • 30-26 • 25-21 • 20 • 19 • 18 • 17 • 16 • 15 • 14 • 13 • 12 • 11 • 10 • 9 • 8 • 7 • 6 • 5 • 4 • 3 • 2 • 1
FourFourTwo's 50 Best Football Managers in the World 2016
Thank you for reading 5 articles this month* Join now for unlimited access
Enjoy your first month for just £1 / $1 / €1
*Read 5 free articles per month without a subscription
Join now for unlimited access
Try first month for just £1 / $1 / €1
Get FourFourTwo Newsletter
The best features, fun and footballing quizzes, straight to your inbox every week.