FourFourTwo's 50 Best Football Managers in the World 2016: No.2, Pep Guardiola
Despite his failure to conquer Europe with Bayern Munich, the Catalan left a legacy his successor Carlo Ancelotti will be thankful for, writes Andy Brassell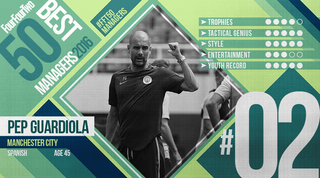 A quick look at any bookmaker's Premier League odds at the end of last season told you everything you needed to know about the sense of anticipation fostered by Pep Guardiola's arrival in England. After one of the most open English seasons in living memory, fourth-placed Manchester City were clear title favourites for 2016/17. Guardiola's arrival is a stone-cold game-changer.
Yet for some, there is still an element of doubt over the Catalan's powers after he ended his three-year spell at Bayern Munich without winning the Champions League – and without so much as reaching the final, in fact.
The defeat on away goals to Atletico Madrid made it three successive semi-final losses, to three different Spanish sides. Given that he inherited a side of European champions (and the first German side ever to win the treble), it's an undoubted black mark on his Bayern reign.
Look beyond
But to call Guardiola's tenure in Bavaria a global failure on the back of that is to largely miss the point of his work. If any part of his Bayern spell must be regarded as a let-down, then we have to go all the way back to his first campaign in charge, and the most infamous statement he made while at the club.
"Die Bundesliga ist für uns vorbei" – 'the Bundesliga is over for us' – was what the coach said on April 4 2014, after Bayern had wrapped up the title. And even if he was right, the drop-off in intensity after that point was marked.
The Champions League semi-final loss to Real Madrid was the direct result of that untimely decompression. The first leg in Spain, in which Bayern had 72% of possession and still lost, saw them fall into exactly the trap in which they had snared Barcelona 12 months previously. The return, in which they were 3-0 down by Carlo Ancelotti's side after 35 minutes, was quite simply a humiliation.
Guardiola learned his lesson afterwards, and it showed in the following two seasons. A weary and wounded Bayern made as good a fist of things as could be expected in 2014/15's exit to eventual champions Barça – when the tie was turned by five minutes of Lionel Messi brilliance in the first leg – but last season's agonising loss to Atlético showed exactly how far Guardiola's Bayern had come in European terms.
Diego Simeone's Atlético are surely the only side in world football that would have withstood the hammering that Bayern dished out in that return leg, a trademark tidal wave of a home performance by the Bundesliga champions. Though history may not be kind enough to remember the detail – Thomas Muller's penalty miss, Jan Oblak's plethora of saves – Guardiola and his team knew they couldn't have played any better, and left no stone unturned.
Leaving a legacy… again
That is, of course, exactly the point when it comes to assessing Guardiola's 2016 to date, as well as his work at Bayern as a whole. The aesthetics always matter with Pep, and there was an evident progression from the group he inherited from Jupp Heynckes, regardless of the degree of frustration in European competition.
As will become fully apparent when Ancelotti follows him in finding success at Bayern, Guardiola left a genuine legacy behind him at the Allianz Arena, a trait that separates him from many of his contemporaries. In partnership with Karl-Heinz Rummenigge and sporting director Matthias Sammer, Guardiola managed to accomplish the aim of bringing down the average age of the Bayern side in 2015/16 without sacrificing an ounce of their potency.
They were once reliant on the fettle and fitness of Arjen Robben and Franck Ribery to dazzle, but now both 30-something wingers fall into the category of 'nice to have', rather than 'can't live without'. The emergence and integration of Douglas Costa, Kingsley Coman, Arturo Vidal and Joshua Kimmich suggests that Bayern are well set for more years of domination.
Guardiola's role in that is explicit, as underlined by his intense/scary on-pitch coaching of Kimmich in the aftermath in March's draw at Borussia Dortmund. This is a man who worked tirelessly and obsessively to bring something more out of every individual, and from Jerome Boateng through Thiago Alcantara to Philipp Lahm, it worked.
After that first season, the intensity never dropped. "People think it's easy to win 5-0," Guardiola said after one thrashing of Werder Bremen, also in March, "but every game is like a final for us to stay ahead of Dortmund."
Having finally found a worthy rival, the 2016 Bundesliga/DFB-Pokal win was Guardiola's greatest achievement at Bayern. Having created the Bayern 'brand' of football that Rummenigge so desired, he will be required by do the same for City.
50-46 • 45-41 • 40-36 • 35-31 • 30-26 • 25-21 • 20 • 19 • 18 • 17 • 16 • 15 • 14 • 13 • 12 • 11 • 10 • 9 • 8 • 7 • 6 • 5 • 4 • 3 • 2 • 1
FourFourTwo's 50 Best Football Managers in the World 2016
Thank you for reading 5 articles this month* Join now for unlimited access
Enjoy your first month for just £1 / $1 / €1
*Read 5 free articles per month without a subscription
Join now for unlimited access
Try first month for just £1 / $1 / €1
Get FourFourTwo Newsletter
The best features, fun and footballing quizzes, straight to your inbox every week.