FourFourTwo's 50 Best Football Managers in the World 2016: No.6, Max Allegri
He began his job a figure of hate among his own fans, then conquered Italy twice in as many years and proved his true worth with the difficult second title win, writes Adam Digby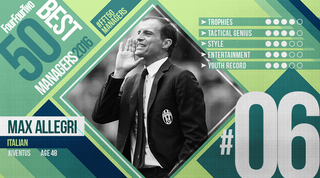 In May 2014, shortly after Antonio Conte announced his shock exit, a number of Juventus fans had gathered outside the club's Vinovo training complex and were making their feelings on his replacement abundantly clear. 
"Noi Allegri non lo vogliamo!" they chanted. "We don't want Allegri!" Harsher insults would follow when the former Milan boss arrived later that day. But those jeers had turned to cheers by the end of the season. A league and cup double – the Old Lady's first in two decades – as well as a Champions League final appearance had silenced those doubting supporters and many neutral cynics, too.
After all, Max Allegri had been sacked by the Rossoneri fewer than four months before his arrival in Turin. His Serie A triumph at San Siro was long since forgotten amid some mediocre results.
"The first day with Allegri and the president in the car, we were greeted at the training ground by spitting, eggs and kicks," Juve director general Beppe Marotta recounted later. 
"Now he is the leader of the team, and we know modern football is about motivation and getting the best out of a group and individuals. Max imposed his discipline and tactical philosophy, and I don't think we could've expected more."
Recovery injection
What to do for an encore, then? 
Twelve months on from Allegri's appointment, with the Scudetto and Coppa Italia in the bag, Juventus endured an even more tumultuous summer, as Andrea Pirlo, Arturo Vidal and Carlos Tevez all opted to move on. It not only robbed the team of three vital players and a trio of veteran leaders, but prompted a drastic overhaul of the squad, with 10 new signings to integrate.
They started 2015/16 in disastrous form. Never before had Juventus lost their first two home games of the season. Even after 10 matches they sat in 12th. It seemed their four-year dominance of Serie A was about to come to an abrupt halt.
By that point they had won just three games, but a dramatic late goal from Juan Cuadrado handed them victory over city rivals Torino and it proved to be the turning point for their entire campaign. 
It's amazing what one scrappy goal can do. The Torini win – just three days after a defeat to Sassuolo – was the first of a club record 15 consecutive league victories, kicking off a 25-game spell that brought the Old Lady a staggering 73 points from a possible 75. 
One by one Juventus reeled in their rivals, before sealing a record-equalling fifth straight league title. Just for good measure, Allegri's men lifted the Coppa Italia as well, becoming the Italian side to claim successive domestic doubles.
What would @kobebryant make of these two basketball stars? #ThankYouKobe#KobeDayhttps://t.co/BYFClTXO4W
— JuventusFC (@juventusfcen) April 13, 2016
Don't make him angry
Allegri's role in their triumphs shouldn't be understated. Whether it was during those grim early days or in May's glorious celebrations, he remained the same. Calm, composed and professional, he transmits a cool exterior to his players… until they make a mistake on the pitch. 
While videos of him playing basketball with Paul Pogba showcase the deep rapport he has established with his squad, the Livorno native has also displayed a volcanic temper when the team blunder.
One such outburst came in the final game before the winter break, as a somewhat complacent Juve almost allowed Carpi to snatch a draw. "Today's football games are never finished – the lads did really well until five minutes from the end," Allegri said shortly after the final whistle. "We have to mature. In football, an opponent who is struggling must be annihilated. Instead we allowed them back into it."
Remember when @OfficialAllegri lost his his cool v Carpi? pic.twitter.com/V1xDWjDNyR
— Adam Digby (@Adz77) July 18, 2016
Building on dominance
It was a rare blip, however. The 48-year-old steered his side almost perfectly, his caution with young players paying dividends as stars such as Paul Pogba and Paulo Dybala shone under his tutelage. 
Few coaches can rival Allegri's tactical grasp of the game. His subtle shifts and substitutions make huge impacts when they are most needed. 
Having spent a lengthy career working under some of the best managers in history (and David Moyes), Patrice Evra is well placed to make the final assessment of his current boss.
"Allegri is a coach who is easy to understand because he doesn't like working with fools, so much of the change in mentality is down to him," the Frenchman told La Gazzetta dello Sport in April.
"He is intelligent and very smart. He didn't throw away the work of his predecessor; he kept the base and made the team grow. Juve have improved a lot under Allegri."
Indeed they have – and a second double was the perfect encore.
50-46 • 45-41 • 40-36 • 35-31 • 30-26 • 25-21 • 20 • 19 • 18 • 17 • 16 • 15 • 14 • 13 • 12 • 11 • 10 • 9 • 8 • 7 • 6 • 5 • 4 • 3 • 2 • 1
FourFourTwo's 50 Best Football Managers in the World 2016
Quizzes, features and footballing fun
Get the best features, fun and footballing frolics straight to your inbox every week.
Thank you for signing up to Four Four Two. You will receive a verification email shortly.
There was a problem. Please refresh the page and try again.