Meet the next 10 Brazilian and Argentine stars who could be Premier League-bound
Nemanja Grbic casts an eye to the other side of the Atlantic in search of the latest batch of superstars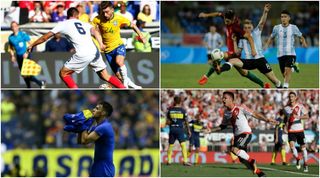 1. Cristian Pavon
Age: 20
Nationality: Argentinian
Club: Boca Juniors
Position: Winger/forward
Cristian Pavon burst onto the scene with a string of impressive displays for Boca Juniors in the Copa Libertadores last summer. He then became a regular member of the first team on the back of those performances, and is now considered one of the most important players at the club.
The fleet-footed forward possesses a fearless mentality and plenty of technical skills. Although he's usually deployed on the right wing, he tends to drift into central positions behind Boca's two strikers; from there, Pavon's a real menace to opponents with his direct running and powerful shots from distance, while he's also demonstrated intelligent movement and a useful knack for arriving in the penalty box at just the right moment.
Having already bagged five goals in 13 appearances this season, it's little wonder Paris Saint-Germain and Liverpool have been linked with a January move. By the time the winter window opens, his list of potential suitors could grow even bigger.
2. Jorge
Age: 20
Nationality: Brazilian
Club: Flamengo
Position: Left-back
Despite the fact Jorge was left out of Brazil's 2016 Olympics squad, it seems like only a matter of time before he makes his debut for the senior Selecao side.
The man widely considered as the heir to Marcelo is already a star at Flamengo, where he's made almost 100 appearances before the age of 21. He's confident and mature, but Jorge isn't your typical buccaneering Brazilian full-back: his best qualities come in the defensive phase of play, namely his positioning and reading of the game.
Manchester City have reportedly been monitoring his progress for months, but it wouldn't be a surprise if other top clubs rivalled the Premier League outfit for his signature.
3. Lucas Alario
Age: 24
Nationality: Argentinian
Club: River Plate
Position: Striker
In the eyes of River Plate supporters, Lucas Alario is already a club legend. The Argentinian striker secured Los Millonarios' place in the Copa Libertadores final just weeks after his arrival in 2015 by scoring against Club Guarani in the second leg of the semi-final, before again finding the net in the showpiece event against Tigres to help River win the trophy.
Goals have become a habit since then, helped by the 24-year-old's intelligence and tactical understanding. While he's mostly lauded as a clinical poacher who can score in many different ways from inside the box, Alario's not obsessed with his scoring record and certainly isn't a selfish player. Indeed, he's adept at holding up the ball and bringing his team-mates into play, which will appeal to many managers in Europe.
There's certainly been plenty of interest in Alario, with Inter and Liverpool the names mentioned most. It's difficult to envisage him ending 2017 in Argentina.
Next: The striker who almost joined Spurs
4. Thiago Maia
Age: 19
Nationality: Brazilian
Club: Santos
Position: Defensive midfielder
Thiago Maia is a manager's dream: a tough-tackling midfielder with unlimited amounts of energy who's a nightmare for opponents to get away from in the final third of the pitch. The youngster anticipates the play perfectly and is both willing and able to kill attacks with his brilliant positioning and well-timed interventions.
Quite simply, Santos aren't the same team without him on the field. Maia's not just a midfield destroyer, though, with the teenager also adept at carrying the ball into the opposition half and starting his side's attacks.
Chelsea were linked with the 19-year-old in the summer, but there was never a concrete approach from the Blues. Instead of Stamford Bridge, Paris could be his next destination: Maia curiously admitted he'd rather pick PSG over the likes of Barcelona and Real Madrid.
5. Sebastian Driussi
Age: 20
Nationality: Argentinian
Club: River Plate
Position: Striker
If there's any young striker who could reach the heights of Carlos Tevez and Sergio Aguero in the future, Sebastian Driussi would be a safe bet. The 20-year-old's showing all the right signs on the path to stardom with his performances for River Plate this term.
Just like his aforementioned compatriots, Driussi is a diminutive figure with a stocky build whose robustness and aggression are key parts of his game. He's already netted nine goals in 13 appearances this season, but the statistics don't tell the full story of his capabilities.
The Argentinian dazzles spectators with his pace and acceleration, which are combined perfectly with terrific dribbling skills and ball control. His accurate and thunderous drives from distance makes him a dangerous free-kick taker, too.
Tottenham supposedly had the chance to sign him in 2014, while more recent whispers suggest Milan and Atletico Madrid are keeping a close eye on his progress.
6. Lucas Lima
Age: 26
Nationality: Brazilian
Club: Santos
Position: Attacking midfielder
It's somewhat surprising that Lucas Lima isn't already playing in one of Europe's major divisions given the fact he's been one of the best players in South America for a number of years. The midfielder almost joined Crystal Palace in the final few days of the summer transfer window; the Eagles' bid was rebuffed, but the Brazilian could leave his homeland in January after making it clear he has no intention of extending his contract beyond next year.
2016 has been a year of two different halves for Lima: he was brilliant in the first, with his performances earning him a place in Brazil's squad for the Copa America Centenario, but injuries struck in the second and his form dipped when he returned to full fitness.
Talent doesn't disappear, though, and Lima has that in abundance. The playmaker possesses a fantastic touch, excellent vision and a wide range of passing, while he also takes a mean set-piece. Premier League clubs shouldn't hang around if they want to sign him, though, with the player's agent having already made contact with Milan, PSG, Valencia and Zenit.
7. Vitor Bueno
Age: 22
Nationality: Brazilian
Club: Santos
Position: Attacking midfielder
With Lucas Lima struggling with injury, Santos needed someone to step into the shoes of their chief creator. Thankfully they found the ideal candidate in Vitor Bueno, who was named the Brazilian league's "Best Newcomer" after an incredible breakthrough campaign.
Bueno contributed 10 goals and three assists in Serie A from a variety of different roles and positions; wherever he was deployed he never disappointed, with the 22-year-old regularly praised for his calmness and confidence when in possession.
There haven't been too many solid reports of a move to Europe in January, but a number of scouts from Portugal, Italy and France have been attending Santos matches in order to watch him in recent months.
Next: The classy centre-back wanted by Chelsea and Man Utd
8. Santiago Ascacibar
Age: 19
Nationality: Argentina
Club: Estudiantes
Position: Defensive midfielder
Santiago Ascacibar plays like Gennaro Gattuso, but in Argentina the comparisons are naturally with Javier Mascherano - which isn't the easiest one for a young player to deal with.
An energetic and combative midfielder, Ascacibar's rough tackles have been known to lead to altercations and even fights between Estudiantes and their opponents. He's got plenty to offer aside from aggression, though: the teenager plays with great awareness and tactical intelligence, while his positioning is generally flawless.
Everyone at Estudiantes is aware they won't be able to hold onto him for much longer, with a handful of European outfits said to be sniffing around. If recent stories are to be believed, Atletico Madrid have already made contact with the player's representatives.
9. Rodrigo Caio
Age: 23
Nationality: Brazilian
Club: Sao Paulo
Position: Centre-back/Defensive midfielder
Rodrigo Caio has been on the radar of European sides for some time now. Valencia fought off competition for his signature from Atletico Madrid in 2014, but the transfer collapsed when the Brazilian failed his medical.
Caio's developed further as a player since then, maturing into a leader for both Sao Paulo and the Under-23 team that won Brazil's first Olympic gold in the summer. He's an elegant defender capable of playing the ball out from the back, with his skills in possession often leading to him being deployed as a deep-lying midfielder.
Chelsea, Manchester United, Borussia Dortmund, Hamburg, Sevilla, Milan and Napoli are among the interested parties, with Caio likely to move on next month.
10. Gustavo Scarpa
Age: 22
Nationality: Brazilian
Club: Fluminense
Position: Winger
Gustavo Scarpa unexpectedly rose to prominence this year, becoming Fluminense's key man following the departure of numerous other players. Scarpa almost reached double figures for both goals (eight) and assists (10), numbers that aren't easily attainable for a young player in Brazil's Serie A.
A fair share of his goals came from perfectly executed free-kicks with his left foot, but Scarpa's a threat from open play, too. Everything he does is with a flourish, while his ability to play both out wide and through the middle makes him even more useful.
Benfica, Zenit and a handful of Italian clubs have been eyeing him in the last few weeks, and Fluminense will surely be showered with offers for their most prized asset in January.
Thank you for reading 5 articles this month* Join now for unlimited access
Enjoy your first month for just £1 / $1 / €1
*Read 5 free articles per month without a subscription
Join now for unlimited access
Try first month for just £1 / $1 / €1