Possession is nine-tenths of the bore: How 4-2-3-1 is sucking the fun out of the Premier League
Two-thirds of the Premier League are at it, writes Dan Sung – which is inevitably leading to a relatively goal-free campaign...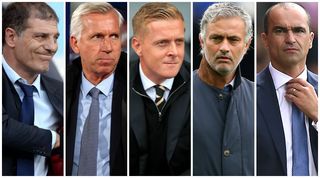 The 2015/16 season is shaping up to be the lowest scoring in Premier League history. Its 2.43 goals per game rate even goes so far as to rank it 115th in the 117 years since the formation of the Football League. In other words, if you count goals as excitement, it's the third-most boring round of the competition that there has ever been. Talk to the fans of clubs favouring the 4-2-3-1 system right now, and they'll probably agree.
According to Pep Guardiola's mentor, Juanma Lillo, 4-2-3-1 offers the most even distribution of players. It's the best system for pressing and passing, but with 11 of the 20 teams in the Premier League definitely using it last weekend, and six others plumping for a similar 4-1-4-1, this penchant for possession is also strangling the game.
Goals, goals, goals
The formation itself is clearly a good one. Chelsea used it to romp their way to the title last season with three games to spare but its success has bred popularity, and perhaps even its ultimate demise – the trouble tends to come when two teams use it against one another. Those two more central midfielders are so very effective at shielding the back four that things can get rather stodgy.
It's harder to hit teams on the break with fewer gaps between the positions and, with the two wider players in the front three most often encouraged to dribble their ways inside, it can all get very narrow too. The opposition team gets compressed into its own area and the one on the attack ends up patiently passing it around in that terrible crescent of doom as they search for a way to unpick the nigh-on impossible.
STATS ZONE Free on iOS (opens in new tab) • Free on Android (opens in new tab)
Of last weekend's Premier League fixtures, four were contested with both sides playing 4-2-3-1. They averaged 2.25 goals per game, thanks largely to Southampton and Manchester United's five-goal glut, with only one team scoring in two of them. The previous weekend there were again four 4-2-3-1 games averaging 1.5 goals per game, with only one team scoring in all four. In the other six matches that weekend, where there was no such formation stalemate, there were twice that number of goals – 3 per clash.
French fancies
For reasons best described as 'total football addiction', FFT happened to watch all 10 of the top-flight games in France over the same period and the difference in entertainment was marked.
There was just about every facet of football on show, with a total seven different formations at play and only five teams employing the most popular one.
There was the ruthlessly organised Caen driving through Troyes' defence in numbers, forwards queuing up for the coup de grâce at the end of training ground one-touch moves. Bordeaux's blistering counters against a superior PSG were a sight for sore eyes; byline wing play – either whipped in from long or dazzling full-backs on the dribble – gave them the gumption they needed to earn their 2-2 draw. And then there was the all-out attack of Marseille, with goals from all corners of the field, who were simply too strong for a hapless Bastia to contend with.
There was only one game when 4-2-3-1 met 4-2-3-1 and, although there were three goals – a 2-1 win in Montpellier vs Saint-Etienne – it was one of the more forgettable affairs of the round by a long stretch.
Is this it for English football, then? Is the Premier League's popularity set to nosedive like that of Serie A come the end of the '90s, and is it "Vive la France!" with Ligue 1 set to explode? Well, probably not. These things tend to run in cycles, especially when we're talking about tactical preference in the Premier League.
Three beats two
The once-popular meat and two veg of the English game, 4-4-2, moved over for a three-man central midfield in the mid-noughties in the shape of a 4-3-3 or 4-5-1 depending upon whether you're Jose Mourinho or Sam Allardyce. And they too made way as the world itself became possessed by tika-taka tactics and formations designed for keep-ball. The tighter games get, the less happy the results that Premier League managers earn; thus, the more likely they are to experiment with alternative formations that open up the field for them. The real question, perhaps then, is what will take over from 4-2-3-1?
If we look at the weekend's Premier League results from two weeks ago once again, the team that had the most success against a 4-2-3-1 was Everton who took on Chelsea, masters of the system that had conquered all so successfully just 12 months previously. Although Roberto Martinez fielded a 4-3-1-2, he brought on the more attacking Steven Naismith after just nine minutes when Muhamed Besic picked up an injury. Either way, the strategy remained roughly the same – that of a four-man midfield happy to give up more natural width in favour of a defensive spine plus the numbers to attack down the middle when on the ball.
Although Chelsea had 62% of the ball, Everton limited them to just two shots on target compared to the Toffees' nine using what was effectively our old friend The Diamond, fresh from its recent renaissance in Europe. Indeed, whether in 4-3-1-2 or the older 4-1-2-1-2 it's a system that went great guns last season for both Juventus and Lyon, so perhaps it's just the shot in the arm that's needed over here?
Well maybe, but before we get carried away with the numbers – which, let's face it, we already have – it's best remembered that what really makes a team attacking or defensive is the mindset of the manager behind it. All that separates a 4-3-3 from a 4-5-1 is whether you've told your wide players to really go for it or just sit and protect your touchlines. What makes the 4-2-3-1 so popular at the moment is that it's a good basic shape to pass the ball around but there are different ways to play it. In top gear attack mode it's with full-backs fully committed – to provide that width that your lone striker needs – plus one of those two deeper midfielders as a genius playmaker, and the other a box-to-boxer with the engine to support the attack. But that's not necessarily how it's actually deployed.
Take Ryan Mason's deadlock-breaking run from midfield against Sunderland as a case in point. With converted centre-back Eric Dier hardly going to offer much going forward, it took something of a gung-ho approach to get the result. You can have your four forwards dancing a jig if you like but if you're not prepared to take the chance of committing more to attack, then you're probably not going to score.
Playing it safe
RECOMMENDED
What we're likely seeing, as much as anything else in the league right now, is a sense of caginess. Perhaps that's natural at the beginning of a season with new players still to bed in and the tactical identities of each side not yet fully developed. A formation like 4-2-3-1 is nice and flexible. It allows a manager to hedge his bets a little and it can at least keep the other team from seeing too much of the ball.
2015/2016 may not turn out to be the least exciting season that the Premier League has ever seen and, for all the variation in Ligue 1, the 20 teams in France only managed four more goals over that aforementioned weekend than their counterparts in England; 24 vs 28. What's more, good football is not necessarily characterised by counting goals.
For all its dynamism and space to attack, there's a huge frustration at the gap in quality and competitiveness between Ligue 1 and the Premier League. Marseille vs Bastia was men against boys. Rennes toiled horribly in stringing together their passes as they only just managed to find enough final balls to get passed a nine-man Nantes, who hardly fronted any match-saving heroics themselves. But perhaps most ridiculous of all was minnows GFC Ajaccio, whose strikers could only muster four shots on target out of a total 24 against a Monaco side you'd barely recognise.
By the time we were done with our Ligue 1 marathon, we were craving the patient build-up of the Premier League in all its pass-completing glory. It might be harder to break through those squeezed in defensive ranks but it's a far easier watch knowing they're not about to lose the ball at the first sign of a promising move. Possession might be deadly at times, but it's also a skill worthy of watching in its own right.
More features every day on FFT.com
STATS ZONE Free on iOS (opens in new tab) • Free on Android (opens in new tab)
Thank you for reading 5 articles this month* Join now for unlimited access
Enjoy your first month for just £1 / $1 / €1
*Read 5 free articles per month without a subscription
Join now for unlimited access
Try first month for just £1 / $1 / €1
Get FourFourTwo Newsletter
The best features, fun and footballing quizzes, straight to your inbox every week.