Ranked! The 50 best football boots ever
This is the definitive list of the best football boots ever – from Nike to New Balance, Puma to Adidas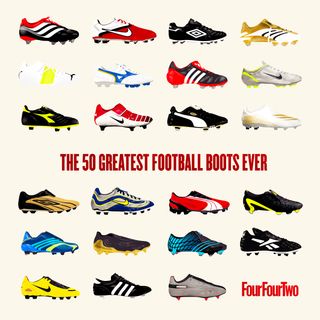 (Image credit: Future)
What are the best football boots ever? It's a question that has long plagued us at FourFourTwo.
You never forget your first pair of boots. Whether they were brand new ones that a shop worker had to get down from a high shelf or battered old ones that your older brother once wore, the mere design of footballing footwear can leave a lasting legacy. And you don't even have to have worn a style of football boots to have fond memories of it. Whether it was a specific colour that caught your eye, the boots that scored a particular goal, sometimes a good idea - whether a flash of white, a leather upper or a golden sole - lasts forever.
Over the past century, the football boot has evolved from the most necessary of equipment to play the sport to a fashion statement, an edge over opponents. Boot rooms around the world have been populated with plenty - but on our list, we've considered only the most iconic...
The 50 best football boots ever: according to FourFourTwo
50. Umbro Speciali: Reissue, 2010
Most iconic colourway: Red
Other colourways: Black, white
Stars who wore them: John Terry, Darren Bent
Around the turn of 2010, while the likes of Adidas and Nike were pumping out an array of electric blue and camouflage boots built for speed and not much else, Umbro bucked the trend by reissuing a this 90s masterpiece - the same material, stitching and durability, but now in bright red to celebrate England's World Cup journey. Lovely jubbly.
49. Adidas Predator Mutator, 2020
Most iconic colourway: Black/red/white
Other colourways: White/black/gold, all black, black/white/pink, blue/white/red
Stars who wore them: Paul Pogba, David Alaba, Georginio Wijnaldum
A boot instantly recognisable as those Paul Pogba could be seen galloping about the Old Trafford turf in; the big Frenchman sending sweeping 50-yard passes out to the corner flag and putting midfield rivals on their backsides with a wiggle of the hips. Predators were once typically the boot worn by midfield engines, but, by this stage, they'd become the boot of the swaggering playmakers.
48. Adidas X17+ Purespeed, 2017
Most iconic colourway: Gold/black
Other colourways: White/sky blue, turquoise/navy, 'ocean storm'
Stars who wore them: Mohamed Salah, Luis Suarez, Gabriel Jesus
These boots were gold. Need we say more? Oh go on then... The gold was one thing, but the shimmering fish scale texture and laceless uppers made them all the more alluring. A boot built for a king - or a pharaoh in Salah's case - that was all about speed and arrogance.
47. Puma v1.06, 2004
Most iconic colourway: Red/white/black
Other colourways: 'Grass', black/white, camo, white/black/red
Stars who wore them: Robert Pires, Samuel Eto'o, Alexander Hleb
Puma gave us plenty of classics in the 2000s: the sleeveless Cameroon tops, the World Cup-winning jersey from Italy and, of course, these bold boots. Supported with plasticky heels but with that same Puma King swoosh design, these were a great update on the classic.
46. Under Armour Speedform Spring, 2016
Most iconic colourway: Orange (tulip pattern)
Other colourways: -
Stars who wore them: Memphis Depay
Too jazzy? Memphis Depay's typically Dutch tulip-covered boots caused a stir when the now-Barcelona attacker had his ill-fated Manchester United spell. The colourful efforts were out there alright, but were one of many all-over-print boots at the time.
45. Adidas Predator Absolute, 2006
Most iconic colourway: White/gold/black
Other colourways: Black/red/white, navy/silver, red/white, gold/white
Stars who wore them: Zinedine Zidane, Steven Gerrard, Michael Ballack, Frank Lampard
These puppies were everywhere at the World Cup in 2006, with a "back to front" version worn by Zidane in the Berlin final. The Frenchman's predominantly gold pair were rooted into the turf as he sent a head butt into the chest of Marco Materazzi. An iconic boot through association, as well as pure style.
44. Lotto Campionato, 2002
Most iconic colourway: Bronze/black
Other colourways: Silver/black, green/silver, black/white
Stars who wore them: Cafu, Andriy Shevchenko
The Ballon d'Or winner had Lotto boots, back when Andriy Shevchenko was declared winner of the prize. These particular boots were rare: not your usual black but still classy enough that your dad would like them. And that copper colour? Pretty unique.
43. Puma Future Z 1.1, 2020
Most iconic colourway: White/yellow
Other colourways: White/red, black, blue/pink
Stars who wore them: Neymar, Luis Suarez, Dimitri Payet, James Maddison
While Puma had been a major player in the boot market for years before this release, this may have been the moment they reached the level of Nike and Adidas. Neymar had recently been snared from Nike, and the Brazilian's debut custom boot oozed samba magic.
42. Puma evoSPEED 1.2 Tricks, 2014
Most iconic colourway: Pink/white & turquoise/white
Other colourways: Blue/orange & orange/blue
Stars who wore them: Cesc Fabregas, Olivier Giroud, Antoine Griezmann
Literally everything in the world of football boots had been done by the time Puma began reinventing the wheel with these ones. What if... it was cool to have odd boots? They certainly stood out and you wouldn't miss them on the field.
41. Umbro Zypro, 2002
Most iconic colourway: Gold/black
Other colourways: Black/white, black/blue/white
Stars who wore them: Wayne Rooney, Michael Owen, Henrik Larsson
Who could forget the sight of a schoolboy Wayne Rooney thundering one past Arsenal's David Seaman in these on his 2002 debut? The boots were perfect for the young Wazza, resembling a hand-me-down, street footballer's take on a golden slipper.
Thank you for reading 5 articles this month* Join now for unlimited access
Enjoy your first month for just £1 / $1 / €1
*Read 5 free articles per month without a subscription
Join now for unlimited access
Try first month for just £1 / $1 / €1