Separated at birth: 20 top football managers and their Disney character counterparts
What do Guardiola, Klopp, Mourinho and Simeone & Co. have in common with Disney's finest creations? Quite a lot, it seems, as Becky Scarrott explains...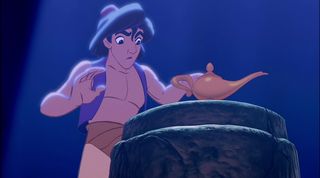 If you're reading this, there's every chance a cheeky work experience kid at FourFourTwo Towers snuck six jiggers of rum into someone's coffee at lunch as opposed to the standard four. We're a respected (!) football title – but the link between Disney and the game's high-profile dictators can't be ignored.
But don't worry, we haven't gone all obvious by painting Jose Mourinho as Cruella de Vil, Scar from The Lion King or whichever cartoon villain first springs to your mind. We're better than that. Honest...
Arsene Wenger: Jafar (Aladdin)
Sorcerer, all-powerful ruler of Agrabah and sultan of the stoic put-down. If Arsene Wenger is looking for a role to fill his time after 22 seasons at Arsenal, following in Jafar's footsteps seems ideal. Frankly, it's so hard to separate these two. The only thing we can come up with is that while Jafar got to return (in a self-titled 1993 film), Arsene Wenger seems unlikely to make an improbable comeback. Unless things go really wrong for Unai Emery.
Eddie Howe: Simba (The Lion King)
Sometimes, greatness is thrust upon us at a tender, youthful age in the Pride Lands. And sometimes you end up managing the Cherries. Nevertheless, these two just can't wait to be king of their spiritual homes. Both love their significant other so much they'll stop a stampede of wildebeest for them – or, erm, ignore advances for the Everton job. Fairly similar, really.
Sean Dyche: Philoctetes (Hercules)
Dyche's "Minimum requirement is maximum effort" (delivered direct to camera) is the kind of dazzling maxim that got the Clarets to a top-half finish in 2017/18. Philoctetes had the equally tricky task of transforming Herc from zero to hero, with catchphrases like: "Demigods have faced the odds and ended up a mockery. Don't believe the stories that you read on all the crockery." Both seemed to get results. Maybe Dyche should try that particular line this season?
Antonio Conte: Rafiki (The Lion King)
Sagacious, wise, shamanistic, softly spoken yet given to jumping up on elevated platforms and shaking his fists hysterically – Rafi learnt everything he knows from Chelsea's erstwhile Italian manager. Both cover their mouths when chanting, fooling you into thinking they're conversing. One has said: "He is a little man"; the other: "Can't cut it out, it'll just grow right back." Deep.
Roy Hodgson: Scuttle (The Little Mermaid)
Meet Roy's brother from another mother, Scuttle. So lilting was his voice and mesmeric his stories, he had a mermaid believing a fork was actually meant for sticking in her hair. Pure Hodgson. One can only assume that when Roy imparted similarly mysterious advice to Pep Guardiola on New Year's Eve at Selhurst Park, the latter spent the remainder of the season ignoring it.
Sam Allardyce: Dumbo (Dumbo)
Big Sam famously once said: "I won't be going to a top-four club because I'm not called Allardici, just Allardyce." Thing is, Sammy, change just one letter of this playful pachyderm's moniker and he could've been a fearsome Jumbo. Absolutely the kind of name we'd want associated with our club – plus the aerial game is clearly formidable.
David Wagner: Robin Hood (Robin Hood)
Wagsy strongly advocated players queueing with fans and local bowls club members for their dinner at the Terriers' old training ground. Kept the lads humble. Also big on humility: the original philanthropist, Robin Hood. Both achieved success against the odds within small catchment areas. Wagner says: "We're not here just to say hello"; Robo prefers: "Faint heart never won fair maiden." Same difference.
Claude Puel: Grandmother Willow (Pocahontas)
Having stood resolute as the seasons came and went, this grey, ancient timber wasn't afraid to whip a few derrieres when the time came. And Grandmother Willow is just the same. Admittedly, she did the ass-whooping somewhere near Jamestown Virginia, not in the French league. Or Leicester. But how different can it be?
Jurgen Klopp: Mowgli (The Jungle Book)
Gleeful, inquisitive and prone to blissed-out song and dance numbers, these two have better things to fret over than their unfortunately dicey haircuts. Mowgs gets serenaded with: "I wanna be like you"; the German's disciples chant: "I wanna be like Jurgen Klopp" to Usher's Love in this Club. Both swear by the power of man's red flower.
Pep Guardiola: Belle (Beauty and the Beast)
Yeah we know, Pep – you're perfect. Strange but special, reading constantly and yearning for more than this provincial, humdrum life. Nobody needs to know right now. Just skip off with your fresh baguettes, dreamy far-off look and your groaning trophy cabinet, please.
Rafael Benitez: Lumiere (Beauty and the Beast)
OK, we admit it – we've likened Benitez to a French waiter. Couldn't help ourselves. Disney's loveable representation is a talking candlestick who loves pushing the grey stuff, while Rafa prefers to tentatively encourage the black & white. Both are doomed to continually serve a (potentially power-drinking) beast of a man.
Jose Mourinho: Aladdin (Aladdin)
Ah, Jose. Gotta stay one jump ahead of the breadline, one swing ahead of the sword, one toe away from the touchline, one second away from looking bored. The Special One shares so much with Aladdin – dashingly handsome, given to rubbing things up the wrong way and one silly wish away from everything he ever wanted. Both homeless, although we doubt Aladdin can afford the Lowry bill.
Mark Hughes: Woody (Toy Story)
Pull the string at the back, he'll announce one of his dependable, hackneyed catchphrases (and maybe even do some line dancing). What other leadership qualities do you need? OK, some might favour the more modern, infinity-and-beyond style rhetoric, but Sparky sticks to his guns until the bitter end.
Mauricio Pochettino: Peter Pan (Peter Pan)
Young, visionary and the real Darling of the press. Yet Pochettino's new Spurs stadium is currently looking as close as Pan's Neverland at this rate. Both never seem to age a day (it must be the hair dye) and rely heavily on a magical blonde sprite, whose pixie dust enables them and the other lost boys to fly high. His name is Harry Kane.
Javi Gracia: Jiminy Cricket (Pinocchio)
Always let your conscience be your guide. Or failing that, a rakish Spaniard with a winsome smile. Both know exactly when to show up and tell you what you should've done, with varying degrees of acquiescence. Both, perhaps surprisingly, seem to get it right.
Alan Pardew: Gaston (Beauty and the Beast)
Just look at him, gazing smugly at that strong jawline. He'd lick himself if he could. How does the song go? "When I was a lad I ate four dozen eggs every morning to help me get large. And now that I'm grown I eat five dozen eggs, so I'm roughly the size of a barge." Well, when you're the king, you can do – and eat – anything.
Diego Simeone: Hans (Frozen)
"You take advantage of the opportunities you find in life. If you don't, you are lost." Thus spake the mighty Cholo, regarding that time he helped get Becks sent off in the last 16 of the 1998 World Cup in France. Hans of the Southern Isles is also quite the opportunist. One who was also only too quick to take advantage of a rash, beloved, young princess for his own nefarious needs.
Tony Pulis: Tarzan (Tarzan)
You've got Tony all wrong. If the whole nakedly headbutting James Beattie thing came off somewhat, em, primitive, remember that to both Pulis and any other adventurer raised in the jungle, a firm mindkiss is actually high praise. Had Beattie copied Jane's coy: "Stay there, like a good wild man" it might all have ended calmly, with a palm-to-palm truce. Possibly.
Gennaro Gattuso: Hades (Hercules)
"I'm no magician," Gattuso once snarled. That's OK Rino, the God of the Underworld sucked at sorcery too. "I'm the worst coach in Serie A," he added. Well, not an ideal qualification for being Milan manager, so you're both very bad boys. Perhaps the only difference between these two is that in the aftermath of nutting a coach or slapping a striker, Hades pats down his facial flames, saying: "OK, it's fine! I'm cool. I'm fine". The growl? Yeah. Doesn't do that.
Thank you for reading 5 articles this month* Join now for unlimited access
Enjoy your first month for just £1 / $1 / €1
*Read 5 free articles per month without a subscription
Join now for unlimited access
Try first month for just £1 / $1 / €1
Quizzes, features and footballing fun
Get daily World Cup 2022 news, updates and other football frolics to your inbox
Quizzes, features and footballing fun
Get daily World Cup 2022 news, updates and other football frolics to your inbox
Thank you for signing up to Four Four Two. You will receive a verification email shortly.
There was a problem. Please refresh the page and try again.