Rejected Football Scripts, #4 – "Spectre: James Bond vs the Premier League"
A top-secret meeting is being held to decide the future of the Premier League. Naturally, we sent 007 himself to spy on it for us...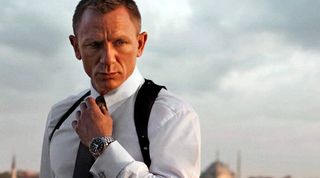 FADE IN:
EXT: CASTLE, ROME
JAMES BOND pulls up outside the 2017 SPECTRE ANNUAL PREMIER LEAGUE AND SUPERVILLAINS CONFERENCE in Rome. He tries to gain entrance but is blocked by a standard issue HENCHMAN
HENCHMAN
Who are you, pal?
JAMES BOND
My name is Mickey Mouse.
James Bond actually says this. In a Bond film.
JAMES BOND
Nah, I'm kidding. Saying something like that would probably draw unnecessary attention to myself given I'm a spy. Look, you've never seen me before but here's a ring that I took from one of your colleagues who I killed in Mexico and whose funeral you all attended today. Can I come in?
HENCHMAN
A ring you say? Seems deeply suspicious. Right then, in you come, have a great night.
CUT TO:
INT: CASTLE BOARDROOM, ROME
Bond goes into the castle and ascends a flight of stairs to a balcony where he is overlooking a huge MEETING. Around the table we see a representative from each of the TWENTY Premier League clubs. The seat at the head of the table is empty. A WOMAN is talking.
MARINA GRANOVSKAIA
Hi everyone. I'm Marina and I am a director at Chelsea and today's host. It's great to see you all. We're just going to quickly go round the table and get you all to tell us what evil stuff you've been doing this quarter, and also one thing that we all don't know about you. Just a bit of ice breaker type stuff. Sean, would you like to start?
SEAN DYCHE
(with a voice consisting entirely of gravel)
Sure. So I've been accusing people of diving, ruining Ronald Koeman's life and also doing a little bit of low-level kidnapping out in Eastern Europe. And in my spare time I enjoy being a Proper Football Man.
MARINA GRANOVSKAIA
Great stuff, and out of interest, why are you here and not your chairman given this is a meeting of Premier League chairmen slash supervillains?
SEAN DYCHE
Because no one knows who the Burnley chairman...
(Googling on his phone)
...Mike Garlick is. Including me. Therefore I'm here because people know who I am.
Beside him there are murmurs of agreement from ARSENE WENGER, TONY PULIS, CHRIS HUGHTON and DAVID WAGNER
MARINA GRANOVSKAIA
Excellent, that's perfectly reasonable and we shan't mention it again. What about you Pep?
PEP GUARDIOLA leans forward.
PEP GUARDIOLA
We've been very active doing crappy things, Mariana. We've purchased yet another club, this one in Spain. This gives us operations here, there and in the US, Uruguay, Australia and Japan. This is brilliant because obviously the best thing for the game would be if all clubs in the world were owned by us.
MARINA GRANOVSKAIA
(nervously)
Ha ha! Except for all of us, eh Pep?
PEP GUARDIOLA
Yeah OK, sure.
(fixes a stare at EDDIE HOWE and mouths "You're next")
At this moment, the room goes quiet as a SHADOWY figure emerges from the antechamber. He is SHROUDED IN DARKNESS as he sits down and a tense silence settles over the group of hardened criminals.
RICHARD SCUDAMORE
Blimey, there are women here! Stick the kettle on will you, sweetcheeks, I'm parched.
KARREN BRADY
I'm a member of the House of Lords and arguably the best known businesswoman in Britain. You should be making me coffee, you useless sack of monoxide.
RICHARD SCUDAMORE
(is not listening)
Splendid. Two sugars please, love.
MARINA GRANOVSKAIA
Anyway, Richard, we were just going round the table discussing what evil stuff everyone has been getting up to. We haven't done Manchester United yet – we were saving the best till last.
RICHARD SCUDAMORE
Forget that. I've got something better for us to discuss. We're going to talk foreign TV money.
MARINA GRANOVSKAIA
Forgive me Richard, as I know you're very experienced and also a fan of megabantz, but that sounds a little dry for an action movie script.
RICHARD SCUDAMORE
Nonsense. George Lucas wrote three Star Wars films about taxation. We're fine.
There is a groan around the table as Scudamore flicks on his PowerPoint presentation.
CUT TO:
EXT: CASTLE, ROME
The Henchman is walking to the car park with his colleague ANOTHER HENCHMAN. They are looking at Bond's car. It has a large sticker saying "PROPERTY OF MI5" on the side, and the registration is "5PY GUY"
HENCHMAN
What do you think of this? Do you think we should be suspicious of that guy who just showed up with one of our super secret rings even though nobody has ever seen him before?
ANOTHER HENCHMAN
Relax, there's as much chance of him being a spy as there is of me being eaten by a Komodo Dragon.
HENCHMAN
Wasn't that the last fil–
He is INTERRUPTED when the passenger airbag INFLATES for no reason inside the car. It says "SPY SAVER" on the front.
HENCHMAN
Something's up here. I can't quite put my finger on it…
CUT TO:
INT: CASTLE BOARDROOM, ROME
Scudamore has his presentation on screen and is busy pointing at BIG NUMBERS.
RICHARD SCUDAMORE
So you can see that as things currently stand, we divide up our domestic TV money in three ways. Everyone gets an equal share of the first 50%. We then divide up the rest based on your finishing position and also how often you're on TV.
Because Bond hasn't been involved in the action for a while he starts KISSING a passing woman, in a way that is NOT AT ALL creepy.
RICHARD SCUDAMORE
This last feature is particularly handy as it allows us to pay Manchester United a lot more than everyone else even when they're crap. We call that "Van Gaaling it"
ED WOODWARD grins from EAR TO EAR and HIGH FIVES JURGEN KLOPP.
RICHARD SCUDAMORE
Now clearly the aim here is to ensure that the big clubs get as much money as possible. We're all agreed on that. It's essential to the wellbeing of the Premier League. That's just science. The problem is that when we were initially rigging the finances, nobody ever thought the league would become so popular overseas and so we agreed to divide up the foreign TV money equally so that you no-mark clubs would have enough cash to run academies and develop young players for the big clubs to pick off.
DANIEL LEVY can be seen furiously carving "WE HATE COMPETITION" into the table while Klopp is angrily wagging his finger at MARCO SILVA.
RICHARD SCUDAMORE
So you see, we gave you all £84.4m in foreign TV money last year, when really we should have been giving that all to the Big Six, which is a cute name they've given themselves. Now we're not asking for the money back, because we're the good guys here, but we can't have that kind of thing in the future so would you all mind voting to give up your money to the richest teams in the league please? We'll give you all a keyring if you say yes.
KARREN BRADY
That seems like the stupidest idea ever. So West Ham will vote in favour.
CRAIG SHAKESPEARE
Leicester will too. We're not really a big club but we somehow won the league and therefore the only sensible thing to do is to vote to give more of our money to Man City to ensure it never happens again.
RONALD KOEMAN
We've considered this at Everton too, and we've figured out that we'll get more money this way assuming we finish seventh for the next two hundred years. And you can't have any ambition higher than finishing seventh, so we'll vote yes too!
By now Bond is falling asleep so he quickly and silently punches three guards out of the window using SILVER PLATTERS. They land on a collection of BELLS. There is a quiet murmur around the room as he does so. His suit has ripped open to show a t-shirt with "JAMES BOND SUPERSPY" in large black letters underneath.
HUW JENKINS
I realise that I might be in the minority here, but I'm just wondering if anyone else is struggling to understand why the poorer clubs in the league should be forced to give their money to the richest?
DANIEL LEVY
It's not fair to reward you for constant underperformance. You never win the league so why should you be getting the same money as teams who do?
At this, an unknown man falls off the overlooking balcony having DIED OF IRONY.
JURGEN KLOPP
Also, it just rewards mediocrity. So you smaller teams deliberately sit around in the middle reaches of the league, with your lower turnover and smaller fanbases and you're being rewarded for that. If you want more money you should be bigger.
RICHARD SCUDAMORE
Don't you mean "better"?
JURGEN KLOPP
No.
By now Ed Woodward has had enough. He stands up, wearing an "I AM ED WOODWARD" shirt because nobody knows who he is.
ED WOODWARD
Look guys, the bottom line is this. We can't compete with the other European clubs because when we have to give cash to you, and then also play you and possibly lose to you, it affects our ability to get into the Champions League. Which is all any English football fan dreams about as a child, after all.
MARCO SILVA
Sorry Ed, are you saying you can't compete with European teams because you haven't got enough money?
ED WOODWARD
Bingo! I'm so glad you understand, Marco, I was beginning to think you were all thick.
TONY PULIS
Says the man who paid 45 million Euros for Victor Lindelof....
MARCO SILVA
Ed, it's just that when I last checked the accounts, your commercial revenue at last filing was two hundred and seventy six million pounds a year, whereas ours was three.
Pep Guardiola slams his fist on the table.
PEP GUARDIOLA
Sweet fancy Moses we don't have time for all these facts! Why won't everyone just vote to give us all the money?
MATT LE TISSIER
Well Pep, would you mind if we swapped turnover for a year so you can show us smaller clubs how not to be mediocre?
MARINA GRANOVSKAIA
(hastily)
Lovely to see you here Matt. How come you're representing Southampton?
MATT LE TISSIER
It was me or Les Reed.
By now Bond is getting anxious. There are so many terrible human beings on display that he isn't sure who to kill. He paces the balcony, LOUDLY whistling the theme tune to "The Spy Who Loved Me".
ARSENE WENGER
What you are all forgetting is that if you choose not to distribute this money fairly – by which I mean giving it all to us and ending the notion of competition forever – you are running the risk that we might…
MARK HUGHES
That you might what?
There is a sudden silence in the room and Bond peers in closely at Scudamore, extending a giant listening device down to the table with "I AM SPYING ON YOU" on the side.
ARSENE WENGER
That we might form a breakaway European Super League!
There is a gasp in the room and Bond is almost forced to stop LOUDLY TYPING his report marked SUPER SECRET on an antique typewriter.
DAVID WAGNER
But you already play in a European Super League? It's shown on BT Sport and everyone is sick of having to pay two TV subscriptions so your ratings are falling.
RICHARD SCUDAMORE
Who are you again?
CHRIS HUGHTON
Also, has anybody ever successfully explained why fans of teams who will never get into the Champions League should remotely care about the success or otherwise of those who do?
ED WOODWARD
Something about UEFA Coefficients. Or was it magic beans? I forget. Now, can you give us some money please?
MIKE ASHLEY
Look lads, I know a thing or two about appalling business practices. I'll handle this.
STEVE PARISH
I wouldn't say you're definitively the worst chairman in the league, Mike. Have I told you about the tale of Frank de Boer?
DAVID SULLIVAN
I'd just like to remind everyone that I exist.
Ashley stands.
MIKE ASHLEY
What I don't understand is that you wish to divide up the Premier League money on the basis of how well people perform, correct?
Woodward, Guardiola, Granovskaia, Levy, Klopp and Wenger all nod furiously and hold up all recent league tables EXCEPT for 2015/16.
MIKE ASHLEY
But when you play in the Champions League you've rigged the TV deal so that you get more prize money because the English TV deal is bigger? And that's irrespective of how you perform?
The BIG SIX are now all looking at the floor sheepishly.
STEVE PARISH
Christ on a zero hours contract. Seriously? Mike Bloody Ashley is the hero of this story?
Bond hears this and jumps on to the table.
RICHARD SCUDAMORE
Who the hell is this?
HENCHMAN
It's hard to say, I think he's some kind of angry accountant. He had a cool ring.
JAMES BOND
You people make me sick. In 2015 Liverpool got 33 million Euros for being knocked out in the group stages of the laughably named Champions League, while Porto made 27 million for making the quarter-finals. That's the very definition of rewarding mediocrity. And now you want to take cash from Bournemouth! I don't know from where you people get the nerve.
Bond is angry now. He starts messing about with his watch, which starts causing random things to EXPLODE in the room.
JURGEN KLOPP
Well, we won the league loads in the 1980s so we must be good.
DANIEL LEVY
Yes, us too. Glory, glory, year ending in one, Danny Blanchflower, 1961. Also, more glory.
ARSENE WENGER
Fourth place is a trophy.
ED WOODWARD
(on a conference call to investors – yelling over the explosions)
Yes! The budget for flowers this year is NINE MILLION!
PEP GUARDIOLA
We aren't like them. We are doing it the right way with young players, and good coaching and buying everyone we can from Monaco.
MARINA GRANOVSKAIA
I think whenever people think of Chelsea they think financial underdog. We need the money.
Scudamore is frantically trying to resolve the situation now.
RICHARD SCUDAMORE
Look, the reality is that when people in Dubai tune in to watch Arsenal versus Burnley, they aren't doing it to watch Burnley.
SEAN DYCHE
(eating gravel)
What do they do when Burnley have the ball then?
RICHARD SCUDAMORE
Blink?
HUW JENKINS
Has it ever occurred to you that giving more money to the smaller clubs is what makes the league more competitive? That's how you get Payet, Sigurdsson and Mane playing outside the top four. The fact those teams don't just roll over each week is why your viewers in Dubai watch our league and not La Liga. You're actually jeopardising this revenue stream for the future.
RICHARD SCUDAMORE
Literally none of that has ever occurred to me.
MARINA GRANOVSKAIA
Apparently I'm the only sensible person here so let me reassure you that we all value competition very highly and it's important that when you lose to us it's a close game. We're absolutely prepared to admit that inexplicable last-minute refereeing decisions in our favour are much better than us battering you 6-0 every week.
RICHARD SCUDAMORE
Exactly! And we love the fans of smaller clubs. After all they pay the same for their tickets and TV subscriptions but don't demand anything back for it! They're my favourites, actually.
EDDIE HOWE
So we're all still expected to lose then?
The BIG SIX start laughing HYSTERICALLY.
RICHARD SCUDAMORE
Christ, Eddie, it's not school sports day. Foreign fans like close games but like to know who's going to win. Kind of like the WWE.
Bond raises his gun, desperate to shoot one of these soul-sucking leeches.
JAMES BOND
What about making fans travel to watch their teams on Christmas Eve?
RICHARD SCUDAMORE
Woah there son! Put the gun down, yeah? I'll answer your question, but first I have one of my own: what's Christmas Eve?
Granovskaia has her head in her hands.
The vote takes place and even though West Ham, Everton and Leicester vote with the BIG SIX, everybody else votes against because they AREN'T INSANE. Bond sees this and jumps through a window to his waiting car.
HENCHMAN
I'm beginning to think that guy wasn't a member of Spectre.
He too jumps out of the window.
HENCHMAN
Aaargh. Why are there bells out here!
A car chase ensues that lasts 42 seconds until Bond's car crashes into a lamppost. A figure staggers from the wreckage. It is SERGIO AGUERO'S DRIVER.
JAMES BOND
I knew I should have driven myself.
THE END
Quizzes, features and footballing fun
Get the best features, fun and footballing frolics straight to your inbox every week.
Thank you for signing up to Four Four Two. You will receive a verification email shortly.
There was a problem. Please refresh the page and try again.