6 players who Barcelona could turn to if Neymar leaves
You can't replace the Brazilian like-for-like, but Barça bigwigs will have to think smart if the 25-year-old's prospective move to Paris is serious. This lot could fit the bill...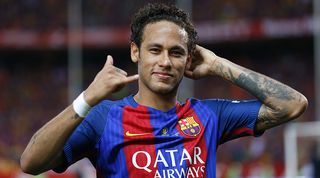 Whether PSG have actually agreed terms with Neymar or not remains to be seen – Barcelona have said that's not the case, and according to Sport have asked the Brazilian to go public with a denial too.
Is it merely a case of Neymar looking to gain some leverage in negotiating a new contract? Either way, clued-up Brazilian journalists were willing to put reputations on the line yesterday in suggesting that there was serious substance to the speculation.   
It's already got us thinking: after all the success Neymar has enjoyed in his four seasons in Spain, who could possibly replace him as part of Barça's devastating front three? M… S… er...
1. Kylian Mbappe
Monaco's crown jewel has been the subject of non-stop speculation since the turn of the year, and six goals in the knockout stages of the Champions League only cranked up the clamour for his signature.
Simply, it's difficult to ignore the 18-year-old's hype when it's backed up by 26 goals in 2016/17, plus caps in a star-studded France side.
Mbappe would not only provide an immediate resolution to the Neymar-sized hole in Barça's attack, but could be at the forefront of the Blaugrana's quest for dominance in the years to come. With Lionel Messi and Luis Suarez both now the wrong side of 30, Mbappe looks like a logical option to lead the club into a new era.
They face an almighty fight, though, despite a rumoured nine-figure asking price: Real Madrid want in, PSG too, while Arsenal and Liverpool are both keen be part of any conversations about the French starlet. He's unlikely to go anywhere this summer, although Mbappe himself admitted last week: "I don't know if I'm going to stay." Fiiiiight!  
2. Ousmane Dembele
Another player who could be part of Barça's long-term future is Borussia Dortmund's 20-year-old trickster Dembele. It's not completely out of the question that we could see Dembele and Mbappe linking up for both their national sides and at the Camp Nou in a post-MSN era.
The former Rennes forward's ambidexterity has already achieved internet fame – in a now-notorious interview, he appeared to confuse even himself about which of his feet was stronger.
Dembele is similar to Neymar in boasting a frightening change of pace which can leave opposition players in his wake, but would be far from a like-for-like replacement. His dribbling, though often effective, is less graceful; more awkward-looking – and yet those long strides help him hurdle tackles with unorthodox ease. For entertainment value, Dembele would certainly be a suitable replacement.
It was only last summer that Dortmund acquired his signature – despite Barça's sniffing – and perhaps it's too soon for another transfer. The Bundesliga side have already been forced to rebuff reported interest this summer, amid reports that Dembele's agent had met Catalan officials.
Like Mbappe, he has time on his hands and doesn't need to move right now. Another year alongside Marco Reus and Pierre-Emerick Aubameyang, should the latter also stay, would surely be beneficial.
3. Philippe Coutinho
It seems that Liverpool fans are quietly concerned over the future of their attacking lynchpin every window. Although Sadio Mane took the spotlight away from Coutinho at times last season, the Reds' No.10 once more provided plenty of stellar performances.
Unlike Neymar, Coutinho predominantly prefers playing centrally, but is flexible in drifting into other positions – an asset vital to the success of Barça's current forward line. Coutinho had his most successful season to date in 2016/17 with 14 goals and nine assists in all competitions.
In his three-and-a-half years at Anfield, the Brazilian has repeatedly displayed a penchant for the spectacular – particularly, goals from distance. It's also the source of a weakness, though: his impatience often leads to audacious pot-shots which can be wasteful.
At 24, Coutinho is reaching an integral time in his development. He still appears to suffer from dips in form, although was much more consistent last season, and this may mean he isn't near the top of Barcelona's wish list. The rumours persist each summer, though.
4. Paulo Dybala
A recent conqueror of Barcelona, the natural heir to Messi and the supporters' choice: Dybala is the most likely target should the Neymar situation prove more than a mere negotiating tactic.  
Like other players on this list, Dybala would be comfortable roaming between the three front positions in Barça's attack, and is already adept at the kind of pressing that has complemented the Spanish side's style so well in the last decade. The Argentine's low centre of gravity, sharpness on the turn and keenness to shoot early with his left foot have made comparisons to his international captain easy.
Instead, though, the 23-year-old may have to forge a partnership with Messi – for club and country – rather than replace him. He was scintillating in Juve's 3-0 trouncing of Barcelona in April, scoring twice in that quarter-final first leg.
Dybala signed a contract extension to 2022 only in April, though, and after Leonardo Bonucci's recent departure, Juventus may be more hesitant than ever to let a big-name player leave.
5. Alexis Sanchez
Him again? With his mixed stint in Catalonia between 2011 and 2014 in mind, perhaps it's unlikely that we'll see Sanchez pull on the famous blue and red once more. After his big move from Udinese, the Chilean spent much of his time watching David Villa and Pedro accompany Lionel Messi in Barça's attack, prompting his move to Arsenal.
A lot has changed, though, and Sanchez has become the player that Camp Nou suits hoped he would when they invested £25m in him six years ago. With a career-best 30 goals for the Gunners last season, the 28-year-old is at the peak of his powers, and the timing for Barcelona is far better now.
Sanchez's lust for Champions League football and title challenges would certainly be matched back at his old club, but Arsenal have already dug in this summer. Arsene Wenger has declared that, after boardroom talks, "The decision is not to sell".
6. Christian Eriksen
Perhaps one of the Premier League's unsung heroes last season, Eriksen proved an exceptional performer for Tottenham in a variety of positions and formations. The Dane is only 25 but has almost eight years of senior experience to his name. If last season is anything to go by, there's still potential for more positivity.
Eriksen has faced criticism in previous seasons for blowing hot and cold, but in 2016/17 the midfielder sustained excellence that earned him Spurs' player of the season award after they'd pushed hard once more for the Premier League title. He has developed from an occasional game-changer to a dictator, and his flexibility in playing on both sides or behind the striker would suit Barcelona's fluid style.
Like the others on this list, getting him would come with a hefty price: Tottenham want to strengthen their squad rather than shed players, and have already allowed one key player to leave in Kyle Walker. Eriksen refused to rule out a future career in Catalonia as recently as June, though, and Barça may be able to tempt all parties with an attractive offer.
Quizzes, features and footballing fun
Get the best features, fun and footballing frolics straight to your inbox every week.
Thank you for signing up to Four Four Two. You will receive a verification email shortly.
There was a problem. Please refresh the page and try again.