7 types of post-tournament transfer that will definitely happen after Euro 2016
There's always a flurry of activity following an international competition. Blair Newman predicts who'll be on the move this summer...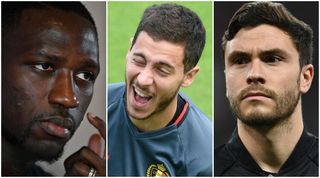 As exciting as they are for fans and pundits, major international tournaments can be hazardous affairs for football clubs. World Cups and European Championships are, essentially, breeding grounds for strange infatuations, leading to an illogical overrating and overvaluation of players based on their form over a short period of time.
This in turn can lead to that most basic of transfer market faux pas: the post-tournament signing. With Euro 2016 on the horizon, here are seven types of them that'll probably happen...
The Breakout Sensation
Football's equivalent of the overnight celebrity, few people were truly aware of the breakout sensation before the tournament. But, after some effervescent performances for their country at a major finals, they become internationally renowned while hipsters mourn their latest loss to the sport's mainstream. Suddenly, every big club simply must have this player. YouTube compilations must be compiled. Everyone on Twitter is now an expert.
2016 prediction: Joao Mario (Portugal)
An established star for Sporting, Joao Mario is set to shine on the international stage for the first time this summer. Catching the eye with his forward runs, ability to break opposition lines and finesse on the ball, the 23-year-old will become hot property as he carves attention away from Cristiano Ronaldo. It won't take long before the transfer frenzy begins, and his value skyrockets.
Who will sign him?
Breakout sensations tend to have their pick when choosing between potential suitors, so expect Joao to be chased by several top Premier League and La Liga clubs, including Chelsea and Real Madrid. Eventually the lure of Manchester United, to join up with fellow Portuguese Jose Mourinho, will prove too much for the midfielder to ignore.
The Fashionable Signing
At every international tournament, at least one team captures the imagination for either a dogged idealistic commitment to a specific style of play, or for their plucky against-the-odds progression to the latter stages. Consequently their players become highly desirable and clubs, desperate to remain on-trend, zealously pursue their signature.
2016 prediction: Martin Hinteregger (Austria)
Austria are dark horses for Euro 2016, and their central defenders – including Tottenham's Kevin Wimmer, Watford's Sebastian Prodl and Dynamo Kiev's Aleksandar Dragovic – are so hot right now. So don't be surprised to see their other centre-back, then, – Red Bull Salzburg's Martin Hinteregger – moving on to pastures new after the tournament.
Who will sign him?
Austrian defenders have become particularly fashionable in the Premier League of late, with the aforementioned Wimmer and Prodl moving to England last summer along with Leicester's Christian Fuchs. Bournemouth could do a lot worse than signing the 23-year-old to plug their leaky defence.
Could Tommy Elphick do this, Bournemouth fans?
The Great Team's Bloke You Might Forget
Given they can't buy and sell players, even the greatest of national teams tend to have relative weak spots. The individuals occupying those positions wouldn't catch the eye quite so much were they playing for a less successful nation but, through a sort of sporting osmosis, their reputations are elevated to new heights by the world-class talent surrounding them.
2016 prediction: Jonas Hector (Germany)
Despite winning the 2014 World Cup, Germany haven't been blessed in the full-back department in recent years. Jonas Hector has emerged as Die Mannschaft's first-choice left-back of late and, with abundant quality all around him, could impress as the Germans look to add a first continental crown since 1996.
Who will sign him?
He may not stand out for the German national team, but Bundesliga-plundering Liverpool are in need of a left-back to replace error-prone incumbent Alberto Moreno. Hector, who plies his trade with Cologne, could fit the bill nicely.
The Forgotten Former Prospect
Once the recipient of obvious glances from illustrious European clubs and ever-presents on Football Manager 'wonderkid' lists, football hasn't quite worked out the way the forgotten former prospect thought it would. However, they remain vital to their country's footballing hopes and, seeking refuge on the international stage, rekindle their club careers with a burst of scintillating tournament form.
2016 prediction: Balazs Dzsudzsak (Hungary)
Dzsudzsak showed huge promise with PSV in his early-20s, but a move to Russia didn't quite work out and he has been unable to rejuvenate his career in Turkey with Bursaspor. Now 29, he remains Hungary's captain and the liveliest attacking threat in a defence-first side. A couple of inspirational summer displays will reignite the attentions of club managers across Europe.
Who will sign him?
Clubs with unfulfilled aspirations of bigger things often prove the perfect home for the forgotten former prospect, as both team and player look to maximise their potential. Everton tried to sign Dzsudzsak before and could be tempted again, as could Celtic manager Brendan Rodgers who was linked to the player while in charge of Liverpool.
The Minnows' Hero
Predicted to be on the receiving end of one-sided drubbings, minnows rally around one star individual for inspiration. And, spurred on by the performances of their key player, they shock international football first by competing, then by going further than the pre-tournament forecasts suggested. On the back of such eye-catching displays, the minnows' main man – undoubtedly a good player – is touted as a nation-carrying warrior.
2016 prediction: Elseid Hysaj (Albania)
Albania will take part in their first ever finals this summer, though they're widely expected to assume the role of whipping boys. But, with a tactical emphasis on goal prevention they could frustrate, surprise and progress to the knockout rounds. Their 22-year-old right-back Elseid Hysaj, with his sound defending and direct attacking runs, could be the star of the show.
Who will sign him?
Hysaj, on the back of a good debut campaign with Napoli, has already proven himself to be a decent full-back – but with minnows' hero status his transfer market valuation would reach new heights. Teams to enter this potentially inefficient bidding war could include Chelsea and Atletico Madrid, who could do with new right-backs.
The Saves-His-Form-For-Internationals Guy
It's been a bad season for [insert football club]; mind-numbing football, managerial casualties, supporters unable to contain their anger. But, while unable to get going on a weekly basis, one player has somehow managed to book himself a space in his national team's squad for the upcoming finals. And, infuriatingly, he plays to his best for his country, alerting interest from elsewhere. It's no coincidence – he did the same thing two years ago.
2016 predictions: Antonio Candreva (Italy) and Moussa Sissoko (France)
Candreva has struggled to find consistent good form for Lazio over the last season, but has been at his exuberant best when on an international platform. Sissoko, meanwhile, has never quite lived up to his early promise with Newcastle and has just suffered the ignominy of relegation, but he will once again be in Didier Deschamps' star-studded French squad as they host this summer's finals.
Sissoko scores against Swansea
Who will sign them?
In order to fall foul of this particular post-tournament transfer, a team must have an occasionally wayward transfer policy and a bit of spare cash. Expect Inter to win the race for Candreva and West Ham to flex their financial muscle for Sissoko as they prepare for life in the Olympic Stadium.
The Validated Superstar
The superstar is questioned before the tournament and their future is uncertain. Some say they aren't pulling their weight, others propose they simply don't fit in at their club. Then, just when the player appears to be on an interminable descent, they remind everyone of exactly what made them worth the scrutiny in the first place. They dominate at an international competition, prospective buyers forget their harrowing form a mere month beforehand, and their market value rises to obscene levels. But it's worth it, of course – they were ruddy great against Croatia, don't forget.
2016 prediction: Eden Hazard (Belgium)
Last season was Hazard's worst in a Chelsea kit. The attacking midfield technician was surprisingly ineffective, scoring just four times in 31 Premier League appearances, and had injury issues. His decline was seen as one of the primary reasons behind the team's fall from grace in the league, but he will no doubt be determined to star at Euro 2016 for his country. Motivated by criticism and a year of underperformance, he'll channel his best self to lead Belgium deep into the tournament's latter stages.
Who will sign him?
The validated superstars tend to be hugely expensive players, so only the richest clubs could possibly afford them – especially on the back of a fine European Championship. This sort of signing is right up Real Madrid's alley, which is convenient as they've been linked to Hazard before. They may face competition from the equally opulent PSG, however.
Thank you for reading 5 articles this month* Join now for unlimited access
Enjoy your first month for just £1 / $1 / €1
*Read 5 free articles per month without a subscription
Join now for unlimited access
Try first month for just £1 / $1 / €1