The best we never had: England's 10 greatest underachievers
As Theo Walcott prepares to bid farewell to Arsenal after over a decade of unfulfilled promise, Amit Katwala looks at the English players who once starred for big teams but ultimately failed to live up to their early potential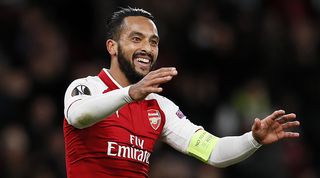 For every gifted player who squeezes the absolute maximum out of their ability – Frank Lampard or Paul Scholes, for example – there are those who never quite live up to their spectacular early promise.
It could just be home-team bias, but it feels like a high number of them are England players from the past few decades as well. Maybe that's our imagination. But we're fairly certain these 10 players may have have punched - or are currently punching - seriously below their weight...
Jack Wilshere
At his best, Wilshere is one of the country's most thrilling talents – smart in possession and capable of unlocking a defence with a clever flick (or three, as his ridiculous goal against Norwich in 2013 proved).
Right now things are actually looking up for the midfielder: with little competition he's arguably been Arsenal's best player of the last month, and duly been offered a new contract according to reports – albeit with a reduced salary. The bottom line, though: Wilshere is now 26 and has barely played any football compared to his peers – just 78 league starts in seven seasons.
He may still come good but, let's be honest: this was never the plan for the man who was supposed to be the future of Arsenal and England's midfield in his mid-20s.
Joe Cole
In his early days, Cole seemed to float above the mire – full of sharp turns and flowing runs through midfield. He was at his best in the No.10 position, but unfortunately English football's rigid structures were still some way short of bending to accommodate him.
At West Ham, he was part of the ludicrously talented team that went down with 43 points, and when Claudio Ranieri signed him for Chelsea, the Italian said he could be the club's next Gianfranco Zola. It wasn't quite to be. Although Cole enjoyed a successful spell under Jose Mourinho at Chelsea – winning 10 trophies – it was as a more workmanlike left winger.
Mourinho made him a winner by stifling his creative talents, while Sven did the same for England but without making him a winner. A catastrophic start after joining Liverpool set the tone for the rest of Cole's career, and the 36-year-old is playing for Tampa Bay Rowdies in the NASL.
Ben Foster
After struggling for years to find a long-term replacement for the great Peter Schmeichel, Alex Ferguson thought he'd found a solution in Foster, a £1m signing from Stoke who Fergie claimed would be "England's next goalkeeper".
Initially, he was loaned out to Watford, whose manager Aidy Boothroyd went even further and said he had the potential to be the best goalkeeper in the world. But he struggled to break into the Manchester United team, making just 23 appearances in three years before moving to Birmingham and then West Brom, where he's carved out a solid if unspectacular career.
Revealingly, Foster said he was relieved to escape the pressure of playing for United.
Ravel Morrison
The great Alex Ferguson (whose judgement we're actually beginning to question here) said Morrison was the best player he'd ever seen at that age, and the midfielder starred alongside Paul Pogba in Manchester United's FA Youth Cup-winning side of 2011. Although he did possess bags of talent, Morrison was difficult to manage and faced a series of court proceedings for witness intimidation, assault and criminal damage.
Fergie decided it wasn't worth it and sold Morrison to West Ham, where he scored one outstanding goal against Tottenham before leaving under a cloud after falling out with Hammers boss Sam Allardyce. Loan spells at QPR, Birmingham and Cardiff preceded a move to Lazio, where again his attitude won him no friends and a series of loan moves again followed.
The 24-year-old Morrison is currently on loan at Atlas in Mexico, but we've only ever seen brief flashes of his real ability.
David Bentley
Pegged as the next David Beckham by the heavily leveraged producers of initial-branded merchandise, Bentley scored some spectacular goals but lacked a passion for the game that drove his predecessor to the heights.
He broke through at Arsenal, but struggled to hold down a first-team place while in the grips of a serious gambling addiction. He spent time at Blackburn and Tottenham, where he made his most memorable contribution – a dipping volley from distance in a 4-4 draw against his former club in the north London derby.
He retired at just 29 having fallen out of love with the game, and now runs a restaurant in Marbella.
Francis Jeffers
Some people in football are permanently, and inexplicably, linked with certain phrases. If we say 'dentist chair,' 'good feet for a big man,' or 'naked shower headbutt', you'll know we're referring to Paul Gascoigne, Peter Crouch and Tony Pulis.
For Jeffers, the label 'fox in the box' became a millstone around his neck during a difficult spell at Arsenal. He'd broken through at Everton as a goal-poaching striker, with 18 goals in 49 league games for the Toffees persuading Arsene Wenger to splash £8m on him.
It didn't work out, and Jeffers ended up slipping down the divisions, moving to Australia with Newcastle Jets and never really recapturing the form he showed in his early days at Everton. He ended his career at Accrington Stanley.
Lee Sharpe
The exciting winger was one of the stars of Fergie's early days at Manchester United, but had his head turned by the playboy lifestyle and was eclipsed by Ryan Giggs and the rest of his contemporaries. He made his United debut at 17 and established himself as the first choice left-winger before losing his place to Giggs due to injury and illness.
Sharpe could play on both wings, but with Beckham breaking through on the other side and Ferguson growing increasingly exasperated, he was shipped out in 1996 at the age of 25.
He moved to Leeds, then Bradford, then Portsmouth – and announced his retirement from football at 32 after a season with Icelandic side Grindavik.
Kieron Dyer
Along with Darren Anderton and Wilshere, Dyer is arguably more famous for his injuries than anything he achieved on the football pitch – his most memorable moment is probably getting sent off for fighting his own team-mate, which says it all really.
The dynamic midfielder started at Ipswich, and then enjoyed a good spell under Bobby Robson at Newcastle in the early 2000s, but the remainder of his career was blighted by a series of long-term injuries. He made fewer than 50 league appearances in the last six years of his career, which were spent at West Ham, Ipswich, QPR and Middlesbrough.
He somehow made it to both the 2002 World Cup and Euro 2004 – where he played a total of just seven minutes.
Jonathan Woodgate
Woodgate was described as the 'jewel in the crown' of Leeds United when the cash-strapped club were forced to sell him to Newcastle, but in truth his best years were already behind him. He played well for the Magpies, but long-term injuries hampered his time there and the reaction when he signed for Real Madrid was one of shock and confusion – especially as he was carrying an injury which kept him out of his whole first season.
When he finally made his debut, it was the fans who were shocked and confused – Woodgate scored an own goal and was sent off. He played for Middlesbrough, Tottenham and Stoke but never became the talismanic centre-back England really wanted. That honour went to Rio Ferdinand, another former Leeds player.
In July 2007, Woodgate was voted the worst signing of the 21st century by readers of Spanish sports paper Marca.
Robbie Fowler
Now, this might strike you as a controversial choice. Fowler scored 120 goals in 236 league games in his first spell at Liverpool, and sits sixth on the all-time Premier League top scorers list between Thierry Henry and Jermain Defoe.
But he was such a natural, instinctive finisher that it's hard to shake the feeling he could have done so much more. At the end of the 1996/97 season, at the age of just 22, he'd had a third successive 30+ goal season in a row. Talk of him going on to break every Liverpool goals record you can imagine didn't seem far-fetched. Yet after that, he'd never hit 20 goals in a season again.
Injuries and a clash of personalities with Gerard Houllier impacted on his form, Liverpool sold him to Leeds in 2001 and he never quite lived up to the hype after that. His international career is a case in point: he was one of this country's most gifted strikers, but he made just 26 appearances for his country and scored seven goals. That's fewer than Theo Walcott, Danny Welbeck and even Joe Cole.
Now read...
New features you'd love on FourFourTwo.com
Thank you for reading 5 articles this month* Join now for unlimited access
Enjoy your first month for just £1 / $1 / €1
*Read 5 free articles per month without a subscription
Join now for unlimited access
Try first month for just £1 / $1 / €1
Get FourFourTwo Newsletter
The best features, fun and footballing quizzes, straight to your inbox every week.