EA Sports FC 24: Every 5-star weak foot player on the game
EA Sports FC 24 has over 230 5-star weak-foot players on the game, with a potential rating of at least 70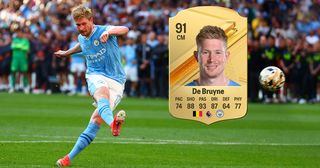 (Image credit: Chris Brunskill/Fantasista/Getty Images)
EA Sports FC 24 weak foot players can help you wherever your stars find themselves in-game.
You know how it is: someone passes to your weaker side and you have to take either a pass or a shot first time. It's a nightmare if your player isn't ambipedal enough to handle the chance. Luckily, there are plenty of superstars within FC 24 who have a 5* weak foot.
With well over 300 players in this year's game given the fated two-footed status, we've narrowed our list down to players who have a minimum potential of 70 – otherwise you'd be here all day reading it, wouldn't you?
EA Sports FC 24 5* weak foot players: Who makes the cut?
5* weak foot players
Swipe to scroll horizontally
Who are EA Sports FC 24's 5* weak foot players? Here are all 238 players with a minimum potential rating of 70
Player
Club
Position
Overall
Potential
+
Age
Value / Wage
Skill moves
Work rate
Foot
Height / Weight
Kevin De Bruyne
Manchester City
CM, CAM
91
91
0
32
€103m / €350k
4
H / M
R
5ft 11in / 75kg
Harry Kane
Bayern Munich
ST
90
90
0
29
€119.5m / €170k
3
H / H
R
6ft 2in / 85kg
Neymar Jr
Al-Hilal
LW
89
89
0
31
€85.5m / €115k
5
H / M
R
5ft 8in / 68kg
Son Heung-min
Tottenham Hotspur
LW
87
87
0
31
€66m / €170k
4
H / M
R
6ft 0in / 78kg
Khvicha Kvaratskhelia
Napoli
LW, RW
86
92
6
22
€109m / €93k
5
M / M
R
6ft 0in / 70kg
Ousmane Dembele
Paris Saint-Germain
RW, LW
86
87
1
26
€80m / €150k
5
H / M
L
5ft 10in / 67kg
Toni Kroos
Real Madrid
CM, CDM
86
86
0
33
€42m / €240k
3
M / M
R
6ft 0in / 76kg
Sergej Milinkovic-Savic
Al-Hilal
CM
86
86
0
28
€68m / €83k
4
H / M
R
6ft 3in / 95kg
Diogo Jota
Liverpool
CF, LW
85
87
2
26
€67.5m / €180k
4
H / H
R
5ft 10in / 68kg
Edin Dzeko
Fenerbahce
ST
83
83
0
37
€12.5m / €43k
3
H / M
R
6ft 3in / 80kg
Christian Eriksen
Manchester United
CM, CDM
83
83
0
31
€30m / €145k
4
M / M
R
5ft 11in / 76kg
Wissam Ben Yedder
Monaco
ST
83
83
0
32
€29.5m / €80k
4
H / L
R
5ft 6in / 68kg
Piotr Zielinski
Napoli
CM, CAM
83
83
0
29
€35.5m / €78k
4
M / M
R
5ft 10in / 75kg
Orkun Kokcu
Benfica
CM, CAM
82
86
4
22
€44m / €18k
3
M / M
R
5ft 8in / 68kg
Youri Tielemans
Aston Villa
CM, CDM
82
84
2
26
€37.5m / €100k
4
M / M
R
5ft 9in / 72kg
Ferland Mendy
Real Madrid
LB
82
82
0
28
€27.5m / €160k
4
H / H
L
5ft 10in / 73kg
Alexander Isak
Newcastle United
ST, LW
81
86
5
23
€39.5m / €110k
4
H / M
R
6ft 3in / 77kg
Jonathan David
Lille
ST
81
84
3
23
€35.5m / €41k
3
H / H
R
5ft 8in / 70kg
Henrikh Mkhitaryan
Inter Milan
CAM, CM
81
81
0
34
€12m / €87k
4
M / M
R
5ft 9in / 75kg
Brahim Diaz
Real Madrid
CAM, CF, RW
80
85
5
23
€32m / €125k
4
H / M
R
5ft 7in / 59kg
Richarlison
Tottenham Hotspur
ST, LW, RW
80
83
3
26
€28m / €96k
4
H / M
R
6ft 0in / 71kg
Matteo Darmian
Inter Milan
CB, RWB, RM
80
80
0
33
€10m / €74k
3
M / M
R
6ft 0in / 70kg
Jesus Corona
Monterrey
RW, LW
80
80
0
30
€20.5m / €25k
5
M / M
R
5ft 8in / 66kg
Teji Savanier
Montpellier
CAM, CM
80
80
0
31
€17.5m / €31k
4
H / M
R
5ft 7in / 69kg
Hany Mukhtar
Nashville
CF, ST, CAM
80
80
0
28
€21.5m / €13.5k
3
H / M
R
5ft 8in / 71kg
Ezequiel Avila
Osasuna
ST, RM, LM
80
80
0
29
€21m / €39.5k
3
H / H
R
5ft 7in / 81kg
Laure Santeiro
Fluminense
CAM, LM, LW
80
80
0
23
€24.5m / €24.5k
4
M / M
L
5ft 7in / 63kg
Giacomo Raspadori
Napoli
CF, ST, LW
79
86
7
23
€35.5m / €54k
4
H / L
R
5ft 7in / 69kg
Nico Williams
Athletic Bilbao
RM, LM
79
85
6
20
€27.5m / €23k
4
M / M
R
5ft 11in / 67kg
Alexander Bah
Benfica
RB
79
83
4
25
€22.5m / €14.5k
3
H / H
R
6ft 0in / 76kg
Ivan Perisic
Tottenham Hotspur
LW, LWB
79
79
0
34
€8m / €90k
4
H / M
R
6ft 1in / 80kg
Pedro
Lazio
RW, LW
79
79
0
35
€7m / €43.5k
4
H / L
R
5ft 6in / 65kg
Luuk de Jong
PSV
ST
79
79
0
32
€14m / €24k
3
L / M
R
6ft 2in / 86kg
Hans Vanaken
Club Brugge
CM, CAM
79
79
0
30
€17m / €28k
4
H / M
R
6ft 4in / 80kg
Moi Gomez
Osasuna
CM, LM, RM
79
79
0
29
€17m / €34.5k
4
M / M
R
5ft 9in / 73kg
Teddy Teuma
Stade de Reims
CM, CAM, CDM
79
79
0
29
€17m / €30.5k
3
H / M
L
5ft 9in / 73kg
Takehiro Tomiyasu
Arsenal
RB, LB
78
83
5
24
€20m / €73k
2
M / H
R
6ft 2in / 84kg
Nikola Vlasic
Torino
CF, LM, CAM
78
80
2
25
€18m / €46.5k
3
M / M
R
5ft 10in / 79kg
Florian Kainz
Koln
CAM, LM
78
78
0
30
€13.5m / €30.5k
4
H / M
R
5ft 9in / 71kg
Andrea Belotti
Roma
ST
78
78
0
29
€14m / €67k
3
H / M
R
5ft 11in / 84kg
Gerson Armao
Internacional
LB, LWB, LM
78
78
0
23
€15m / €22k
3
H / H
L
6ft 1in / 73kg
Nicolas Dominguez
Nottingham Forest
CDM, CM
77
83
6
25
€15m / €52k
3
H / H
R
5ft 10in / 73kg
Luka Jovic
AC Milan
ST
77
81
4
25
€15m / €58k
3
M / M
R
5ft 11in / 85kg
Manuel Riemann
Bochum
GK
77
77
0
34
€1.8m / €19k
1
M / M
R
6ft 1in / 83kg
Julian Draxler
Al Ahli
LW, CM
77
77
0
29
€10.5m / €75k
4
M / L
R
6ft 0in / 77kg
Michy Batshuayi
Fenerbahce
ST
77
77
0
29
€10.5m / €37.5k
4
H / M
R
6ft 0in / 80kg
Marko Livaja
Hajduk Split
CF, ST
77
77
0
29
€10.5m / €28k
4
M / L
R
5ft 11in / 80kg
Salem Al Dawsari
Al-Hilal
LM
77
77
0
31
€8.5m / €39k
4
H / H
R
5ft 8in / 71kg
Claudio Cointra
Palmeiras
CAM, CF
77
77
0
27
€11m / €28k
4
H / M
L
5ft 8in / 71kg
Kyogo Furuhashi
Celtic
ST
77
77
0
28
€11m / €58k
3
H / M
R
5ft 6in / 63kg
Aaron Hickey
Brentford
RB, RWB, LB
76
82
6
21
€11.5m / €31.5k
2
H / H
R
6ft 0in / 72kg
Alexander Nübel
Stuttgart, on loan from Bayern Munich
GK
76
80
4
26
€8m / €18k
1
M / M
R
6ft 3in / 86kg
Thilo Kehrer
West Ham United
CB, RB
76
79
3
26
€8.5m / €52k
2
M / M
R
6ft 1in / 76kg
Anthony Caci
Mainz 05
LWB, CB, LM
76
78
2
26
€8.5m / €24.5k
3
M / M
R
6ft 0in / 76kg
Eric Curbelo de la Fe
Las Palmas
CB, RB
76
77
1
29
€7m / €19k
2
M / H
R
5ft 11in / 77kg
Santi Cazorla
Real Oviedo
CM, CAM, LM
76
76
0
38
€2.4m / €8.4k
4
H / M
R
5ft 6in / 65kg
Fraser Forster
Tottenham Hotspur
GK
76
76
0
35
€825k / €31.5k
1
M / M
R
6ft 7in / 93kg
Adam Lallana
Brighton & Hove Albion
CAM, CM, CDM
76
76
0
35
€3.1m / €48.5k
4
H / M
R
5ft 10in / 73kg
Mats Rits
Anderlecht
CM
76
76
0
29
€7.5m / €25.5k
3
H / H
R
5ft 10in / 73kg
Alvaro Medran
Al Taawoun
CM, CDM
76
76
0
29
€7.5m / €26k
3
H / L
R
5ft 10in / 71kg
Milton Casco
River Plate
RB, LB
76
76
0
35
€2.3m / €12.5k
3
H / L
R
5ft 6in / 69kg
Ryan Kent
Fenerbahce
LW, CF
76
76
0
26
€8m / €33.5k
4
H / M
R
5ft 7in / 65kg
Rayan Cherki
Olympique Lyonnais
CAM, LW, RW
75
86
11
19
€12m / €17.5k
5
H / L
L
5ft 9in / 71kg
Mason Greenwood
Getafe, on loan from Manchester United
RM, ST
75
85
10
21
€12.5m / €18.5k
4
H / M
L
5ft 11in / 70kg
Heorhii Sudakov
Shakhtar Donetsk
CAM, CM
75
85
10
20
€12.5m / €15k
3
M / M
R
5ft 9in / 68kg
Victor Chust Garcia
Cadiz
CB
75
84
9
23
€11.5m / €21k
2
L / M
R
6ft 0in / 76kg
Kenneth Taylor
Ajax
CM, CDM
75
83
8
21
€12.5m / €11k
3
M / M
L
5ft 11in / 73kg
Devyne Rensch
Ajax
RB, LB
75
83
8
20
€12m / €9.9k
3
H / M
R
5ft 10in / 73kg
Zakaria Aboukhlal
Toulouse
RM, LM
75
81
6
23
€9m / €19k
4
H / M
L
5ft 10in / 73kg
Anton Stach
Hoffenheim
CM, CDM, CF
75
81
6
24
€9m / €26.5k
2
H / H
R
6ft 4in / 88kg
Adem Zorgane
Charleroi
CM, CDM
75
81
6
23
€9m / €13k
3
H / H
R
6ft 0in / 81kg
Nicolas Fernandez
Elche
ST, LW, RW
75
76
1
27
€6.5m / €16.5k
3
H / M
R
5ft 4in / 66kg
Eduardo Exposito
Espanyol
CAM, CM, CDM
75
76
1
26
€6.5m / €11k
3
M / M
R
5ft 10in / 68kg
Deniz Undav
Brighton & Hove Albion
ST, CAM
75
76
1
26
€6.5m / €25k
3
M / L
R
5ft 10in / 86kg
Omar Mascarell
Mallorca
CM, CDM, CB
75
75
0
30
€5.5m / €23.5k
3
M / H
R
5ft 11in / 76kg
Andre Ramalho
PSV
CB
75
75
0
31
€3.8m / €15k
2
M / H
R
5ft 11in / 78kg
Tim Kleindienst
Heidenheim
ST
75
75
0
27
€6m / €30k
2
M / H
L
6ft 4in / 85kg
Cesinha
Daegu
ST, CAM, LW
75
75
0
33
€3.6m / €9.6k
5
H / M
R
5ft 9in / 74kg
Michael Ngadeu
Beijing Guoan
CB
75
75
0
32
€3.6m / €17k
2
M / H
R
6ft 2in / 87kg
Anass Zaroury
Burnley
LM, ST
74
83
9
22
€9.5m / €33.5k
4
H / M
R
5ft 10in / 68kg
Armel Bella Kotchap
PSV, on loan from Southampton
CB
74
82
8
21
€9m / €10k
2
M / M
R
6ft 2in / 87kg
Mark McKenzie
Genk
CB
74
81
7
24
€8m / €11.5k
2
M / M
R
6ft 0in / 83kg
Nikola Moro
Bologna
CDM, CM
74
81
7
25
€7.5m / €23.5k
3
H / M
R
6ft 0in / 77kg
Jakub Moder
Brighton & Hove Albion
CM, CDM, LM
74
80
6
24
€6.5m / €51k
3
M / M
R
6ft 2in / 78kg
Patric Pfeiffer
Augsburg
CB
74
79
5
23
€6m / €18.5k
2
M / H
R
6ft 5in / 91kg
Mostafa Mohamed
Nantes
ST
74
77
3
25
€5.5m / €21.5k
3
M / M
R
6ft 0in / 78kg
Lewis Morgan
New York Red Bulls
LM, CAM, CF
74
75
1
26
€5m / €8k
3
H / H
L
5ft 10in / 75kg
Simone Verdi
Como
CF, CAM
74
74
0
30
€4.1m / €5.1k
4
M / L
L
5ft 8in / 72kg
Sergio Araujo
AEK Athens
ST, CAM
74
74
0
31
€3.6m / €26k
3
H / H
R
5ft 10in / 82kg
Ross Barkley
Luton Town
CAM, CM
74
74
0
29
€4.1m / €40.5k
4
M / L
R
6ft 1in / 76kg
Stefan Mitrovic
Getafe
CB
74
74
0
33
€2m / €21k
2
L / H
R
6ft 2in / 84kg
Khaled Narey
Al-Khaleej
RM, RB
74
74
0
28
€4.2m / €13.5k
3
M / M
R
5ft 10in / 75kg
Cristian Espinoza
San Jose Earthquakes
RM, RW
74
74
0
28
€4.2m / €8.3k
3
H / H
R
5ft 8in / 73kg
Josip Misic
Dinamo Zagreb
CDM, CM
74
74
0
29
€3.6m / €18k
2
M / M
R
6ft 0in / 79kg
Mourad Batna
Al-Fateh
RW
74
74
0
33
€2.6m / €27.5k
3
H / L
L
6ft 0in / 76kg
Aster Vranckx
Wolfsburg
CM, CDM
73
82
9
20
€6.5m / €24k
3
H / H
R
6ft 0in / 78kg
Ezequiel Fernandez
Boca Juniors
CDM, CM
73
81
8
20
€6.5m / €9.9k
2
M / H
L
5ft 10in / 76kg
Michel-Ange Balikwisha
Royal Antwerp
LW, ST, CAM
73
80
7
22
€6m / €22k
4
M / H
R
5ft 10in / 71kg
Myron Boadu
Monaco
ST
73
79
6
22
€4.9m / €33.5k
3
H / M
R
5ft 11in / 67kg
Ianis Hagi
Deportivo Alaves, on loan from Rangers
CAM, CF
73
78
5
24
€4.6m / €16.5k
4
M / M
R
5ft 11in / 72kg
Paik Seung-ho
Jeonbuk Hyundai Motors
CM, CDM
73
75
2
26
€3.7m / €10k
4
M / H
R
5ft 10in / 78kg
Youcef Atal
Nice
RB, RWB, RM
73
74
1
27
€3.2m / €28k
4
H / L
R
5ft 8in / 66kg
Nani
Adana Demirspor
LW, RW, CAM
73
73
0
36
€1000k / €10.5k
4
M / L
R
5ft 9in / 72kg
Ki Sung-yueng
Seoul
CM, CDM
73
73
0
34
€1.4m / €7.5k
3
M / M
R
6ft 2in / 75kg
Sebastian Blanco
Portland Timbers
CAM, LM
73
73
0
35
€1.2m / €5.4k
3
M / L
R
5ft 6in / 68kg
Guido Burgstaller
Rapid Vienna
ST
73
73
0
34
€1.5m / €19k
3
L / L
R
6ft 1in / 80kg
John Lundstram
Rangers
CM, CDM, CB
73
73
0
29
€3m / €41k
2
M / M
R
5ft 11in / 74kg
Mikael Ishak
Lech Poznan
ST
73
73
0
30
€3m / €9.9k
3
M / H
R
6ft 0in / 81kg
Albert Rusnak
Seattle Sounders
CAM, CDM, CM
73
73
0
29
€3m / €7.6k
4
H / M
R
5ft 8in / 73kg
Matt Grimes
Swansea City
CM, CDM
73
73
0
27
€3.2m / €23k
3
M / H
L
5ft 10in / 70kg
Nikola Storm
Club Brugge
LW, LM, CAM
73
73
0
28
€3.1m / €14.5k
3
M / M
R
5ft 10in / 74kg
Jamie Maclaren
Melbourne City
ST
73
73
0
29
€3m / €12.5k
3
H / M
R
5ft 10in / 76kg
Jonathan Osorio
Toronto
CM, CDM, LM
73
73
0
31
€2.5m / €7.3k
3
H / H
R
5ft 8in / 68kg
Jose Carlos Lazo
Espanyol
LM, RM
73
73
0
27
€3.2m / €9.1k
3
M / M
R
5ft 10in / 69kg
Jarrad Branthwaite
Everton
CB
72
84
12
21
€5.5m / €17.5k
2
M / H
L
6ft 4in / 74kg
Georginio Rutter
Leeds United
ST, RM
72
81
9
21
€5.5m / €24.5k
4
M / M
L
5ft 11in / 83kg
Dango Ouattara
Bournemouth
RM, LM
72
81
9
21
€5.5m / €23k
4
H / M
L
5ft 9in / 71kg
Cho Gue-sung
Midtjylland
ST
72
77
5
25
€3.5m / €20k
3
H / M
R
6ft 2in / 82kg
Abdou Harroui
Frosinone
CDM, CM
72
75
3
25
€2.8m / €8.5k
3
M / M
R
5ft 11in / 76kg
DeJuan Jones
New England Revolution
LB, RB
72
75
3
26
€2.8m / €5.9k
2
H / M
R
5ft 10in / 75kg
Osman Bukari
Red Star Belgrade
RW, ST
72
74
2
24
€3m / €12k
3
H / M
R
5ft 6in / 68kg
Niklas Moisander
Malmo
CB
72
72
0
37
€425k / €4.3k
3
H / M
L
6ft 0in / 77kg
Yoel Rodriguez
Eibar
GK
72
72
0
34
€400k / €6k
1
M / M
R
6ft 1in / 78kg
Hernan Barcos
Alianza Lima
ST
72
72
0
39
€800k / €16k
3
M / M
R
6ft 1in / 91kg
Zakaria Labyad
Utrecht
CAM
72
72
0
30
€2.3m / €12.5k
4
M / L
R
5ft 8in / 65kg
Thomas Delaine
Strasbourg
LWB, RWB
72
72
0
31
€1.7m / €15k
3
H / M
L
5ft 10in / 71kg
Kellyn Acosta
Los Angeles FC
CM, CDM
72
72
0
27
€2.5m / €6.5k
3
M / M
R
5ft 9in / 68kg
Emiliano Rigoni
Austin
RM, LM, ST
72
72
0
30
€2.3m / €6.5k
4
H / L
L
5ft 10in / 70kg
Jordan Amavi
Brest, on loan from Marseille
LB
72
72
0
29
€2.1m / €13k
3
H / M
L
5ft 9in / 70kg
Alexandru Mitrita
Universitatea Craiova
LW, LM, CF
72
72
0
28
€2.4m / €13k
3
H / M
R
5ft 4in / 68kg
Gustavo Lobateiro
Internacional
CAM, ST, CF
72
72
0
23
€2.7m / €15k
3
H / L
L
5ft 10in / 76kg
Jenaro Kaio
Botafogo
CAM
72
72
0
39
€750k / €9.5k
3
M / M
L
5ft 8in / 74kg
Fabio Melitinho
Fluminense
CAM, LM
72
72
0
27
€2.5m / €15k
3
M / L
R
5ft 6in / 67kg
Seung Beom Ko
Suwon Samsung Bluewings
CM, CDM
72
72
0
29
€2.3m / €4.3k
3
H / H
R
5ft 8in / 70kg
Mohamed Fouzair
Al-Raed
RM, RW, CF
72
72
0
31
€1.9m / €14.5k
3
H / H
R
5ft 6in / 70kg
Lee Dong-jun
Jeonbuk Hyundai Motors
RM, RW
72
72
0
26
€2.6m / €8.8k
4
H / M
L
5ft 8in / 65kg
Bali Mumba
Plymouth Argyle
LM, LWB, RWB
71
79
8
21
€4.2m / €8.6k
3
H / H
R
5ft 6in / 61kg
Mitchell van Bergen
Twente
RW, LW
71
76
5
23
€2.8m / €7.7k
3
M / M
R
5ft 6in / 62kg
Darius Olaru
FCSB
CM, CAM
71
76
5
25
€2.7m / €10.5k
4
H / H
R
5ft 9in / 71kg
Niklas Schmidt
Toulouse
CAM, CM, CF
71
75
4
25
€2.6m / €14k
3
M / M
R
6ft 0in / 89kg
Francis Amuzu
Anderlecht
LW, RW, LM
71
75
4
23
€2.7m / €14.5k
4
H / M
R
5ft 6in / 68kg
Sam Lammers
Rangers
CF, ST, CAM
71
74
3
26
€2.5m / €33k
4
M / M
L
6ft 2in / 77kg
Kevin Bonifazi
Bologna
CB
71
73
2
27
€2m / €17.5k
2
M / H
R
6ft 1in / 85kg
Kim Dae-won
Gangwon
LW, ST
71
72
1
26
€2.2m / €5.6k
4
H / L
R
5ft 7in / 65kg
Otar Kiteishvili
Sturm Graz
CAM
71
72
1
27
€2.2m / €11.5k
3
M / L
R
5ft 8in / 65kg
Cristian Ansaldi
Parma
LB, LM
71
71
0
36
€425k / €2.4k
4
M / H
R
5ft 11in / 76kg
Sonny Kittel
Rakow Czestochow
CF, LW, CM
71
71
0
30
€1.8m / €7.8k
4
M / L
R
5ft 10in / 76kg
Jan Boril
Slavia Prague
CB, LB
71
71
0
32
€1.2m / €15.5k
3
H / M
R
5ft 8in / 75kg
Vitinho
Al-Ettifaq
CF, ST, LM
71
71
0
29
€1.9m / €20.5k
4
M / L
R
5ft 10in / 78kg
Yasser Al Shahrani
Al-Hilal
LB, RB
71
71
0
31
€1.4m / €21k
3
H / M
R
5ft 7in / 64kg
Lewis Baker
Stoke City
CM, CDM
71
71
0
28
€1.9m / €19k
3
H / M
R
5ft 11in / 72kg
Ryan Hollingshead
Los Angeles FC
RB, LB
71
71
0
32
€1.3m / €5.2k
3
H / H
R
6ft 0in / 82kg
Adama Traore
Fulham
CAM, CM, RW
71
71
0
28
€1.9m / €12.5k
4
M / M
L
5ft 10in / 75kg
Rafanilton Vilela
Sao Paulo
ST, CF, CAM
71
71
0
35
€800k / €15k
3
H / L
R
5ft 10in / 71kg
Giannis Konstantelias
PAOK Thessaloniki
CAM, RW
70
82
12
20
€3.8m / €11.5k
4
H / M
R
5ft 10in / 65kg
Stipe Biuk
Los Angeles FC
LW, RW
70
82
12
20
€3.8m / €4.1k
3
M / M
R
5ft 11in / 70kg
Milutin Osmajic
Preston North End
ST, LM, RM
70
74
4
23
€2.3m / €18k
3
M / M
R
6ft 0in / 76kg
Alemao
Real Oviedo
ST, CAM, RM
70
74
4
25
€2.2m / €6.5k
4
M / M
R
5ft 11in / 88kg
Maximiliano Romero
Racing, on loan from PSV
ST
70
73
3
24
€2.2m / €9.9k
3
M / M
R
5ft 10in / 76kg
Aaron Collins
Bristol Rovers
ST, LW, CAM
70
71
1
26
€1.9m / €7.2k
3
H / H
R
6ft 0in / 74kg
Mohamed Sherif
Al-Khaleej
ST
70
71
1
27
€1.9m / €8.6k
2
H / M
L
6ft 0in / 76kg
Gyasi Zardes
Austin
ST
70
70
0
31
€1.3m / €5.4k
3
H / M
R
6ft 2in / 80kg
Abdulaziz Hatem
Al Rayyan
CM, CDM
70
70
0
32
€1.3m / €9.5k
3
H / M
L
5ft 11in / 76kg
Luigi Canotto
Cosenza, on loan from Frosinone
RW, ST, RM