The Champions League as it stands: Which teams are through, who's out and are any big clubs in danger of missing out?
Some clubs are in precarious positions, while others have already qualified for the knockouts, but how do the Champions League groups stand for the final two games?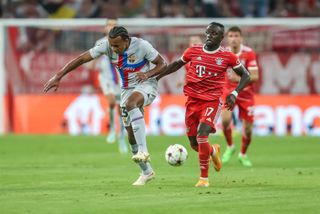 (Image credit: Getty Images)
The penultimate round of Champions League group stage fixtures get underway tonight, and there are plenty of permutations surrounding which teams are in danger of missing out on the knockout rounds.
Four clubs have already progressed to the last-16 of the competition, while some big names are in danger of dropping into a play-off fixture with second-placed Europa League clubs - or missing out on European football for the remainder of this season altogether.
However, it is only impossible for two clubs to not progress to the Champions League knockouts, meaning everything is still to play for. They can still finish in third in order to drop into the Europa League, while the teams who have already booked their places in the knockouts haven't topped their groups yet either.
Which teams in the Champions League are already through?
Four clubs are lucky enough to enter the final two group games knowing they will be competing in the last-16 of the Champions League in February, with Napoli, Club Brugge, Bayern Munich and Manchester City all proving too strong in their groups.
Napoli and Bayern have won all four of their games and are comfortably more than six points ahead of the third-placed team in their respective groups, while Club Brugge and Man City have both won three and drawn once. Club Brugge are only six points ahead of Atletico Madrid in third, but a win and a draw against the Spanish side means their head-to-head record is superior, and therefore they are through.
None of the four teams have progressed as group toppers yet, though, so don't expect to see any of the sides take their foot off the gas. Finishing top of the group provides a better seed for the last-16 draw, which could see further progress in the tournament through a more favourable draw.
Which teams in the Champions League are already knocked out?
After four games played, only two clubs are incapable of making the knockout stages of the Champions League, regardless of their final two results.
Both Rangers and Viktoria Plzen have failed to obtain a single point in the group stages so far, losing all four of their games in the process. The Scottish side currently sit nine points behind second-placed Liverpool, while Plzen are seven points adrift from Inter Milan, who are second in Group C.
They could still make the Europa League play-off round, though, provided they finish the final two games with strong results. Indeed, Rangers would need to beat Ajax and get at least a point against Napoli to have any chance of staying in Europe, while Plzen need to beat both Inter Milan and Barcelona in their remaining fixtures.
Which teams in the Champions League are in danger of missing out on qualification?
A number of clubs are in danger of missing out on the Champions League knockout rounds, with Barcelona, Juventus and AC Milan some big names clubs who are all in a precarious position.
Barcelona are likely all but out of the Champions League, despite the Catalan side being just three points behind Inter in Group C. However, Inter beat and drew to Barca so have a superior head-to-head record, and the Italian side only need to defeat pointless Viktoria Plzen to confirm their last-16 status. Barca, meanwhile, still need to win against Bayern Munich to have a chance, as well as hope the other result goes their way.
Juventus are currently third in Group H, five points behind both PSG and Benfica. They still have the top-two left to play, too which could help their fight for the knockout rounds. Even if Juve do manage to beat both PSG and Benfica, though, all those two teams have to do is beat Maccabi Haifa to progress.
While AC Milan are in third, their position isn't as precarious as Barcelona's or Juventus'. The Serie A champions are only two points behind Red Bull Salzburg in second and just three points behind Chelsea - whom they have played twice - in first.
Sevilla, Celtic, Maccabi Haifa, Copenhagen, Frankfurt and Dinamo Zagreb are the remaining sides not in the qualification places of the group but are still within a chance of climbing into those spots.
Thank you for reading 5 articles this month* Join now for unlimited access
Enjoy your first month for just £1 / $1 / €1
*Read 5 free articles per month without a subscription
Join now for unlimited access
Try first month for just £1 / $1 / €1