The best Bosman free transfers of 2014: The men your club should sign
Everybody loves a bargain, so Pete Sharland has scoured Europe to find the best players out of contract in the summer. Which will represent the best Bosman transfer of 2014...?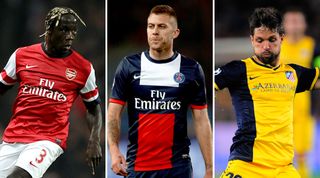 There can surely be few greater feelings for a top-level football club than picking up a high quality player for nothing. In an age where transfer fees have become outrageously inflated, making a big signing without spending a penny (on transfer fees, at least) must leave club chairmen and accountants purring.
The big one this summer will be Robert Lewandowksi's transfer from Dortmund to Bayern Munich, with the Polish striker following in the footsteps of the likes of Sol Campbell, Michael Ballack, Henrik Larsson, Andrea Pirlo and Fernando Llorente in having allowed his contract to run down before moving on to pastures new.
Here are ten more players who could join the Bosman Club in the coming months…
Bacary Sagna (Arsenal)
Linked with: Manchester City, Inter
Once again, Arsenal appear to have got it wrong as far as contract lengths are concerned. In 2012 they were forced to sell Robin van Persie on the cheap, relatively speaking, and now it seems Bacary Sagna is set to walk away from the Emirates for nothing. The Frenchman has stated that he would be willing to a sign a new deal but feels the terms offered by Arsenal are not reasonable. Premier League rivals Manchester City are said to have offered a deal with vastly improved terms - surely Arsenal can't afford to let another star move to the Etihad?
Patrice Evra (Manchester United)
Linked with: Monaco, Inter, Roma
One thing David Moyes has tried to do in his first season as Manchester United manager is ease out the old guard and try and build a younger core. To that end, Nemanja Vidic is being allowed to leave for Inter, with defensive partner Rio Ferdinand also likely to be moved on. Evra's attacking instincts have never deserted him, and he is arguably more of a threat going forward than ever (see his recent Champions League goal at Munich), but his legs aren't coping quite so well when it comes to going the other way, and he is regularly exposed defensively. He has become a liability for a team like United but could easily slot in at Monaco or Inter Milan, two clubs he's been heavily linked with.
Ashley Cole (Chelsea)
Linked with: Liverpool, New York Red Bulls
A couple of years ago it would have seemed impossible that Cole would be in the position of very much not first choice for either club or country. Leighton Baines' usurping of the England left-back slot was inevitable, but his displacement by right-back Cesar Azpilicueta at Chelsea was much more of a surprise. Nevertheless, the Spaniard has been magnificent where Cole has been shaky, and as the 33-year-old is unlikely to accept another season as a squad player, his future appears to be elsewhere. A reunion with Thierry Henry in New York or David Beckham in Miami has been mooted.
Manuel Fernandes (Besiktas)
Linked with: Newcastle United, Lokomotiv Moscow
One who may be familiar to Newcastle fans, the Magpies were rumoured to be in talks with the Besiktas midfielder in the summer but nothing came of it. The Portuguese midfielder has been locked in a talks with the Turkish club and looks set to leave in the summer. Fernandes – who previously spent two loan spells at Everton – is a technically gifted playmaker with excellent shooting and passing ability. There have been rumours of a move to Lokomotiv Moscow, but nothing has been confirmed – could the Magpies swoop in?
Jeremy Menez (Paris Saint-Germain)
Linked with: Liverpool, Juventus
One of the greatest bad boys, Menez has a taste for the ridiculous, both on and off the pitch. The French winger hasn't had the happiest season at PSG, and is very much below Lucas Moura, Edinson Cavani, Javier Pastore and Ezequiel Lavezzi in the Parisian pecking order. At the end of March, Menez confirmed his intention to leave the French champions. Liverpool have been long-term admirers of the former Roma man and have once again been heavily linked – as have Juventus, who were reported by the Swiss media to have completed a deal last month. As long as that remains unconfirmed, Brendan Rodgers is likely to be keeping tabs on the fiery wide-man.
Diego (Atletico Madrid)
Linked with: Tottenham Hotspur
One of football's greatest mercenaries, few players outside the elite clubs in Europe are paid more than Diego, which probably explains why his former club Wolfsburg felt it necessary to use him even if he was sulking. The cause for Diego's strop was his desire to play Champions League football, so on deadline day this January he re-joined Atletico Madrid, where he had previously spent the 2011/12 season on loan. His deal with the Spanish side runs to the end of the season and at the moment there appear to be no plans for renewal. His contract demands will be hefty and his fitness isn't great but there are few better technicians around, Diego is a magician with the ball at his feet. The Brazilian has long been linked with Tottenham, although we'd quite like to see the look on Daniel Levy's face when he heard the playmaker's contractual demands…
Victor Valdes (Barcelona)
Linked with: Arsenal, Liverpool, Manchester City, Monaco
The question of where Victor Valdes is going to be playing his football next season has been a hot topic for over a year now. The Spaniard made it clear in January 2013 that he would not be renewing his contract with the Catalan giants and would be looking for a fresh challenge. Those ambitions were dealt a huge blow when Valdes suffered anterior cruciate ligament damage in his knee in Barcelona's recent 3-0 victory over Celta Vigo. The Spanish international is set to be out for seven months, so whoever signs him will be taking a big risk. Having said that though if he can get back to his best his new club will have one of the world's best on their hands and unsurprisingly Arsenal, Liverpool, Manchester City and Monaco have all been linked.
Aaron Hunt (Werder Bremen)
Linked with: Tottenham Hotspur, Besiktas
If the name Aaron Hunt sounds familiar then it is because he was the man who owned up to diving to prevent his own side being awarded a penalty in a recent Bundesliga match. The other reason his name sounds familiar is because back in 2009 he was heavily courted by the FA on the basis of having an English mother. Hunt rejected the calls and has since represented Germany. He now looks set to leave Werder Bremen after over a decade with the club. Tottenham have been heavily linked to Hunt who is a skilful wide man capable of playing through the centre. He scored 11 times in the Bundesliga last season and has chipped in with four this year. The latest reports suggest he has picked Besiktas over the London side but nothing has been confirmed yet.
Ivica Olic (Wolfsburg)
Linked with: Stoke City
If Ivica Olic is to move to England this summer, it seems very possible that it will be to join Mark Hughes' Stoke City. The Croatian forward admitted that he was in Stoke recently for a visit with his wife, and on his return he told the German press that he liked what he saw. However the former Bayern man was also keen to point out that there was every chance he would remain with Wolfsburg for another season. Olic's work rate is the stuff of legend, and his big game mentality is second to none, he thrives under pressure. He came close to joining Stoke in the winter but he stalled and eventually rejected the offer. Hughes is doing a commendable job trying to adjust Stoke's style of play and bringing in a player of Olic's calibre would show they're moving in the right direction. The only real surprise is that there appear to be no other Premier League sides in for him.
Bafetimbi Gomis (Lyon)
Linked with: Newcastle United, Fulham
If Bafetimbi Gomis leaves Lyon and joins a Premier League side it will draw to end one of the longest running sagas in recent history. Not a single window goes by without Gomis being linked to a Premier League side, normally Newcastle United. His contract is up at the end of the summer and whilst the player has insisted he could stay at Lyon it does appear as if the two parties are miles away from reaching an agreement. Gomis is a physically imposing forward who can be a nightmare for defenders, but is also frustratingly inconsistent. If he does leave Lyon, he will probably find a number of potential suitors, but success in the Premier League is far less certain.