Man United tactics: Mourinho must go for 4-3-3 – as Stats Zone proves
With the plethora of box-office arrivals at Old Trafford this summer, how is Jose Mourinho going to get the best out of all of them? Ryan Baldi explains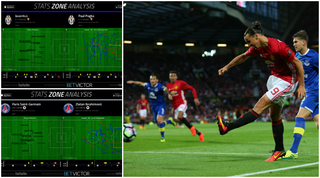 Manchester United have spent around £160 million on new signings this summer, as Jose Mourinho looks to eradicate the memory of the club's three years of under-achievement since Sir Alex Ferguson retired in 2013.
In has come Paul Pogba, signed from Juventus for a world record £89 million fee, as well as Eric Bailly, Zlatan Ibrahimovic and Henrikh Mkhitaryan.
Bailly, a 22-year-old defender signed from Villarreal, is something of an unknown quantity to most fans, and the young Ivorian will need time to develop and mature.
But Pogba, Ibrahimović and Mkhitaryan are established stars of the European game, and United will be hoping that all three will come in and have an immediate impact in the Premier League.
In order to do so, however, Mourinho must select the optimum tactical approach to get the best out of all three men. Each of the players have their own tendencies and preferences regarding the areas they prefer to operate in, and the role in which they envision themselves thriving.
So which formation should the former Internazionale and Real Madrid coach adopt in order to maximise the potential of Pogba, Ibrahimović and Mkhitaryan? It has to be 4-3-3.
Mourinho's 4-3-3
In his last two jobs, with Real Madrid and Chelsea, Mourinho has favoured a 4-2-3-1 system, and that has proven to be the case thus far at United. The Portuguese manager has utilised an out-and-out holding midfielder alongside a box-to-box schemer with a little more positional freedom than his partner: at Real Madrid, this was often Xabi Alonso partnered with Sami Khedira, with Lassana Diarra swapping in to add further steel to the double-pivot when required; at Chelsea, it was invariably Nemanja Matic in the holding role alongside Cesc Fabregas.
Ahead of the two deep midfielders, came a trio of attacking midfielders: Cristiano Ronaldo, Mesut Ôzil and Ángel di Maria at Madrid; and Eden Hazard, Oscar and Willian at Chelsea. Of the three more advanced midfielders, there would typically be one afforded less tactical responsibility – fewer restrictions – while the other two would be instructed to press diligently when out of possession: Ronaldo for Madrid and Hazard for Chelsea were the men allowed to concentrate on their offensive play.
So far at United, Mourinho looks to have opted for a double-pivot of two out of Michael Carrick, Morgan Schneiderlin and Ander Herrera, with three advanced midfielders made up of Anthony Martial, Wayne Rooney and either Jesse Lingard, Juan Mata or Mkhitaryan, with Ibrahimović as his centre-forward.
With the arrival of Pogba, the most likely option seems to be that the Frenchman will slot into the midfield pairing alongside Michael Carrick, however, this could prove to be to the detriment of the world's most expensive player.
Pogback
At Juventus, Pogba was predominantly deployed on the left side of a midfield three in a 3-5-2 formation. With a dedicated pivot – or holding midfielder – behind him, and with an industrious and athletic opposite number on the right (initially Arturo Vidal, then Khedira last season after the Chilean joined Bayern Munich), Pogba benefitted from the freedom to move between the penalty areas, weaving his creative patterns, utilising both his tenacity and physicality in defensive zones, while still being able to push forward and attack with relative abandon. The below Stats Zone graphics depict the areas of influence, and Pogba's attempted passes, during two Serie A games from last season in which the Frenchman was named man of the match, scoring and assisting on both occasions.
These images clearly show that Pogba is at his best when he has the freedom to roam, covering every blade of grass. To pair him with Carrick in a double-pivot would be to restrict him too much. For all Carrick's wonderful passing ability – even at 35-years-old, the former Tottenham Hotspur player is still the finest passer United have – his lack of mobility would be burdensome to Pogba.
The Frenchman is perfectly able to provide the legs in midfield to compensate for Carrick's immobility – tracking runners, pressing and breaking up play – but is that really what you want your £89 million marquee signing to be doing? During the latter stages of Euro 2016, Pogba drew criticism for being unable to influence games for France. This is precisely because he was made to play a much more responsible role, deep in a double-pivot, shackled by his defensive duties.
United should switch to a 4-3-3, with a three-man midfield made up of Pogba on the left, Carrick central, and either Ander Herrera or Morgan Schneiderlin on the right to add athleticism and running power. Pogba will then have the ability to roam as he sees fit, unleashing the creative instincts that saw him top the Serie A assists chart last season.
Wayne's world? Not any more
Mourinho utilised a 4-3-3 set up throughout his first stint with Chelsea, as well as during his massively successful period in charge of Inter. Furthermore, 4-3-3 was a frequently used plan B for Mourinho at Real Madrid, so it is a formation he is more than familiar with.
The 4-2-3-1 system we have seen so far this season from United really only suits one man: Wayne Rooney – and, unfortunately, the England captain is no longer worth making such an exception for.
In his first press conference as United manager, Mourinho insisted that Rooney would not be a midfielder in his team, and that the 30-year-old's talents are much better suited to playing nearer to the oppositions' goal, as either a 'number 9' or 'number 10'.
Well, the 'number 9' position has been claimed by Ibrahimović, and if it came down to a straight choice between Zlatan and Rooney for the lone striker slot, it's a no brainer: despite being four years his senior Ibrahimović remains a more dynamic threat at the point of the attack than Rooney.
So the easy option is to play Rooney in behind as a number 10. But with his ever-corroding first touch, desire to hold onto the ball for too long before releasing a pass, and positional indiscipline (Rooney's penchant for dropping deep into midfield to collect the ball is not what is desired of a player in his position) means that he is a poor fit for the role. Indeed, if Mourinho wants to persist with a 4-2-3-1, then Juan Mata and Mkhitaryan are far more suitable choices to play as the central attacking midfielder.
Moreover, the mere presence of any player as a number 10 in the United line-up could prove to be a hindrance to Ibrahimović. The Swede, particularly in the latter part of his career, enjoys dropping off the forward line to act as an advanced playmaker, receiving the ball to feet and looking for through-balls and one-twos with the wingers either side of him.
At Paris Saint-Germain, Zlatan has had the freedom and space to do this because they have played a 4-3-3 during his time there, meaning that there is no number 10 taking up the space he likes to drop back into. The below Stats Zone images depict Ibrahimović's actions and area of influence in Ligue 1 games against Caen and Nice last season. The former AC Milan and Barcelona player's habit of dropping into the central attacking midfield zone is clearly demonstrated.
Mkhitaryan in transition
Mkhitaryan would similarly benefit from the absence of a number 10. For the majority of last season, he started on the right of Borussia Dortmund's front three in a 4-3-3 formation. But Thomas Tuchel's side were so fluid that, when in possession, their shape would morph to often resemble more of a 3-4-1-2. During the transitional phase from defending to attacking, Mkhitaryan would move off the right touchline and wander into a central area to act as the number 10 behind Pierre-Emerick Aubameyang and Marco Reus, who had pushed up from the left side to become a second centre-forward.
If Dortmund had played with a formation that already contained a central attacking midfielder, the Armenian schemer's path into the middle of the pitch would've been blocked, restricting him to a smaller zone in which to work. These Stats Zone graphics show the areas of influence, as well as Mkhitaryan's attempted passes, in Bundesliga games against Augsburg and Werder Bremen last season. On both occasions, BVB started with a 4-3-3 with Mkhitaryan on the right wing, but it can clearly be seen how he opted to move inside to affect the game whenever possible.
It would be remiss to assume that Mourinho would allow similar levels of positional fluidity and flexibility of shape, but by placing Mkhitaryan on the right of a 4-3-3 and allowing the former Shakhtar Donetsk player the option of drifting inside or holding his position, a new dimension of possibilities would open up for United, while simultaneously making Mkhitaryan harder for opponents to pick up.
And rather than clashing with Ibrahimović in the central area as Rooney would when the former PSG striker drops deep, Mkhitaryan is blessed with tremendous pace and is an accomplished finisher with either foot – evidenced by the fact that, in addition to leading the Bundesliga in assists, he also scored more than 20 goals in all competitions last – which means he would be able to run in behind the opposition defence, into the space vacated by the number 9, and provide a through-ball target for Ibrahimović.
In addition, Mkhitaryan's attacking weaponry is so vast and comprehensive that he could also offer a third option of taking on his opposing full-back around the outside and crossing for Ibrahimović, or Anthony Martial who could arrive at the far post from his left wing position.
Many observers are of the opinion that Mourinho is tied to the 4-2-3-1 formation and will be unwilling to bend to suit the skillsets of his new charges. But the Portuguese coach is the ultimate pragmatist: he will be able to see that his most talented players would benefit from a change of shape.
And as great of a player as Wayne Rooney has been for United, at this stage of his career, he no longer fits into the Red Devils' strongest eleven.
With their impressive new signings, a shift to 4-3-3 could see United restored to the top of English football once again.
Thank you for reading 5 articles this month* Join now for unlimited access
Enjoy your first month for just £1 / $1 / €1
*Read 5 free articles per month without a subscription
Join now for unlimited access
Try first month for just £1 / $1 / €1