Master vs apprentice: 7 times managers faced off against former assistants
Carlo Ancelotti goes head-to-head with Zinedine Zidane as Bayern Munich take on Real Madrid, the latest in a long line of managers to take on a former assistant. But who's had the upper hand?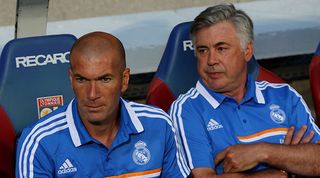 1. Louis van Gaal vs Jose Mourinho
The Manchester United super-managers first worked together at Barcelona, when they won two La Liga titles – Mourinho working as Van Gaal's assistant. The Dutchman played a mentoring role, encouraging the young Portuguese to go into management.
There are echoes of his prickly man management style in the way Mourinho deals with his players. Admittedly, he's yet to drop his trousers to make a point during a training session. As far as we know, anyway - is this why Luke Shaw looks so traumatised?
Mourinho took the best parts of the Dutchman's approach, but with a more pragmatic style. As the Dutchman once observed: "He trains to win. I train to play beautiful football and win. My way is more difficult."
Van Gaal had cause to rue his creation, as the pair faced off in opposing dugouts for the first time in the 2010 Champions League final. Van Gaal's Bayern Munich were slight favourites. Mourinho's Inter were the poorer team on paper, but had stunned Barcelona in the semi-finals over two legs to reach the final in Madrid. What followed was a classic counter-attacking performance, Inter winning 2-0 with goals from Diego Milito.
Mourinho's Chelsea also got the better of the pair's two Premier League meetings: a heated 1-1 draw at Old Trafford followed by a 1-0 Chelsea win at Stamford Bridge.
Verdict: A comfortable victory for Mourinho, the devious apprentice, with two wins and one draw from three meetings.
2. Jose Mourinho vs Andre Villas-Boas
As a semi-permanent scowl seemed to settle on Mourinho's once youthful visage, a new Portuguese manager seemed set to take his place as the next bright young thing. Andre Villas-Boas was Mourinho's assistant at Porto, Chelsea and Inter before they parted ways.
"In my formative moments working with Jose was the best time of my life – I was able to lean to many things and working with him takes you to another level," said Villas-Boas. "You fall in love with him and he becomes your idol."
Touching. Yet their relationship soured after AVB elected to launch his own managerial career - first at Academica, then following in Mourinho's footsteps at Porto (where he won a treble in his first season in charge) and Chelsea. They've faced off just once, a 1-1 Premier League draw at White Hart Lane in September 2013 during AVB's time at Spurs. He was sacked two months later.
Verdict: Honours even, although with AVB managing Shanghai SIPG after a spell at Zenit Saint Petersburg, it's clear that the master had the last laugh here. Mourinho also has a winning record (P1, W1) against Aitor Karanka, who was his assistant for three years at Real Madrid.
3. Alex Ferguson vs Steve McClaren
Manchester United chairman Martin Edwards introduced their new assistant manager as "Steve McClaridge" when he joined from Derby early in 1999, but he turned from unknown into one of the most coveted managers in the game after helping Alex Ferguson to three straight Premier League titles, and of course the treble. He'd initially hoped to succeed Ferguson when the Scot initially announced his retirement in 2001 – interesting alternative reality for you to imagine, there – but opted to join Middlesbrough after Fergie changed his mind.
Sir Ferg had a habit of crushing teams managed by his former players – Steve Bruce was a constant victim – but McClaren's record actually stands up pretty well. They faced each other 12 times in a five-year period, with five wins each and two draws. Boro even dumped United out of the FA Cup in the fourth round in 2002, while a 4-1 win at the Riverside with goals from Gaizka Mendieta and Yakubu also stands out.
Verdict: Dead level, but a moral victory for the much-maligned McClaren: not many managers have an equal head-to-head record with Alex Ferguson.
4. Brian Clough vs Peter Taylor
Together, they pulled off some of the greatest achievements in the history of English football. First at Derby County, then with Nottingham Forest – but their relationship soured. Taylor retired in 1982, leaving Clough at Forest, but returned to football in November of that year as manager of second division Derby.
The pair ignored each other completely when their sides were drawn together in the FA Cup third round in January. Former Forest star Archie Gemmill sealed a 2-0 win for the Rams, and Forest's players said they'd never seen Clough as angry as he was after the game.
In June 1983, they fell out completely when Taylor signed John Robertson from Forest without telling Clough. Ol' Big Head attacked his former assistant in a newspaper column, calling him a rattlesnake. "We pass each other on the A52 going to work on most days of the week," he wrote. "But if his car broke down and I saw him thumbing a lift, I wouldn't pick him up, I'd run him over"
The pair never spoke again, to Clough's great regret. Four years after Taylor's sudden death in 1990, Clough dedicated his autobiography to him, writing: "To Peter. Still miss you badly. You once said: 'When you get shot of me there won't be as much laughter in your life.' You were right."
Verdict: Taylor, who deserved a better title than just 'assistant' edges it, but in truth they were always better together.
5. Louis van Gaal vs Ronald Koeman
There's no denying Louis van Gaal was a good mentor, but he's also pretty good at riling people up, as his rivalry with former assistant Ronald Koeman demonstrates. The pair worked together at Barcelona, but fell out at Ajax – where Koeman was manager and Van Gaal the director of football – over the prospective sale of Zlatan Ibrahimovic, and what Koeman saw as interference from the older man.
They met in opposing dugouts for the first time in 2006 in the Eredivisie. Koeman was at PSV Eindhoven, Van Gaal at AZ Alkmaar, and followed that up with four Premier League meetings between Manchester United and Southampton.
"We had really strong fights about the way of playing, about the future of the club and it wasn't really nice at that time," said Koeman of their time at Ajax. "OK, we shake hands, but we don't see each other outside of football. We're not the best of friends."
Verdict: The head-to-head record stands at three wins a piece, but Koeman can be the more satisfied of the two courtesy of his two victories at Old Trafford.
6. Harry Redknapp vs Glenn Roeder
The prospects were looking pretty grim for Glenn Roeder, who had been out of the game for two years following disappointing managerial spells at Gillingham and Watford, before Harry Redknapp offered him a lifeline.
"I took him on to do a bit of coaching and help with the reserves," said Redknapp. He appointed his friend as a coach at West Ham, and two years later Roeder was catapulted into the hot seat when Redknapp departed the club in 2001.
Five years later, they played a series of games when Roeder was in charge of Newcastle and Redknapp at Portsmouth. Surprisingly, Roeder won the first three meetings – two in the league and one in the League Cup – without conceding a goal, before Redknapp salvaged some pride with a 2-1 win in April 2007. Roeder was sacked a few weeks later.
Verdict: A rare triumph for Roeder, who is currently a managerial advisor at Stevenage. Harry Redknapp is currently spending some time out of the game, after managing literally every club within a two-and-a-half hour drive from his house (plus Jordan).
7. Neil Warnock vs Kevin Blackwell
It's hard to imagine anyone enjoying a long and pleasant working relationship with the man anagram enthusiasts call 'Colin Wanker', with his face like an old lady scowling at someone on a bus. But Kevin Blackwell managed it.
Warnock initially signed the goalkeeper for Scarborough in 1986, and took him with him when he moved to Notts County – where he made no appearances in three years – and then to Torquay. Clearly in the grips of some kind of Stockholm Syndrome, he kept following Warnock – to Huddersfield, then Plymouth Argyle, where they briefly parted ways.
They linked up again at Bury, where Blackwell was appointed goalkeeping coach, then at Sheffield United where he worked as assistant manager for the first time. From there, their paths diverged, but they'd meet again on opposing sides on nine occasions between 2004 and 2009 – mostly at Leeds and Sheffield United, although both men have managed both teams, so it's an absolute nightmare working out the head-to-head.
Unlike many of the former colleagues we've looked at here, the pair are still on speaking terms, which is nice. In fact, Warnock (in reality quite a likeable chap) brought Blackwell back to Leeds as his assistant, despite the fact he'd previously sued the club for unfair dismissal.
"I brought Blacky because I knew he'd get some stick! Whereas I didn't get any!" Warnock said. They're working together again now at Cardiff City.
Verdict: Warnock has the upper hand. He took two wins and two draws against Blackwell's Leeds as Sheffield United boss, before moving to Crystal Palace, where he got two draws and a defeat against Sheffield United, who now had Blackwell in charge. Then with QPR, Warnock managed a draw and one more win.
Quizzes, features and footballing fun
Get the best features, fun and footballing frolics straight to your inbox every week.
Thank you for signing up to Four Four Two. You will receive a verification email shortly.
There was a problem. Please refresh the page and try again.