Scouted: 9 Eastern European wonderkids being chased by the continent's big guns
Nemanja Grbic evaluates the most talented players from ex-Yugoslavia whose names are on the wishlists of Europe's biggest clubs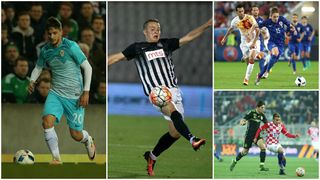 The countries from former Yugoslavia (Slovenia, Croatia, Bosnia & Herzegovina, Serbia, Montenegro, Macedonia) have long enriched football with some of its finest talents.
Their national leagues may not be considered among the strongest in Europe – especially since Yugoslavia's break-up in the early 90s – but they have proved to be fertile grounds for growing young footballers. This summer we have seen Andrija Zivkovic going to Benfica, Marko Pjaca signing for Juventus and Marko Grujic joining Liverpool.
Here's who might be next...
1. Petar Stojanovic (Dinamo Zagreb, right-back)
Stojanovic surprised everyone when he decided to join Dinamo Zagreb in January, as he was constantly on the radars of many English, German and Portuguese clubs during his time at Maribor.
The Croatian champions splashed around €2 million up front to sign him, and after a period of adaption the Slovenian defender is slowly justifying the fee invested in him.
In his early days, Stojanovic was considered a wide midfielder and known for his good passing and crossing, but as time has passed by he's demonstrated that he is more than capable of successfully fulfilling defensive duties and was eventually moved to right-back – now considered his natural position.
If the 20-year-old continues to build on his performances and progress as a player, there's no doubt the big boys will be knocking on his club's door soon.
2. Srdjan Plavsic (Red Star, attacking midfielder)
Following Grujic's departure to Liverpool, Plavsic is quickly becoming one of the most important players at Red Star. He is nicknamed 'Atom Ant' due to his slight build (5ft 4in) but also because of his incredible performances on the pitch.
The diminutive midfielder possesses great pace, a wide range of passing and perhaps most notably, a cannon of a left foot with which he torments opposition goalkeepers from distance.
Last season was respectable as he notched two goals and 13 assists, helping Red Star to finish the season as league champions. However, it is widely expected that he will continue to impress and become the main figure of his team in 2016/17.
3. Dusan Vlahovic (Partizan, striker)
A month before his professional debut in February, aged just 15, Vlahovic was being tracked by Europe's top teams. Italian scouts were dubbing him the new Zlatan Ibrahimovic.
Such comparisons are exaggerated, but nevertheless scouts from Juventus, Arsenal, Manchester City and Anderlecht were often seen attending Partizan's matches in the second part of last term. Not only did they witness Vlahovic become the youngest player in Partizan's history, they also saw the teenager announce himself as his club's youngest goalscorer too.
#mcfc scout watched 16yo Partizan FW Dusan Vlahovic again in 0-0 with Zaglebie Lubin last Thurs...on as sub for last 20 mins— Scouts in Attendance (@scoutsattending) July 27, 2016
Standing tall at 6ft 3in and with unusually neat technique for a player of his stature, it's easy to understand why Vlahovic is drawing comparisons with Ibrahimovic. However, to get anywhere near the famous Swede's level he will have to work hard and continue his development. Considering how much he has already achieved in such a short time, Vlahovic is definitely worth keeping an eye on.
4. Armin Hodzic (Dinamo Zagreb, striker)
Liverpool signed Hodzic when he was 16 in 2011. He spent two seasons at Anfield but never really got the chance to prove himself, during a stint plagued with injuries and work permit issues. He spent more time on loan to his former club Zeljeznicar than on Merseyside – but the Reds might start to regret their impatience.
Dinamo Zagreb have a scent for potential, and signed Hodzic in 2014. They're now reaping their rewards. The Bosnian poacher netted 18 goals last season and established himself as the best striker in the region. He is expected to be the heir of Edin Dzeko, but even though they share the same eye for a goal, Hodzic is a different player. The fleet-footed hitman is comfortable playing outside the box and regularly dribbles past his opponents.
Trabzonspor'la adı geçen Armin Hodzic. pic.twitter.com/U3l9WpRukW
— Serdar (@TSerdarS) March 31, 2016
5. Fran Tudor (Hajduk Split, winger)
Tudor is actually a utility player. Wherever the coach needs him, he will play there – and to an exceptional level too. It's why there was a lot interest in him from Serie A clubs last season, as he became likened with Alessandro Florenzi who has been operating the same role for Roma.
After he failed to make a breakthrough in Greece at Panathinaikos, Tudor returned to his homeland in the winter of 2015 for a Hajduk team coached by his distant cousin and former Juventus player, Igor Tudor. However, that didn't work out as planned – Fran was sent to Hajduk's B side and would stay there until the first team replaced Igor as manager.
When Fran was promoted to the first team, he instantly won over his new boss. His work-rate, leadership and mature performances led to him becoming a fan favourite. In the last few months, Everton and West Ham have joined the growing list of potential suitors.
6. Marko Rog (Dinamo Zagreb, midfielder)
Rog is one of the most gifted players in Croatia and was a member of the national team at Euro 2016. He played 82 minutes against Spain and helped his side achieve a memorable 2-1 victory over the then-reigning champions.
The 2013/14 season was his first professionally, and he managed some stunning statistics – in the 30 appearances he made for Varazdin (in Croatia's third tier), he scored 17 goals and carved out 10 assists. He moved to RNK Split the following season, quickly becoming their best player before moving to Dinamo last summer.
Due to his versatility he's been used across the midfield in Zagreb, and shown no signs of discomfort wherever he plays.
However, he might not stay at Dinamo past the end of this summer – there have been lots of offers for him, with Napoli keenest.
7. Nikola Vlasic (Hajduk Split, attacking midfielder)
In January this year, Vlasic Snr admitted that the family had rejected a chance for their son to make a record-breaking move to a Premier League club. They thought that Nikola should remain at Hajduk so his transfer wouldn't interfere with his sister Blanka's preparations for the Olympics (she competes in the high jump). Tottenham, Chelsea and Arsenal were reportedly among the clubs to have made €10m bids.
True or not, one thing is certain – Vlasic's talent is undeniable.
At 16 years and nine days old he made his professional debut against Dundalk and managed to net too, becoming Hajduk's youngest scorer in European competition. He has already amassed 75 appearances for the club and, starting from this season, he will lead his team as captain despite still being only 18.
When you watch Plavsic play it's no wonder why. He shows incredible maturity for a player of his age and has the mind and calmness of an experienced international player. Creative and dynamic at the same time with good ball control, Plavsic possesses all the ingredients to become a complete and quality midfielder.
8. Nemanja Mihajlovic (Partizan, winger)
Mihajlovic joined Partizan last summer and missed most of the first half of the season due to irregularities with registration rules in Serbia's top tier. Still, that didn't stop him achieving impressive numbers at the end of it: 10 goals and 17 assists from 25 games in all competitions.
The 20-year-old is everything you could ask for from a winger: quick, with excellent dribbling and an eye for a goal – and arguably even better for assisting his team-mates. Mihajlovic has it all.
He is yet to make a debut for Serbia, but that will happen in the near future. If he continues with this kind of form it's highly unlikely that Partizan will be able to fight off interested parties for much longer.
9. Ante Coric (Dinamo Zagreb, attacking midfielder)
The most known name on this list and arguably the most talented – Coric has been known by Europe's biggest clubs from practically the moment he kicked a ball for the first time. Barcelona, Real Madrid, Bayern and almost all of the top Premier League clubs have shown interest in the young Croatian, and made attempts to lure him away from Dinamo Zagreb.
It appears, however, that Coric is still uninterested in leaving his homeland and will prolong his stay for a little bit longer.
The list of his individual strengths is a long one, and it's a bit scary when you realise how fast he's improving as a player. With great control of the ball, a wide range of passing, terrific dribbling and a threat from set-pieces, he simply boasts everything a proper No.10 needs and influences games with devastating effect.
More features on FFT.com every day • The world's hottest prospects scouted
Thank you for reading 5 articles this month* Join now for unlimited access
Enjoy your first month for just £1 / $1 / €1
*Read 5 free articles per month without a subscription
Join now for unlimited access
Try first month for just £1 / $1 / €1