Was your star player signed because of how good he is or how many shirts he sells?
Global branding plays an important role for clubs around the world. Manny Otiko investigates just how important...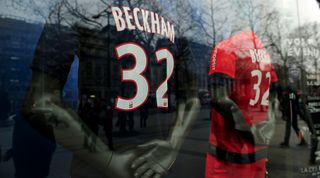 When your favorite Premier League team decides to sign a new striker, they buy him because he can stick the ball in the back of the net. But is that the only reason? As the commercial aspect of football becomes increasingly important, do clubs really look at marketing value when acquiring a player?
Manchester United snapped up Javier Hernandez because he was a top-notch striker. However, after they signed him, more and more Mexican Americans were wearing Red Devils shirts with his name emblazoned on the back.
Shifting shirts has been an important part of David Beckham's transfers over the years. According to American business publication Bloomberg, sales of Adidas MLS gear tripled after he was signed by LA Galaxy, and half of that was Beckham-related clothing.
When the ex-England skipper signed for Real Madrid, it led to a 62% increase in shirt and merchandise sales.
Asian power
Ishveen Anand, founder of OpenSponsorship, a Manhattan-based sports marketing agency, says the idea of a top team signing a player just to sell shirts is more myth than reality. "It has to be due to talent primarily - there would be too large a backlash from the fans if players weren't able to perform on the field. And for any club, success is the primary focus for fans, commercial partnerships and increased revenue from TV and leagues," says Anand, who has worked in sports marketing in India and England.
Steve Olenick, an American lawyer who has represented several professional athletes, agrees. "Teams definitely look at marketability and whether the player will resonate with bringing in marketing dollars and brand recognition," Olenic says. "However, talent drives signing a player."
That said, a player's marketability in football growth regions does play a role when teams analyse potential signings. Some Premier League clubs have signed Asian players like Swansea's Ki Sung-yueng and former Manchester United midfielder Park Ji-Sung, who is now one of the club's global ambassadors.
"There definitely seems to be positive discrimination towards those players from the attractive regions in terms of sponsorship, namely Asia," says OpenSponsorship's Anand. 
Matt House, CEO and founder of sports marketing agency SportQuake, and formerly of Tottenham and Sky Sports, notes that about half the shirt sponsors of Premier League teams are Asian brands.
Social media wins
Many Premier League clubs are now investing in social media to increase brand awareness in Asia. Some are marketing heavily on Weibo, a Chinese micro blogging site with more than 300 million users.
Manchester City and Manchester United both have more than eight million followers on Weibo. According to SportQuake, 27 million Chinese football fans follow a Premier League team on the social media site, though only 10 English top-flight teams are accounted for.
Olenick says social media is becoming an essential branding tool for teams and players. "Brands are always looking for celebrities/athletes with a big following, in terms of building awareness and getting their brand out there," he says. 
"Social media is hugely important for a good sponsorship campaign," adds Anand. "It's easier to implement and scale; it's cheaper to get a campaign out via social media than TV or radio.
"One platform reaches everyone, whereas with TV each country has their own broadcast channels. So building social media campaigns with players is growing and will continue to do so."
While China, with its one billion-plus population, is a huge market, many Premier League teams are also looking at the US and its 310 million people. Several clubs now do yearly summer tours and Premier League games are shown on NBC-related channels. Anand says OpenSponsorship is currently trying to match Southampton with American corporate partners.
Football economics
SportQuake's House says: "The U.S. is an attractive marketplace for the Premier League because it understands brands, it's a mature economy and we speak the same language. It's easier to negotiate."
Olenick added that while MLS is drawing some big names, America still can't compete with the rest of the world in terms of pay. "MLS will not pay the big salaries in Europe, Asia, Russia, or the Middle East," he notes. "In terms of worth to English clubs, a lot depends on the calibre of the player.
"A top goalkeeper could mean a lot, or an impact forward. Clubs can make a lot of money touring in the United States. The team may receive an appearance fee for an exhibition game. The bigger the club, the bigger the draw, the bigger the fee."
According to Olenick, apart from North America and Asia, another little-known growth market is the Middle East. "A lot of big money is being offered in Iran," he says. Africa, with its growing middle class and passionate fanbase, is another big growth region. "A large reason for Barclays' sponsorship of the Premier League was to capture the African market. Africa could soon be a bigger player," Anand concludes.
Quizzes, features and footballing fun
Get the best features, fun and footballing frolics straight to your inbox every week.
Thank you for signing up to Four Four Two. You will receive a verification email shortly.
There was a problem. Please refresh the page and try again.