10 huge players who are currently going on free transfers in summer 2018
We've scoured Europe to reveal the star names who'll be out of contract next June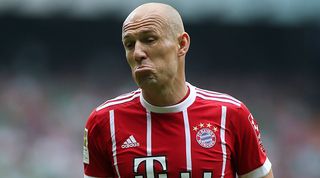 The transfer window closed a fortnight ago after what seemed like a never-ending summer of rumours, insanely expensive deals and everything in between. We've now dusted ourselves down to get ready for a prolonged period of club football – but fans are still pondering future movement; particularly those whose contracts are soon to expire.
The Bosman rule states that foreign clubs can approach a player freely once he enters the final six months of his contract, whereas domestic outfits have to wait until its expiration. Below are 10 exciting players who will be available to overseas sides in just three-and-half-months' time.
We've left Lionel Messi out because his Barcelona extension looks like a formality, but there are still some fine footballers who could be up for grabs as things stand.
10. Marcos Llorente (Real Madrid)
Llorente shone on loan for Alaves last term and has returned to battle for minutes under Zinedine Zidane. However, with the likes of Casemiro, Luka Modric, Toni Kroos and Mateo Kovacic competing for game time in midfield, the 22-year-old has his work cut out.
What happens next? Chelsea and Spurs have both been heavily linked to the talented anchorman, with reports suggesting Real Madrid could cash in come January to avoid losing Llorente for a small compensatory fee.
9. Leon Goretzka (Schalke)
The powerhouse midfielder looks unlikely to extend the contract he signed in 2013 when he joined Schalke from Bochum. Goretzka's performances have dramatically improved this calendar year and many believe it's time for him to take the next step in his career.
What happens next? Jurgen Klopp is a big fan of the 22-year-old, who could follow in former team-mate Joel Matip's footsteps by moving from Schalke to Liverpool on a free. Bayern Munich are also hovering, however, as they often do when top German talent is involved.
8. Jose Gimenez (Atletico Madrid)
The brutish Uruguayan spent much of last campaign on Atleti's bench behind Diego Godin and Stefan Savic, but he appears to have climbed above the latter in this season's pecking order. Once regarded as the best young centre-back in the world, Gimenez may be more willing to extend his deal if he keeps his place in the team.
What happens next? Atletico suits Gimenez, and vice versa. He's previously been linked to Manchester United, but there's no better manager to help him fulfil his potential than Diego Simeone.
7. Alassane Plea (Nice)
The feisty Frenchman is comfortable either wide left or as a centre-forward, having bagged 14 goals in all competitions in 2016/17. He has three from five games this term, proving he's picked up from where he left off.
What happens next? At 24, Plea will be a very attractive Bosman option for most clubs; mid-table Premier League sides will no doubt be monitoring his situation closely. West Ham wanted the attacker in 2016, so the chance to acquire him for nothing will surely be attractive to the Hammers.
6. Ross Barkley (Everton)
Once regularly linked with £50-60m moves to Manchester United and Arsenal, Barkley's stock has fallen after a disappointing 2016/17 campaign. Although he failed to secure a move away in the summer, it would be a surprise if the midfielder penned fresh terms at Goodison Park.
What happens next? A January move to Spurs looks most likely: Everton would get a transfer fee and Tottenham would secure the Englishman without having to battle a host of other clubs for his signature next summer.
5. Arjen Robben (Bayern Munich)
Still one of Europe's best wingers at the ripe old age of 33, Robben would be an asset for any Champions League side thanks to his scintillating pace and unerring ability to cut inside and shoot with his left foot.
What happens next? Bayern will probably offer Robben a one-year extension, but the winger could turn down the offer if he finds himself on the bench more than the pitch. Besides, the Dutchman may fancy one final adventure; a return to the Premier League, perhaps, or a move across the Atlantic to MLS. The latter is surely too premature for a player of his quality.
4. Emre Can (Liverpool)
Can has been nothing short of exceptional this calendar year, combining aggressive power with slick technical skills. Liverpool fans are therefore worried by the contract impasse; the sticking point is that the player wants a release clause in his new deal, but the club are rather less keen for obvious reasons.
What happens next? Liverpool are very stubborn negotiators (just ask Philippe Coutinho), and could perhaps afford to lose Can considering Naby Keita is on his way next summer. Juventus are interested and will probably make their move in January if nothing has been signed by then.
3. Ander Herrera (Manchester United)
United's player of the year in 2016/17 has become a less vital cog in Jose Mourinho's machine since the arrival of Nemanja Matic. The Spaniard has only started one league game this term, which could affect his thinking in contract negotiations.
What happens next? United fans love Herrera and reports were rife in July that he was set to sign a bumper new deal to ward off Barcelona. Reports say contract talks with United have begun, but Barça might be tempted to return in the new year if the situation remains the same.
2. Mesut Ozil (Arsenal)
If Ozil was going to renew his Arsenal contract, he surely would have done it by now. Discussions have dragged on for over 12 months, but pen hasn't been remotely close to paper during that time. An exit next summer now looks inevitable. "The contract talks have slowed down a little bit since August 31, because we need a little breather and to focus on the competition," Arsene Wenger said this week. "But we will slowly get back into that."
What happens next? A move back to Germany, where Ozil is enormously appreciated, would work well. Borussia Dortmund have a plethora of attacking midfielders but perhaps none with his guile.
1. Alexis Sanchez (Arsenal)
RECOMMENDED
LONG READ Being Paul Pogba – life as football's most scrutinised superstar
FEATURE What the heck happened to Gael Kakuta?
The Chilean was desperate to move to Manchester City in August, but Arsenal refused to sell after failing to secure Thomas Lemar as a replacement. Sanchez will knuckle down in the meantime, but he'll surely be out of the Emirates at the next possible opportunity.
What happens next? The foreign club ruling means Bayern Munich, Juventus or even Barcelona could steal a march on City in the race for Sanchez's signature. Arsenal may decide to sell in January, but they won't get £60m for him in the final six months of his contract.
Thank you for reading 5 articles this month* Join now for unlimited access
Enjoy your first month for just £1 / $1 / €1
*Read 5 free articles per month without a subscription
Join now for unlimited access
Try first month for just £1 / $1 / €1