Fantasy Premier League bargains: cheap defenders, midfielders and forwards for tight budgets
You've selected your dream squad, sat back smugly and basked – until realising you're still a man short and haven't got the cash. But help is on hand...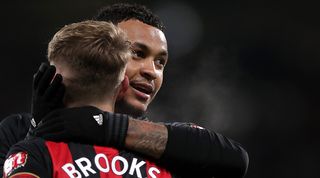 Save the following date and time on your phone: Friday, August 9, 6pm. Mark it as important, highlight in red, include an asterisk or two and your emoji of choice. The deadline for Gameweek 1 is 7pm, so if all else fails you've got a one-hour warning to get your squad sorted in preparation for the big kick-off. 
The budget of £100m to pick a squad of 15 players remains the same, but that won't stop you trying to cram in the high-value players like Mohamed Salah (£12.5m), Harry Kane (£11m), Pierre-Emerick Aubameyang (£11m) or Raheem Sterling (£12m) before realising you don't actually have enough budget remaining to hit 'save' on a completed squad.
Defenders • Midfielders • Strikers
Defenders 
Tackled by Ryan (aka @FantasyYIRMA)...
Andy Robertson and Trent Alexander-Arnold may once again be a great fantasy picks, but with both priced at a whopping £7m you really will have to hunt out the bargains to accommodate them. 
With stoppers, it's pretty straightforward. Will they play? Do they have clean sheet potential? Can they provide an attacking threat?
Strong word of warning: it's slim pickings at this price bracket and there's no magical Aaron Wan-Bissaka starting off at £4.0m to save us this year...
SEE ALSO 27 essential Fantasy Premier League tips from old winners and experts
1. Lewis Dunk, Brighton (£4.5m)
If Harry Maguire completes a proposed Cristiano Ronaldo-esque £80 million transfer to Manchester United, then there's every chance that Leicester could come in with a daft bid for Dunk. It's all speculation at this point, but regardless: at £4.5m in fantasy land, the 27-year-old is a guaranteed starter in Brighton's defence alongside Shane Duffy – who at £5m is too expensive for this barrel-scraping selection.
Two goals and one assist last season means he's not completely toothless in front of goal, so while it's unlikely that new boss Graham Potter will ever deploy the 6ft 3in one-cap England international up front, he should get easy minutes on the board. A viable, playing option to warm your fantasy bench and free up funds elsewhere.
2. Ahmed Elmohamady, Aston Villa (£4.5m)
A welcome return to the league for former Hull and Sunderland defender Elmohamady, who posted 114 points back in 2014/15 with two goals and five assists for a Tigers side that finished 16th. It's as close to impressive in this list as you're going to get.
Tickle Me (they must call him that) contributed two goals and eight assists in the Championship last season as Aston Villa secured their big top-flight return. Twenty-six of his starts last season came at right-back, with a further 13 coming further upfield – potential here for a coveted 'out of position' fantasy pick. And there's more, stats fans: Elmohamady posted 53 key passes last season, ranking him 38th in the Championship. For a defender, that's not too shabby.
The 31-year-old also chipped in with two goals in four games at the recent Africa Cup of Nations, putting him level on goals for the tournament with a certain Mr. Mo Salah. 
3. Joel Ward, Crystal Palace (£4.5m)
Last season we tipped Wan-Bissaka as a £4.0m bargain basement must-have for Crystal Palace, and duly patted ourselves on the back for the rest of the year. And how times have changed: the youngster has since made a £50 million move to Manchester United.
Back in FPL, that presumably leaves Ward to pick up the pieces at right-back. He was very much a utility man last season and deployed in various places across Roy Hodgson's back four, making just six starts. 
His defensive team-mate Martin Kelly (£4.0m) is owned by over 20% of teams, which is frankly mad. To translate: fantasy managers picked a squad of 14 players and had £4.0m budget left for a final defender they've heard of. Sure, there are injury doubts over both Mamadou Sahko and James Tomkins, but he won't be a long-term solution.
Unless Palace sign another right-back in the coming weeks, we should be looking at Ward as another £4.5m starting option to sit snugly on your bench. It's worth keeping an eye on how Hodgson lines up his defence over pre-season.
4. Max Aarons, Norwich, (£4.5m)
If Aarons makes a summer move from Norwich to Crystal Palace in the next three weeks (for some reason), please discount the previous pick. The exciting 19-year-old notched up two goals and six assists last season, helping his club to promotion and himself to three of the following four individual accolades: 
EFL Young Player of the Year 2018/19 – Check
EFL Team of the Season 2018/19 – Check
Britain's Big Celebrity Love Get Me Out Of Here Brother Talent Island 2018/19
PFA Team of the Year: 2018/19 Championship – Check
Norwich tied him down to a new five-year deal this month, after Aarons emerged as a speculated transfer target for the likes of Manchester United and Tottenham. 
Critically, Norwich start the season at Liverpool, so admittedly a captain shout for GW1 he is not. However, Luis Suarez has long since left Anfield so the hopeful Canaries are instantly better off than in their last top-flight jaunt.
5. Rob Holding (Arsenal)
God help Arsenal fans if they have to rely on Shkodran Mustafi for another season. Holding, before his 2018/19 campaign was cruelly cut short by a long-term knee knack in December, was actually looking like the Gunners' best defender.
He'll need some work in pre-season but it shouldn't be too long before the ex-Bolton stopper returns to help his side . And when he does, there's a good chance he'll start to partner Sokratis: Mustafi is… well, Mustafi; Laurent Koscielny would rather be anywhere else; Calum Chambers' future is unclear; and Konstantinos Mavropanos remains a little raw. 
Worst case, he doesn't start and you switch him out for one of the above. Easy.
Midfielders
Up next...
Defenders • Midfielders • Strikers
Taken on by Mike Phillips (aka @BangAverageMike)...
There's a good argument that midfielders are the most important element of your fantasy side. Last season, the top three scoring players all fell into this category (Mo Salah, Raheem Sterling and Sadio Mané) and are sure to be highly owned again this time.
You're looking for a player who gets regular minutes, preferably shows some attacking intent and doesn't play for a team likely to get thumped every week. Price limit at a miserly £6.5m...
1. Ayoze Perez, Leicester (£6.5m)
The 25-year-old Spaniard is coming off his most productive Premier League season yet, with 12 goals and two assists for Newcastle last year – and now he'll be surrounded by greater quality at the King Power Stadium. 
Perez's adaptability should mean Brendan Rodgers easily finds a spot in the starting XI for him, either alongside or just behind Jamie Vardy. With the impressive James Maddison (£7.0m) and Youri Tielemans (£6.5m) supplying from deeper positions, the Foxes' midfield looks pretty exciting indeed. 
Tielemans is a fine budget option himself, but Perez's additional goalscoring threat means he wins the tiebreaker. While the Spaniard may have overachieved last year, that should balance itself out with an increase in assists alongside Vardy.
2. Manuel Lanzini, West Ham (£6.5m)
Another side with a fine-looking engine room. West Ham's major injury problems seem to be behind them for now, and there are several interesting options. Felipe Anderson (£7.0m) had an excellent 2018/19 campaign, but the slight discount for Lanzini and significantly lower ownership make him more attractive. 
Lanzini missed out on Argentina's Copa America squad but will benefit from a full pre-season after that horrible injury which kept him out for much of last term. After their opening game against Manchester City, the Hammers play only one team from the top half before mid-October.
Samir Nasri enjoyed some success at the end of the season in a central role, but West Ham generally struggled to replace Lanzini's creativity and talent through the middle. He should give Manuel Pellegrini's team a significant boost alongside the arrival of record signing Sebastien Haller from Eintracht Frankfurt – a probable upgrade on problem child Marko Arnautovic.
3. James Ward-Prowse, Southampton (£6.0m)
Southampton were revived under new manager Ralph Hasenhuttl during the second half of last season, and no one personified that improvement better than Ward-Prowse. The technically gifted central midfielder blossomed under new management, scoring all seven of last season's Premier League goals in 2019. Having created 46 chances last term, he would have expected better than zero assists.
While Danny Ings (£6.0m) retains penalty duties at St. Mary's, the striker managed only 21 starts last year because he's made entirely of glass and balsa wood. If and when Ings isn't available, JWP takes over and is first in line for free-kicks regardless – as he should be, given that he's one of the finest dead-ball specialists in the league.
4. Joao Moutinho, Wolves (£5.5m)
Moutinho's signing last summer was a coup for Wolves, even considering their 'strong' Portuguese connections. He didn't disappoint in the West Midlands, playing an instrumental role as they finished 7th, grabbing eight assists and 119 fantasy points. 
Moutinho is guaranteed starter each week and his assists weren't a fluke – he was in the top eight for expected assists (xA) last year, whereas Matt Ritchie (DF, £5.5m), came 40th in xA despite actually getting eight. That suggests Moutinho's success is likely to be duplicated next term, as does the fact that he is really good at football.
5. Emi Buendia , Norwich (£6.0m)
The young Argentine is the Canaries' heartbeat, and their success this season will hinge on him more than any other player. While the 22-year-old is far from the youngest player in Daniel Farke's starting XI, that's still a lot of pressure for the midfielder's debut Premier League season.
Luckily, he's well capable of living up to expectations. Buendia was a force of nature in the Championship, assisting 12 and scoring eight more in a magnificent campaign.
Mario Vranic (£6.5m) is more expensive, presumably based on his excellent output last year (10 goals, seven assists) in fewer minutes. But the underlying stats are all in the youngster's favour. As well as leading the team for chances created, he made more tackles than any other player – the type of stats that lead to bonus point goodness.
Honourable mentions: John McGinn (Aston Villa, £5.5m) could be a differential if he can bring his Championship form up to the next Level. Andros Townsend (Crystal Palace, £6.0m) is good value and may have more expected of him dependent on the Wilfried Zaha saga. Nathan Redmond (Southampton, £6.5m) provides a Saints alternative, while Alex Iwobi (Arsenal, £6.0m) is one to watch if Arsenal don't manage to sign a new wide player. 
Miguel Almiron (Newcastle, £6.0m) is an interesting option given his encouraging introduction to the league in January. Initial fixtures and Newcastle's current state leave him as one to watch for now, mind.
Strikers
Up next...Defenders • Midfielders • Strikers
Lovingly curated by Ryan from @FantasyYIRMA...
The consensus on a strategic approach tends to be having one or two premium strikers supplemented with a budget option in the third forward slot. We've set the limit at £6.5m for this, kicking off with...
1. Diogo Jota, Wolves (£6.5m)
Raul Jimenez took many of the plaudits last season off the back of his 13-goal/10-assist season, and rightly so. At a starting price of £7.5m, however, he's out of our price range for budget forwards so we instead turn attentions to his team-mate Jota. The young Portuguese forward had an impressive season of his own, contributing nine goals and eight fantasy assists.
It's all the more impressive when you consider that of his 29 starts last season, only 18 listed him as a striker. Nevertheless, Jota is one of 10 players the powers of Official FPL towers have recategorised, updating him from midfielder to forward. 
At £1.0m less than Jimenez and picked by a third fewer managers, Jota is positioned well to build on a successful first Premier League season.
2. Gerard Deulofeu (£6.5m)
Sticking with players who were midfielders last season, Watford's Deulofeu has also been switched for 2019/20 after posting career-best numbers of 10 goals and five assists from 26 starts last season. 
Talent has never been in question for the former Barcelona graduate, but consistent minutes on the pitch led to a raise in performance levels and he became a focal point of the Hornets' attack.
Watford face Brighton, West Ham and Newcastle within their opening five league games. A repeat of last season's four straight opening wins on the bounce seems unlikely, but it's fair to say Deulofeu will be looked at as an attacking talisman to lead the line. 
3. Ashley Barnes, Burnley (£6.5m)
Burnley are often overlooked from a fantasy perspective, and it's somewhat of a shame. Barnes may not be the most glamorous of forwards, but an impressive return of 12 goals last season is not to be knocked. 
The one-time Austria youth international posted the most shots and key chances in the league last season within this price bracket, and is an essential part of the Clarets' attack. A differential option for managers looking to balance their squad.
4. Josh King, Bournemouth (£6.5m)
King was adored by fantasy fans during the 2016/17 season, when he was hitting goals for fun while listed as a budget midfielder. Times have changed, however, and this will be his second consecutive season as a forward. A casual reminder that Mo Salah and Sadio Mané remain high-cost midfield options.
His team-mate Callum Wilson has been given a price boost to £8.0m, which leaves King looking good value at £6.5m. In addition, Bournemouth potentially have one of the best opening rounds of fixtures and start off their campaign against two of the promoted sides in Sheffield United and Aston Villa.
King will be looking to build on the 12-goal haul he managed last season and continue his strong partnership with Wilson. If Cherries boss Eddie Howe can keep Ryan Fraser at the club, there should be a steady supply of ammunition for the front pairing to fight over.
5. Dominic Calvert-Lewin, Everton (£6.0m)
The prospect of Everton starting the season without signing a new striker should be a good omen for Calvert-Lewin, who will be looking to increase his tally of 18 starts from 2018/19. Other front options for the Toffees include Cenk Tosun and Oumar Niasse (who isn't even listed in the game), so there's a good opportunity for him to get the minutes he needs.
Richarlison has been deployed in every attacking position, and it remains to be seen how manager Marco Silva uses the talented Brazilian this season. 
Again, it's a question of Calvert-Lewin taking his opportunities this season and making the front spot his own. In his favour, he has fantasy favourites Gylfi Sigurdsson and Lucas Digne helping to supply him. 
Honourable mentions: Southampton newb Che Adams (£6.0m) should expect to get games this season, and will be interesting to see if he can replicate his Championship form of 22 goals last season. From the promoted clubs, Sheffield United forward Billy Sharp (£6.0m) bagged 36 league goals over the last two Championship seasons but looks to be priced a little high.
Manchester United's young striker Mason Greenwood is selected by more than 10% of managers thanks to his £4.5m price tag. There's no doubt he's made an impact during pre-season, and transfer speculation around his team-mate Romelu Lukaku increases his chances of game time – but realistically, expect to see him limited to sub appearances at the start of the season. If he does manage to break through, sell one of your forwards, buy Greenwood, invest the remaining millions in a stock portfolio and take off to the Bahamas.
Following consecutive fantasy coverage across seven years and more than 250 gameweeks, FantasyYIRMA are confident in saying they've wasted a large portion of their adult lives on fantasy football. Follow them on Twitter (@FantasyYIRMA) and listen to their podcast Bang Average
While you're here, why not take advantage of our brilliant subscribers' offer? Get 5 issues of the world's greatest football magazine for £5 – the game's greatest stories and finest journalism direct to your door for less than a pint in London. Cheers!
NOW READ
RANKED! The 101 greatest football players of the last 25 years
LIST 10 overpriced transfers that absolutely worked out
QUIZ! Can you name the 26 highest-scoring Premier League players by letter of the alphabet?
Quizzes, features and footballing fun
Get the best features, fun and footballing frolics straight to your inbox every week.
Thank you for signing up to Four Four Two. You will receive a verification email shortly.
There was a problem. Please refresh the page and try again.