One player from EVERY Premier League club whose stock will soar in 2018/19
Youngsters, new signings and players ready to push on: these are the 20 Premier League stars set to really enhance their reputations across 2018/19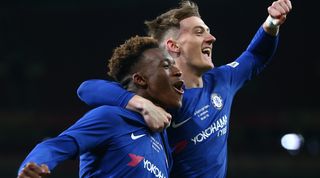 Arsenal: Lucas Torreira
It was surprising to see Torreira left out of Arsenal's first league game, because he so obviously embodies the dynamic qualities which this team have been crying out for – especially in matches against top-tier sides. Still, it's a long season and by its end the 22-year-old Uruguayan will almost certainly have become an irreplaceable part of the Arsenal midfield.
Cases could also be made for Ainsley Maitland-Niles and Reiss Nelson, but with Arsenal in flux and their future trajectory so uncertain, these are hardly the right conditions to blood younger players. In any case, Nelson might be heading off on loan before the European market closes.
Bournemouth: Lewis Cook
Cook is hardly on the fringes of the Bournemouth first team, having started 25 Premier League games last season. Nevertheless, there's still so much more to come from him and, should the 21-year-old and his team enjoy a good year, there's every reason to believe that it might end with an England cap or two.
As the World Cup demonstrated, there's a shortage of homegrown England players who are truly comfortable on the ball in deep positions. Cook is one of those. His defensive abilities remain a work in progress, as do Bournemouth's generally, but improvements around him over the summer should help. When he reaches maturity, he'll be one of the most cultured possession players in the country.
Brighton: Yves Bissouma
Bissouma cost £15m from Lille, so he's hardly emerging from nowhere, but few will have heard of him and he could be one of the finest signings made in years. His career remains embryonic and, having never played in the Premier League before, the 21-year-old midfielder is entitled to an adjustment period. However, his combination of technique and brawn should make him a big hit on the south coast.
If Brighton struggle, English fans are unlikely to see the very best of him, but as and when they're on the front foot - or transitioning between defence and attack - the full breadth of his skill set will become clear.
Burnley: Ben Gibson
Talk about the right player in the right place. Burnley spent £15m on Gibson, nephew of Middlesbrough chairman Steve, so he's not exactly flying under the radar. Nevertheless, an orthodox British centre-half playing for Sean Dyche is clearly good news and the existing system at Turf Moor, with all the protection it provides, should nurture Gibson nicely.
The challenge for him will be displacing either James Tarkowski or Ben Mee, both of whom have been excellent for a long time and who each have their manager's full trust. Should Gibson achieve that, though, he's another who can expect to be fielding calls from Steve Holland and Gareth Southgate.
Cardiff: Bobby Reid
He's 25, but Reid will provide a nice, gentle contrast to the players around him. Neil Warnock has built his side on power, and if they are to survive it will be because of that muscle.
Yet the £10m signing from Bristol City is clearly a fine player, one who belongs at this level, and also someone whose selfless running and neat touches around the penalty box could add some valuable subtlety to Cardiff's season.
Chelsea: Callum Hudson-Odoi
A caveat: Hudson-Odoi's breakout season might come away from Stamford Bridge. Chelsea retain an aversion to young players and, despite having been so impressive in the Community Shield, the forward wasn't even included in the matchday squad for the league opener at Huddersfield.
Still, this is a real player. Direct and fearless, skilful and not shy of pulling the trigger, Hudson-Odoi is startlingly accomplished for a player of just 17 years old. A season in the under-23 league would do him no good really, so here's hoping Maurizio Sarri either breaks the party line on academy products or Chelsea are able to place him somewhere smart for the year.
Crystal Palace: Aaron Wan-Bissaka
First seen last season, the 20-year-old defender experienced some tough days out of position when he first broke into the side. It also shouldn't be discounted that Palace spent much of 2017/18 in turmoil and were only certain of their safety a few weeks before the end.
Still, difficult as it was, the experience seems to have done Wan-Bissaka some good. Capped by England's U20s earlier in the year (even if he was sent off on that debut), he has begun the new campaign brilliantly, nullifying Fulham's potent left side at Craven Cottage and making the right-back slot his own.
Wan-Bissaka faces some very stiff international competition, as England aren't short of full-backs, but Palace seem to have finally found a long-term solution to their issues in his position.
Everton: Tom Davies
Hmm. Davies has been in the Promising Young Player category for so long now, and the momentum he needs to break out of it remains elusive. Ademola Lookman has a chance of a good season, but Richarlison's arrival is probably an extra layer of competition he could do without. While Kieran Dowell has an exciting future ahead of him, this season will likely be a little too soon for him to make an impact.
So it's down to Davies, and surely one of these Everton managers could find a use for the talented 20-year-old? Particularly given Morgan Schneiderlin's meagre form and declining value.
Fulham: Ryan Sessegnon
Not much competition here. The 18-year-old Sessegnon is one the brightest talents English football has seen for some time and, having been a mighty force in the Football League, this first Premier League season will provide a useful measure of his progress.
What he ultimately achieves will depend on the performance of the team as a whole, though, because Sessegnon is more component than pure individual. His best work is seen in well-timed runs on the left, measured finishing and cutting through-balls, so it remains to be seen whether he's afforded a proper stage by his side.
Huddersfield: Philip Billing/no one
That's not 'no one' because Huddersfield are a hopeless case, but because it's hard to see any conditions under which their style promotes an outstanding individual breakthrough. Billing remains interesting. A peripheral figure last year and now into his fifth season at the club, the former Denmark U21 player has the attributes – and now the age (22) – to be very useful in defensive midfield.
However, not many supporters outside the club's fanbase could actually name David Wagner's starting XI - or even 11 of his players - and that really illustrates the issue in drawing one of them from the pack. Whether they survive or not, Huddersfield will do it as one unified squad.
Leicester: James Maddison
Give him 10 games, a month or two of trial and error, plus the opportunity to develop some chemistry with the players around him.
Then, look and admire. Maddison's dead-ball ability is already well known, but his creativity from open play is also hugely impressive. So too is his top-flight demeanour; he carries himself with a swagger, strutting around the pitch and radiating self-belief. Leicester paid an awful lot of money (a reported £25m) for the 21-year-old, but they've got a real gem in return. He'll have played for England before the end of the year.
Liverpool: Trent Alexander-Arnold
So obvious, but so right. To this point, Alexander-Arnold hasn't quite been the player some of Liverpool's fans have insisted he is, but his potential is very clear. He comes replete with all the usual athleticism found in a modern right-back, but his defending is also on a gradual upward curve and his delivery – both from set-pieces and open play – is a prominent strength too.
Good news for England (and Liverpool): the 19-year-old could eventually become a blend of all the best parts of Kyle Walker and Kieran Trippier. It speaks volumes that Nathaniel Clyne's career at Anfield is seemingly over.
Manchester City: Phil Foden
Nobody else is really close. Lukas Nmecha is an intriguing forward, but he's been loaned to Preston for the season. Elsewhere, Brahim Diaz looks unlikely to ever break through with the competition ahead of him, so Foden is the only credible option.
The much-vaunted 18-year-old enjoyed a strong Community Shield display and certainly has his manager's faith, but it's really difficult to see how and under what circumstances he gets significant Premier League minutes. Hopefully that's proven incorrect, though, because one day he really will be a super player. Eventually, Foden will become the midfielder that Jack Wilshere once seemed set to be.
Manchester United: Eric Bailly
Bailly obviously cost an awful lot of money in 2016 (a reported £30m) and most supporters already agree that he's a good player. But this could be the season when the Ivorian defender inarguably becomes his club's first choice. His opening night against Leicester (partnered with Victor Lindelof) had some bumpy moments, but he still played as if personally affronted by Jose Mourinho's summer-long pursuit of a centre-half.
He can be great – Manchester United need him to be – and this might be the season when that £30m starts to look like a steal.
Newcastle: Kenedy
It's a bit of a kick in the teeth, because Kenedy isn't even Newcastle's player. The Chelsea loanee is still potentially excellent, though, and will add the pulses of flair to an otherwise-pragmatic side. It's a Catch-22, though: can anyone really see Mike Ashley ever paying the money to make this deal permanent? Not really.
That means if the 22-year-old Brazilian plays to his potential, it will actually be to Newcastle's detriment in the long run. He'll never play for Chelsea – they seem to have already moved on – but a strong season will draw the attention of various suitors and probably price him out of Newcastle's range.
A good player, though. Frustrating sometimes and a little self-indulgent, but potentially very dynamic.
Southampton: Stuart Armstrong
He's 26, so hardly a bright young thing, but Armstrong has never played in England before and few fans south of the border will have seen him play. They can expect a surprise. Signed from Celtic for £7m, the attacking midfielder has immediately been dropped into Mark Hughes's starting XI.
Following Southampton's opening day draw with Burnley, Armstrong's manager made a point of praising his runs from midfield and his willingness to get forward. Interestingly, that's the very quality which Southampton have been lacking in recent seasons, so expect him to be a hit.
Tottenham: Harry Winks
Still him, because 2017/18 was a false start. Winks suffered a recurrence of an ankle injury, limiting his involvement and probably costing him a place at the World Cup.
But what a talent. Distribution is the 22-year-old's defining attribute and that habit of always finding a forward pass is precious. But he possesses a rare mentality too and, with Tottenham having stayed away from the transfer market this summer, that fearlessness on the ball should give Winks a real chance of establishing himself in Mauricio Pochettino's side.
Mousa Dembele is coming towards the end of his career, Victor Wanyama remains blighted by injury and at least one of those midfield positions is up for grabs. Winks's time is now.
Watford: Ben Wilmot
A transfer which was barely noticed, but a rare dip into the English market for the Pozzo family. Wilmott was signed for around £1.5m from Stevenage and those who know all say that the 18-year-old is one to watch.
More importantly for him, he's a centre-half and, given Watford's annual issues in that position, he should get a chance before too long. Expect him to take it.
West Ham: Declan Rice
A ball-playing centre-half at West Ham? Of course the natives are excited. Rice showed what a good defender he is last year when he successfully broke into David Moyes's team, and he'll be hoping to maintain that momentum under Manuel Pellegrini.
One obstacle might be positional uncertainty; as seen at Anfield on the opening Sunday of the season, he's not an accomplished holding midfielder (yet). His success will depend on him not becoming typecast as an East End Eric Dier, flitting between two positions.
Wolves: Ruben Neves
Head and shoulders above every other player in the Championship last season, with the possible exceptions of James Maddison and Ryan Sessegnon, Neves is the one to watch. If that was in doubt, the 22-year-old's stunning free-kick against Everton on the opening weekend of this season has already made him so.
The Portuguese midfielder was brilliant in 2017/18, so in a sense he's already broken out, but regularly replicating that level of performance in the Premier League will put him on a different level entirely and push his value into the stratosphere.
There's also a sense that, while it's accepted that Neves was fundamental to Wolves's winning of the Championship, few people worldwide actually watched him drive them forward. This is the moment he broadens his appeal.
Quizzes, features and footballing fun
Get the best features, fun and footballing frolics straight to your inbox every week.
Thank you for signing up to Four Four Two. You will receive a verification email shortly.
There was a problem. Please refresh the page and try again.