Manchester United: Steve Bruce offered to the club by agent, according to reports
By FourFourTwo Staff published
Manchester United legend Steve Bruce has been touted to the club by his agent for the vacant managerial position, according to reports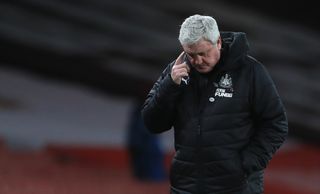 (Image credit: PA Images)
Manchester United have been offered Steve Bruce for the position of interim manager by his agent, according to reports.
Former United defender Bruce won the first Premier League title as captain at Old Trafford - and now, his agent is apparently keen to offer his services to his former side, who are in need of a temporary fix.
United sacked Ole Gunnar Solskjaer on Sunday following defeat to Watford and are now looking for new manager. Bruce's name has been mentioned in relation to the job that Michael Carrick is currently in charge of.
The former Newcastle boss had stated that he thought the Magpies position was to be his last in the game.
"I think it might be my last job," Bruce told the Telegraph. "It has been very, very tough.
"To never really be wanted, to feel that people wanted me to fail and saying I would fail, that I was useless, a fat waste of space, a tactically inept cabbage head."
Manchester United are said to be interested in Mauricio Pochettino taking charge of the team permanently but his ties to current club PSG are a particular sticking point. Zinedine Zidane has also been mentioned, while Brendan Rodgers is also in the frame.
Ernesto Valverde of Barcelona has also been considered for the position of interim manager until the Red Devils can appoint someone on a more permanent basis.
Thank you for reading 5 articles this month* Join now for unlimited access
Enjoy your first month for just £1 / $1 / €1
*Read 5 free articles per month without a subscription
Join now for unlimited access
Try your first month for just £1 / $1 / €1